Blinds vs Curtains; Which One To Go For?
The very debate of blinds vs curtains is for sure to create a lot of indecisiveness as well as unsettling confusion in multiple ways. This is because both of the window treatment manners have got an undeniable significance in a number of ways.
Therefore, one is likely to face considerable trouble specifically if the situation asks for an upgrade or even a wholly new purchase.
Curtains have been a traditional way of treating windows, doors and getting appropriate coverages, however, they can never go outdated and are still loved by a vast majority of folks. Blinds, on the flip side, besides being a super contemporary window treatment option, come with a few cons and many people find it hard to convince themselves for this choice.
However, switching to something new can totally turn out to be a pleasant experience, as long as you go for it after maximum research.
Curtains
Curtains certainly don't need any introduction or even a stressing upon their significance because of the way they serve so phenomenally in multiple dimensions. Besides serving as a window treatment, they can be used for partition and segregation purposes as well and thus turn out to be greatly functional.
Curtains; The Most Advantageous Working
They are an excellent way to make the most out of the natural light and air. And even if you don't want these two elements beyond a certain limit, still you can benefit from the curtains in order to get rid of them.
Curtains come with huge flexibility of several aspects and you get the most extensive freedom of styling with them. From fabrication to draping and also the addition of enhancing accessories, you get a lot to play with, when you've got yourself some stylish window curtains.
Some More Benefits Of The Curtain Treatment
Over and above, with curtains, you can easily create all those surroundings that seem the most agreeable to you, in no time. They always appear pleasing and do complement the rest of the space as well. Given below are a few aesthetic plus points of choosing curtains:
They come within the widest variety of fabrications such as Cotton, Silk. Velvet, linen, brocade, lace, voile, sheer, blackout, etc.
They can be used for achieving both room darkening and brightening while also the flexibility of the creation of certain effects of light divergence/blockage
They feel soft, cosy, warm, welcoming, and satisfying to be around and are the incredible window treatment option with absolutely no possible harm.
They are excellent at accomplishing decors and making the interiors stand out.
They work wonders for creating a perfect style statement for commercial spaces, most importantly the usage as Office Window Curtains.
The Functional Significance of Curtains 
Curtains are absolutely safe to use for children and pets and you can have them within nearly all specs of your choice
They balance out the room temperature and overall environment perfectly.
They can be used for cutting down excessive noise production.
They keep the surroundings clean and safe from atmospheric and UV damage, external wear and tear, insects, pollutants, and microbes. Also, they maintain a good indoor air quality for the interiors, which in turn comes with various health and wellness advantages.
Don't forget the bit of a dark side of the curtains, too.
Curtains can be demanding at times, in terms of their maintenance and sustenance. 

The textures, designs, colours, and prints can be at risk of fading after usage

They might fail to get along with many of the modern-day decors.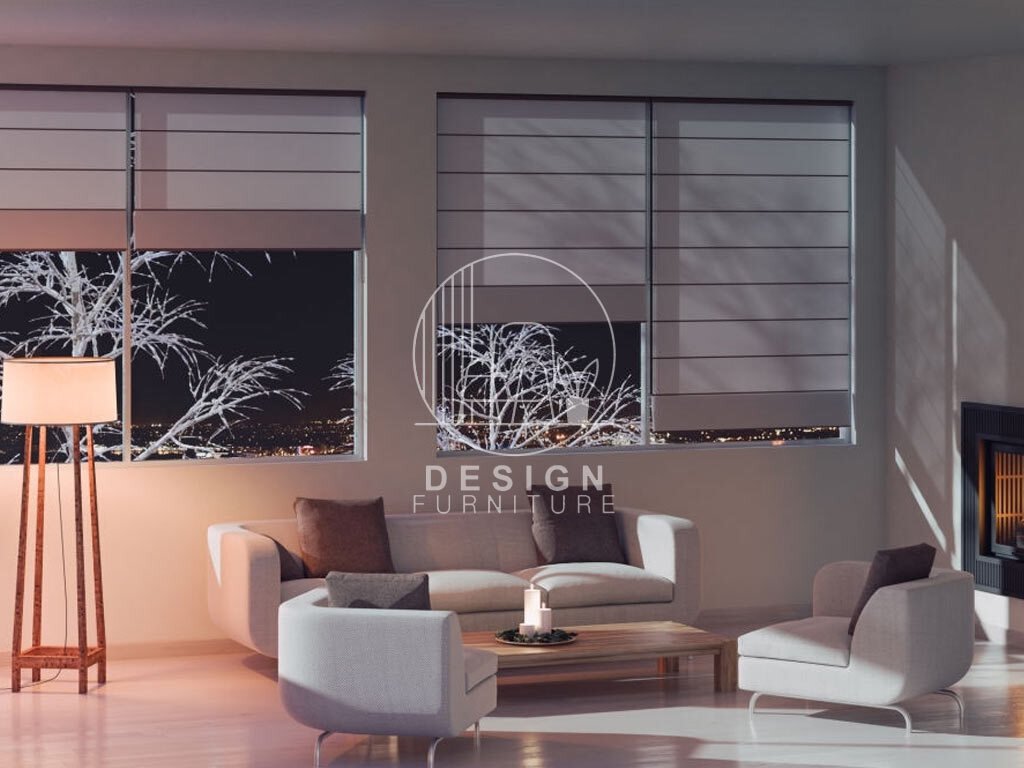 Blinds
Blinds, the counterpart of our blinds vs curtains battle, are known to have first appeared back in the 17th Century (they are a vintage thing, too!). And since then, they have been an integral part of our lives as kind of an always-evolving window treatment. The very initial version of blinds was, as a matter of fact, Venetian Blinds, a popular blind type that we keep hearing today, as well.
The Ultimate Significance Of Blinds
Window Blinds do work wonders as ideal window coverings to keep the heat out and provide a number of significant and practical advantages, too.
They are a more sturdy form of window treatment because their construction involves solid materials such as wood, aluminium, bamboo, plastic, and metal slats. This way, they work as a hugely resilient and heavy-duty covering against your windows and can be used in other spaces for getting appropriate coverage too, such as next to sliding or patio doors.
Blinds Feature The Vastest Areas Of Application
Blinds have their vast usage on a commercial scale and they go equally and fundamentally useful for residential spaces, too, specifically as window treatments for the living room.
Their most common structural profile is the vertical or horizontal slats made of various sturdy materials, which can be operated in a number of different ways. Let's have a quick convincing:
They give great flexibility when it comes to design profiles and manners of operating.
They are potentially the most convenient, practical, and

time-saving window treatment

.
They give you improved control of the amount of airiness and natural brightness and you can even enjoy their predefined working in several ways
One of the most common and extremely favourable usage scenarios of window blinds is the choice of Blackout Blinds that work wonders for a well-lit interior.
They have a flawless and sustainable resistance against the majority of external factors such as extreme winds, moisture, sun damage, etc. This makes them suitable for literally any and every given space.
Blinds Are The Most Practical And Sustainable Choice
Which, in fact (and of course!) makes them a worthy and fruitful dimension to invest in, regarding both longevity and usefulness:
Blinds are excellent at providing privacy and maintaining the effective safety of one's property.
They can be made to stay in multiple styles according to one's preference and requirements like completely open, partially open or fully closed. The most common example at this point is the Roman Window Blinds, which offer a highly flexible, practical and advantageous functionality.
Blinds let in a filtered and softened form of light that does not feel way too harsh or disturbing in any way. And this feature can be achieved with maximum efficiency by having the exterior installation of blinds.
They make a presentable decor statement within both commercial areas and workspaces and bring about an impressive deal of comfort in one's lifestyle.
Nevertheless, there are a few cons of this window treatment, as well:
Their cleaning and maintenance can seem too demanding as that becomes a constant requirement and always requires to be done the right way.
The cord part of blinds is something that can cause serious hazards to children and pets.
The slats of blinds are often at great risk of getting damaged or at worst breaking.
Blinds vs Curtains; Bottomline
At this point, we hope for your "Which Window Treatment Works Best for Your House?" concern to have an increased likelihood of getting resolved. Both of the window treatments can work appropriately for you and you can even have a combined functionality of the two if you're opting for something different and improved, this time.
With that said, for possible pondering of "do you put curtains over blinds", there is absolutely a big yes because this way, you can avail the benefits of both and acquire more of literally everything.
Another point worth remembering here is always to go for what will provide you with perfect and more long-lasting comfort. This is the approach that will save a lot of your time and money and will keep you from switching between window treatments again and again!
Blinds vs Curtains; How To Have The Right Choice 
Let's have a quick overview of the two under consideration window treatments:
| | |
| --- | --- |
| Curtains  | Blinds  |
| Make the satisfying, comforting and flexible window decor  | Create a sleek, presentable and minimal yet presentable decor  |
| Give the vastest freedom of styling | Can be operated in multiple ways |
| Can be totally customized | Are highly penny-wise in their working |
| Are not the most durable choice but the beautifying is worth the treatment  | Require a lot of maintenance yet come with reasonable functioning |
FAQs | Frequently Asked Questions
Curtains are unquestionably the choice of window treatment that not just appears the most beautiful but more satisfying, as well. They ideally suit most of the interior themes and also are greatly comforting, too.
Curtains can't possibly be outdated in any way because of their finest aesthetics and most importantly the everlasting comfort they offer. They are good at maintaining the privacy and so have always been a popular choice for personal uses.
Wider blinds having horizontal slats work best for residential usage because they offer adequate passage of natural light and air and can effectively be used for coverage and security maintenance purposes, as well.
Blinds, with their super suitable and at the same time very flexible functionality, are an excellent choice to consider when it comes to energy efficiency. They can be used to maintain the ideal temperature extent and also to eliminate the need for artificial lighting.