The Latest Kitchen Flooring Trends 2023
The kitchen, of course, is one of the most integral spaces within our entire homes and that focal significance gives rise to a dire need for a considerate organization. Whether it's the trendy kitchen curtain ideas or more importantly a suitable selection from the modern kitchen flooring styles, there's always a point where you are likely to get stuck or to feel really indecisive.
While scrolling through flooring ideas for the kitchen might seem an interesting genre of web surfing or maintenance of your sweet home, it's entirely possible that you end up being really confused about what exactly to go for. However, the good news is that we're gladly putting an end to your tiring and somewhat displeasing research, right here!
Best Modern Kitchen Flooring Ideas
Our incredible list of kitchen flooring ideas is just the guidance you need to go for and we'll be resolving every single one of your possible concerns, just as you proceed with this amazing buying guide of ours.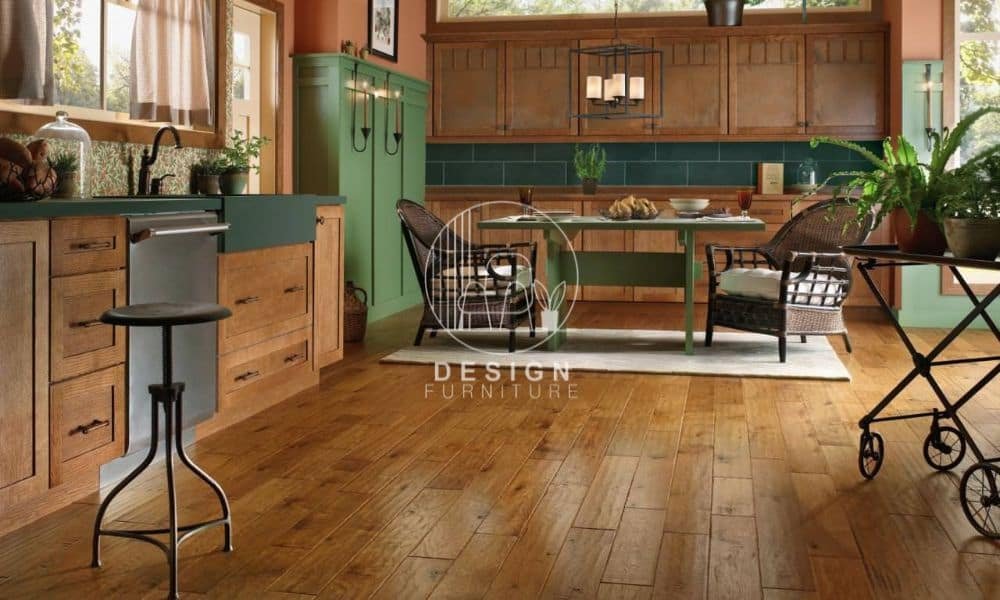 Hardwood Flooring is in no way less than a true "Hero" in the world of floors and flooring treatments and it always aces its performance as a kitchen flooring, too. A vast majority of the modern flooring ideas for kitchens involve hardwood with a finishing that can withstand moisture. Hardwood flooring is a good idea if you want a bit of an aesthetic uplifting of your kitchen space, in addition to the functional provision.
Besides, it's also an incredible choice if you don't want any maintenance-related unsettlement for yourself and are opting for a relatively smaller area renovation. It's an entirely sustainable flooring choice and you can find several versatile patterns and designs, in accordance with the very decor scenario you look forward to.
A nice attractive kitchen flooring to go for
Is the easiest to take care of
Won't be upsetting your budget
It is truly needless to say that vinyl kitchen flooring ideas have always been the trendiest approach, by all means. And undoubtedly, there are multiple reasons that support the choice of a modern vinyl flooring kitchen. It definitely is a smart selection to consider and with several innovations available, you get a lot of ground to play with your creativity.
The modern-day engineered vinyl flooring is made to depict the realistic look of stone and even wood floors and you can literally get any effect of your choice, this way, as well. Besides the impressive aesthetics, almost all the vinyl flooring ideas are highly suitable regarding the conditions of impact and exposure to moisture.
Kitchen vinyl flooring is a cup of tea in terms of its maintenance and you can literally get done with that while having one!
Is a perfect way to give off the look of expensive floors
Comes with a super convenient DIY installation
Is waterproof and scratch-resistant
Is prone to getting damaged after enormous use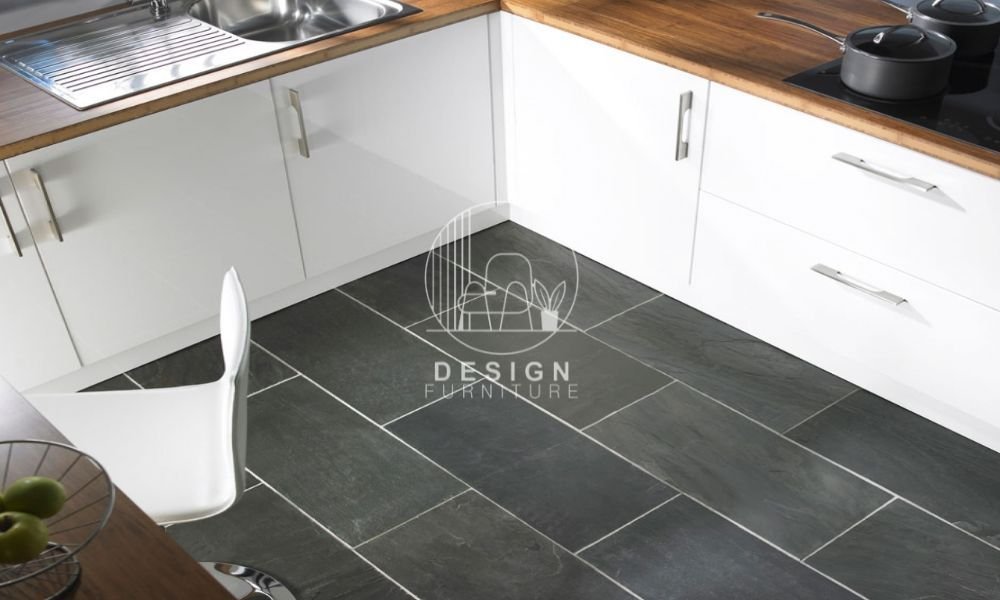 Tile Kitchen flooring ideas always seem a comfort zone and are an option with the least chance of generating any bad consequences. When talking about tile flooring, the given options usually are ceramic tiles or porcelain tiles. Their super sturdy and damage-resistant structures do provide for a versatile aesthetic dimension as well since you get multiple choices based upon colors, sizes, patterns, designs and stains.
Within a mess and moisture-prone space of the kitchen, many experts recommend you to go for the quality floor system of tiles, as it can outlast all the damage with reasonable efficiency. Over and above, cleaning it won't be an issue for you, nor for your budget. Last but not least is the fact that tile flooring can also withstand scratching, staining and impacting, too.
The waterproof ability takes away all the concerns of moisture damage
There are multiple styling options available
It is a lifetime durable flooring
Asks for professional installation and a good maintenance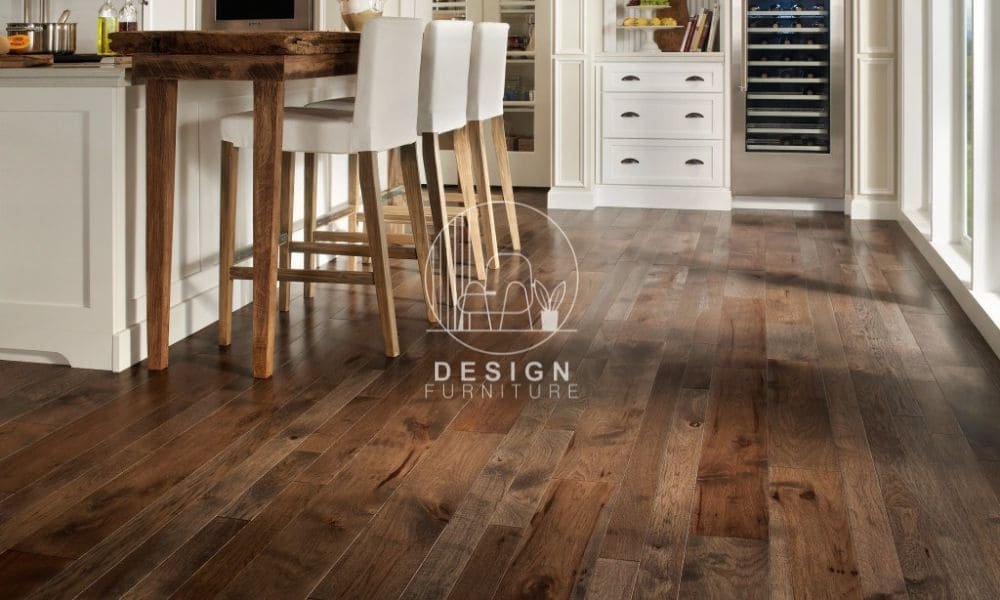 Laminate flooring is one of those easy-to-go flooring ideas for kitchens that are worth a lot of praise due to being the easiest DIYs. Any and every laminate flooring kitchen idea is just the thing to consider if you want your kitchen space to boost your mood and give you mental peace every time you step on it. The best of kitchen flooring ideas 2023 do include laminate as one amazing option for kitchen floors and the incredible structural profile does justify this fact.
Moreover, you can easily get done with the installation yourself and don't really need to seek professional help in this regard. This is because the laminate flooring merely consists of planks that need to be glued down or stuck to the subfloor. And voila, you'll have an entire space to flaunt your taste and one which is a depiction of your expert technical skills, as well.
Is a favourable idea if you want your floors to look expensive
Can be made waterproof too
Is easy to install and maintain
It might not be an extremely durable surfacing
Cork is one of the most contemporary and latest components of the kitchen flooring design ideas and is a way too friendly flooring in multiple ways. It gives off a plush springy sensation and therefore seems delightful to walk over. Moreover, it will also comfort you a lot by eliminating the excessive noises around you.
Cork Flooring usually comes within snap-together, glue-down or peel-and-stick styles and it is extremely easy to have them all installed yourself. Besides, you can carry out the refinishing with paint or staining as many times as you want. This kitchen flooring is a budget-friendly option to consider, however, you need to look after it really well and protect it from factors such as harsh sunlight and excessive moisture.
Can't withstand sun damage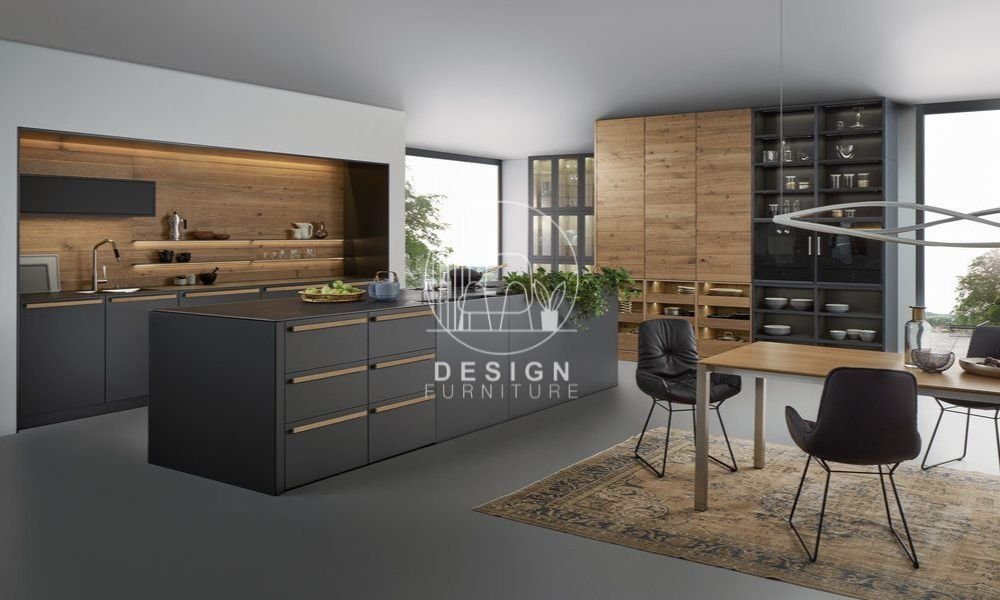 Concrete flooring does not need any introduction or even a stressing over its useful significance. It's definitely the most durable gift you can ever bestow to your kitchen and ultimately to your peace of mind. Its sturdiness is totally unquestionable and the fact that it can outlast anything and everything coming its way, also makes it worth the choice.
This is an entirely waterproof flooring and you can mimic any of the stone or wood-look flooring with its appearance. Not to mention that it's a highly sustainable and affordable flooring, that is considered suitable for almost all areas.
Concrete flooring is completely waterproof
It is resistant to nearly all kinds of damages
It's budget-friendly and durable
Might disappoint you when it comes to looks
Conclusion
By the time you're almost done with going through these guidelines about the most innovative kitchen flooring design ideas, we hope for things (the final decision) to be really easy for you. It's both a pleasurable activity and a phase full of indecisiveness to choose the right kind of and most importantly sustainable flooring for your kitchens.
Nevertheless, you don't really need to get much bothered, as long as you've got our definitive guide about the flooring for kitchen ideas at your service. Just be sure to look for the genuine purposes (whether ornamental or functional) that you need your next flooring to be fulfilling for you. Post that, you can easily have those requirements related to the ones we mentioned above. And ultimately end up with a suitable and really favorable kitchen flooring choice.
FAQs | Frequently Asked Questions
Ceramic tile flooring is one entirely effective and always popular kinda flooring choice for kitchen areas. This flooring not only is the most durable one but also is moisture-resistant and extremely easy to maintain, too.
Hardwood flooring, of course, is one of the most durable options of kitchen flooring ideas 2021 and its versatility makes it an all-time effective choice, as well. It goes well with almost all the decors and is really low-cost to maintain.
The reason for linoleum to be one of the modern kitchen flooring ideas is its affordability and the most effortless maintenance. Besides, it doesn't get affected by water in any way and thus is an excellent choice for the moisture-prone area of kitchen.
There is no definitive rule to it, in the first place. However, if you want to go for a certain pattern organization or you wanna create a complementing style. You can have your flooring within a color one or two shades both lighter or darker than your kitchen cabinets.