What Color Carpet Goes With Cream Walls?
Carpets are the most essential and super beneficial flooring elements that you'll find in almost all households nowadays. There are various factors involved in the choice of an ideal carpet and the most important of them all is the color of the carpet. You'll find an extensive range of tonal variations and shades of the same color available for carpets on the market.
However, what goes well with a specified interior theme like cream-colored walls can be a bit challenging to think of. Irrespective of whether you've shifted into a new home with freshly painted cream walls or are looking to get your old house renovated following the exact theme scenario, you must be looking forward to a complementing carpet color.
Our today's topic of discussion at Design Furniture is to highlight the best carpet colors for complementing cream-colored walls. For this purpose, we've researched and shortlisted several amazing color combinations and solo options from all the market-available choices.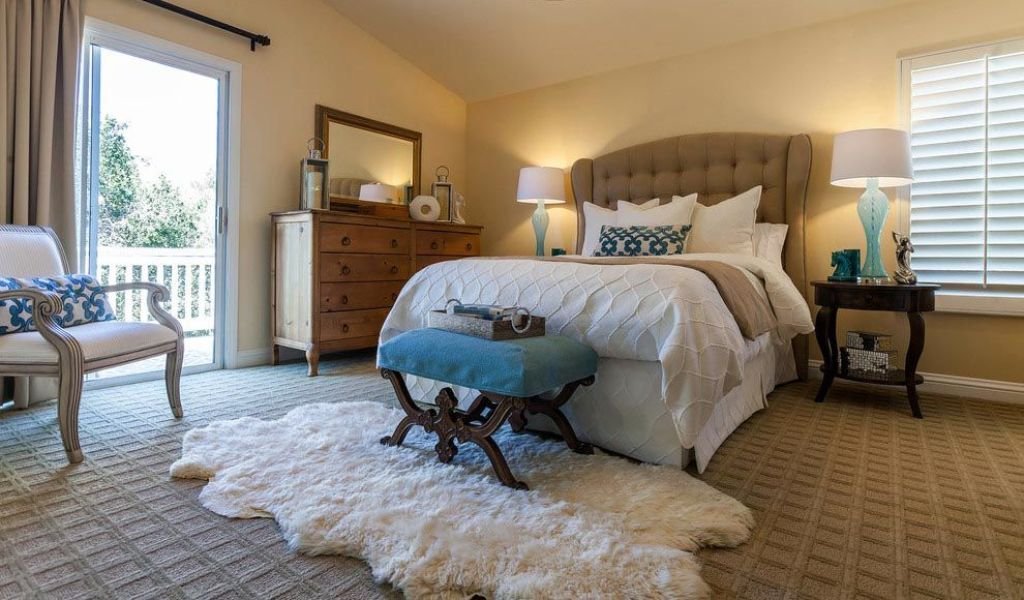 The Best Carpet Color Choices For Complementing Cream Walls
The color is the element that imparts the carpet with a striking and welcoming appearance. Therefore, the importance of carpet color becomes evident and its choice should always be made according to the interior decor and theme. Let's take a look at what are these important interior elements that can affect the choice of carpet color.
Carpet Color & Cream Walls | What Else To Consider?
The choice of an ideal carpet color involves some important considerations that should never be overlooked. Here's a brief explanation of all these essential factors to be kept in view when choosing the color of the carpet.
Interior Design & Furniture
If you've already worked out the interior decor equation (with all decor essentials and furniture elements), you'll have to be highly cautious when choosing the carpet color. Especially, the furniture upholstery is to be taken into account.
Traffic Intensity
You need to pre-determine the type of interior to be floor carpeted. That's because to idealize the traffic intensity and have a selection of the carpet color wisely i.e. light-colored carpets are ideal for low-traffic interiors and vice versa.
Interior Illumination
It's a pretty straightforward factor that interiors with more natural illumination are bright and demand light-colored carpets for the ultimate aesthetic delight. And the opposite is the case for interiors with low natural illumination.
The Best Carpet Color Recommendations Shortlisted!
Now, that you have a know-how of some important considerations, here are the best carpet color recommendations for cream walls.
The brown color highlights simplicity yet at the same time offers a sophisticated appearance when opted for floor carpeting. It can be an ideal color choice for carpets to match cream walls. Not only that you'll find this color combination truly mesmerizing and attractive. No need to mention that you'll enjoy the benefits of interior decor upgrades with this choice.
Coming toward the tonal variations, you can have both light and dark brown colors for your home carpet. Nonetheless, the light brown-colored carpet offers a more radiating appearance in this regard. Similarly, the darker shades of brown color when chosen for the carpet will create a steadfast and substantial effect.
Much similar to the beige color, the sandy-colored carpets can also be a great choice for creating a warm, modern, and luxurious appearance in combination with cream walls. And for the best effect, you can choose a carpet incorporated with design patterns.
The best thing about choosing sandy color is that the stains are not easily visible on the carpet surface unless on a large area. Also, a lighter tone for this color can make the small interior look spacious and more prominent.
Is there anything better than luxurious White Carpets as a flooring element? Probably not, because white color offers a luxurious carpet appearance alongside uplifting the charm, attractiveness, and gracefulness of the interior design.
When matched with cream walls, white-colored carpets look to become the most highlighting interior design feature. This color combination may be on the same tonal spectrum yet doesn't create an extravagant harmony in the interior.
4. Red & White Color Combination
If you are a bit hesitant about choosing plain white carpet color to match your cream walls, then opt for a red-and-white color combination. This color union creates an overwhelming carpet texture and also is an excellent method to add to the interior design noticeably.
This recommendation proves to be an ideal choice in case you have hardwood furniture placed in the interior. And for this choice, you can have two possible color blends i.e. primary white with red design carvings or the other way around.
For this choice, always try to find a combination in which white is the basic carpet color and there are traces of red for highlighting the carpet texture.
The blue color can be the best option in case the carpet is to be laid in a well-illuminated interior. That's because the blue color lies at the start of the dark tonal variations on the color wheel and therefore, can make the interior look like a confined space.
Also, you should avoid getting navy-blue carpet for this purpose because it won't blend in well with the interior theme. And always prioritize bright, shiny blue-colored carpets to match the cream walls.
6. Black & White Combination
Another great idea is to buy a black and white carpet for complementing the cream walls. While this may sound absurd but proves to be super effective and creates impressive interior decors. Again, you will have to pick a carpet design featuring white as the primary color with hints of black in between.
If none of the above options works for the interior decor and style settings, then the last option is to go for multi-colored carpets. As in the name, these carpets comprise combinations of various colors yet offer an attractive, mesmerizing, and graceful appearance.
However, the selection of multicolor carpets should be done precisely and according to all the interior elements. No need to mention that your personal preferences are to trust for shortlisting the number of options in this regard.
The choice of a carpet color is an important decision and involves a lot of interior element considerations i.e. illumination intensity, usage practices, interior design, etc. In this article, we have recommended 7 different color options that can be ideally chosen for carpets to complement cream walls. Now, the choice of any one of them comes down to your personal liking preferences.