Outstanding Accent Wall Ideas: Padded Wall Panels In The Bedroom
A room's temperature can be changed by an accent wall giving depth, texture, and a hint of luxury. A distinctive and opulent method to add an accent wall to the bedroom is using padded wall panels. This comprehensive guide by Design Furniture will walk you through the ideas of padded walls in your bedroom decor, along with helpful advice to get great outcomes, whether you're looking for a cozy hideaway or a sophisticated heaven.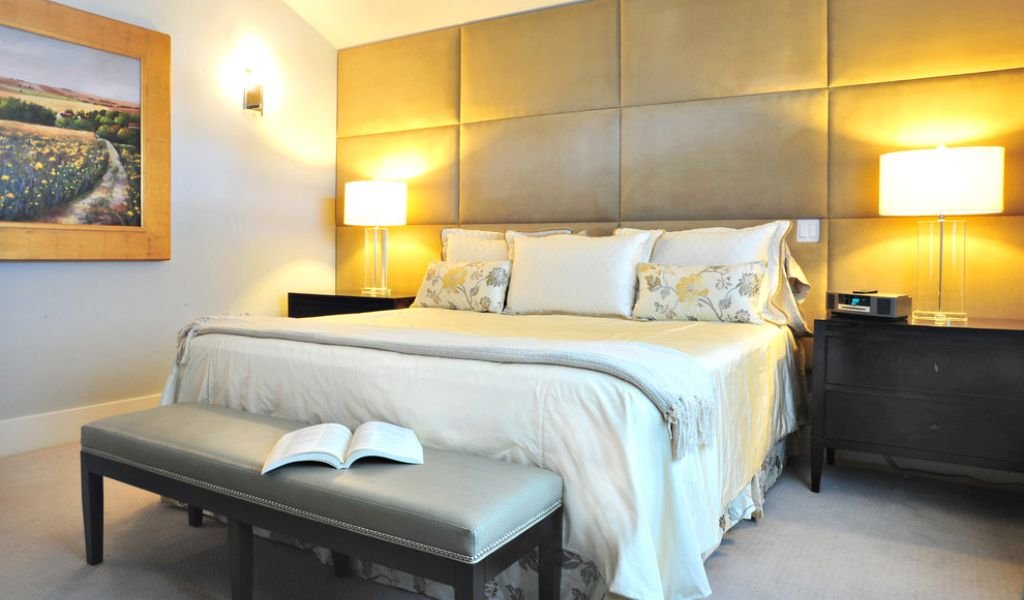 Why Choose Padded Wall Panels?
The combination of texture, comfort, and beauty offered by padded wall panels, often referred to as upholstered wall panels, can turn a regular bedroom into a remarkable area. The tactile smoothness of these panels gives the space a warm, welcoming feel. They also help in sound insulation, making the setting more tranquil. Padded walls can be customized to fit any style, from traditional to contemporary, because of the variety of fabric options available.
Select padded wall panels in a fabric that goes well with the bedroom's current color scheme. Choose colors that harmonize well with your furniture, drapes, and bedding. While bold colors can bring excitement and vibrancy, soft, neutral tones like beige, grey, or pastels can convey a feeling of calmness and serenity.
2. Textured Elegance
For your padded walls, choose a textured fabric to offer a touch of class and depth. Velvet, suede, and woven textiles are examples of materials that can produce a tactile richness that is pleasing to the eyes as well as the sensations. These textures encourage pleasure through touch while enhancing the wall's aesthetic appeal.
3. Geometric Patterns
To give a contemporary and dynamic touch to your padded wall panels, consider geometric designs. Choose symmetrical patterns for a balanced appearance or asymmetrical combinations for a unique and cutting-edge effect. The wall becomes an appealing focal point because the geometric patterns add structure and order to the space.
4. Tufted Beauty
Lend tufted, padded walls to your decor to lend a timeless, upscale touch. Tufting is the process of creating indentations and securing buttons with fabric coverings to give something a quilted look. This method gives off a sense of luxury related to high-end hotels while also adding depth and aesthetic appeal.
5. Vertical Elegance
Make use of vertical cushioned panels that rise from the floor to the ceiling to provide the impression of more space. These panels force the gaze upward, giving the impression that the space is larger and more open. Additionally, vertical panels can add to the impression of grandeur, particularly when matched with plush, opulent textiles.
6. Curved Appeal
To soften the look of the area, think about using padded wall panels with curved edges. Curved panels add a soft flow and an organic impression to the room, which works especially well in minimalist or modern settings. These panels preserve a polished appearance while adding a dash of fun.
7. Headboard Alternative
To make a unique and seductive headboard wall, swap out the conventional headboard for a padded wall panel. The bed's structure contrasts wonderfully with the padded panel's softness to create a relaxing environment. Those who want both comfort and style will love this strategy.
8. Mixed Materials
To create a compelling contrast, use padded walls with other materials like wood or metal. Include metal or wooden panels around the padded areas to give a textural contrast that draws the eye and provides a three-dimensional viewing experience.
9. Light And Shadow Play
Put gentle, ambient lighting to draw attention to the lovely padded wall panels. In the night, sconces or hidden LED strips can produce a pleasant glow that draws attention to the textures and patterns on the wall. This turns the wall into an illuminated work of art.
Tips For Stunning Padded Wall
Beautiful cushioned walls require meticulous planning in both the design and construction processes. Here are some crucial suggestion to make sure your cushioned walls becomes an engaging center of attention in your room:
Pick a fabric that goes well with the color and design scheme of your room. For a richer, more luxurious look, think of fabrics like velvet, suede, or linen.
If you choose a fabric with patterns, play around with the patterns. For a finished appearance, make sure patterns are perfectly aligned across panels.
For a polished finish, precise dimensions are essential. Check your measurements twice before cutting fabric or padding.
To prevent creases or uneven surfaces, make sure the fabric is taut and even before stapling. It is important to carefully fold and secure the corners and edges.
A panel's alignment is important, especially if you are employing numerous panels. A look that is balanced and produced by consistency in alignment and spacing.
Use the right adhesive when attaching for stability. For long-lasting support, fasten panels to wall studs as well.
Maintain constant button spacing when using tufted panels for a consistent, elegant appearance. Using a tufting kit might help you create perfect tufts.
Thoughtfully place light to draw attention to the cushioned wall's texture and pattern. The tactile attraction is enhanced by soft illumination.
To avoid dust buildup, regularly hover or brush the cushioned panels. To retain the quality of the fabric, adhere to the care instructions.
Add your distinctive flair to the padded walls. To express your distinctive taste, think about using decorative accents like buttons or trims.
Padded wall panels provide a unique method to create a stunning accent wall that combines comfort and styles in the bedroom. You can build a bedroom that can emanate personality and sophistication by experimenting with different design concepts, from color harmonies to tufted elegance. Your bedroom will become a truly outstanding hideaway because of the padded walls, which not only improve the room's look but also offer a sensory experience. Padded walls will captivate your senses and turn your bedroom into a haven of comfort and beauty whether you choose traditional charm or modern flair.