15 Delightful Dining Room Decor Ideas with Wooden Wall Panels
When it comes to the significant rise in popularity of wooden wall panels in interior design, dining rooms are not an exception. These panels improve the dining experience by bringing a touch of natural elegance, warmth and vibrancy to the room. In this guide by Design Furniture, we will look at 15 charming dining spaces that highlight the inventive use of wooden wall panels, giving you ideas and insight for designing your own warm and upscale eating area.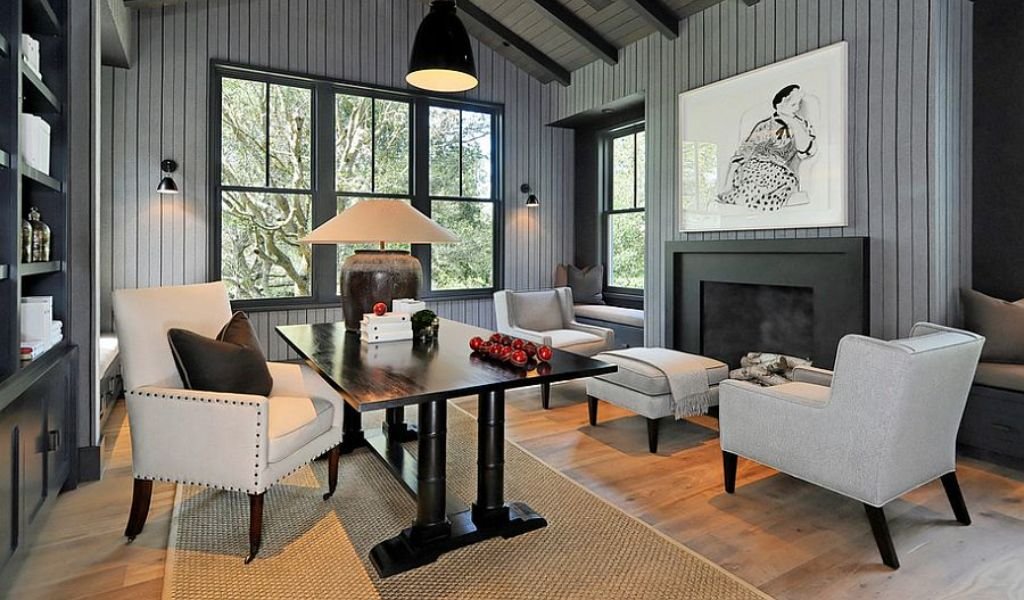 Enjoy a cozy environment in your dining room because of aged wooden panels that add a touch of rustic appeal. These panels foster a welcoming atmosphere that encourages hearty gatherings around a farmhouse-style table when combined with old furniture and soft lighting. Your eating area will feel like a beloved sanctuary because of their natural tones.
2. Modern Elegance
Add sleek, dark wood panels to your dining area for a touch of modernity and elegance. These panels which have a simple look, go perfectly with modern furnishings and decor. A sleek dining table and artistic chairs work wonders against the deep tones of the wood, which successfully balance contemporary style and traditional coziness.
3. Geometric Accents
Stunning geometric designs on hardwood panels can enhance the aesthetic appeal of your dining room. These panels can be configured into a beautiful herringbone pattern or a vibrant chevron pattern to create a focal point for art. The space has a sense of movement brought on by the interaction of lines and angles, which is supported by thoughtful lighting that creates intriguing shadows on the intricate patterns.
4. Texture Play
By contrasting various wood textures, your dining room decor will gain depth. The tactile experience crafted by smooth panels and their rough-hewn opposite grabs the attention and begs for touch. Subtle lighting highlights the distinctive grain patterns of each panel, enhancing the interplay of textures and giving the spaces a three-dimensional feel.
5. Vertical Vs Horizontal
By paying attention to how your wooden panels are oriented, you can influence how a space is perceived. While horizontal panels broaden the room's breadth and give it a feeling of openness and warmth, vertical panels lengthen the room's height and give it a sense of grandeur. The proportions and desired visual impact of your dining area should guide your decisions regarding various orientations.
6. Natural And Neutral
To keep your dining area neutral, choose lighter wood tones. These panels offer a serene backdrop for different interior designs, allowing your dining room furniture and accessories to stand out. A serene eating atmosphere can be fostered by adding earthy tones and small pops of color to the organic canvas created by the natural colors of the wood panels.
7. Dramatic Accents
Darkly stained hardwood panels give your dining room a dramatic flair while evoking a sense of richness. These panels provide an opulent and exclusive eating environment when combined with fine lighting fixtures and vibrant upholstery. Every lunchtime gathering gains a touch of class because of the contrast between the dark wood and carefully chosen accessories.
8. Whitewashed Wonders
Using brightly illuminated whitewashed wood panels, you can create a beachy or cottage-like atmosphere. These panels' airy appearance makes for the perfect setting for a laid-back dining session. The whitewashed panels provide a sense of relaxed elegance that is ideal for leisurely brunches and parties, especially when combined with coastal-inspired decor and lots of natural light.
9. Paneling Heights
You can choose the appropriate height for wooden panels by carefully balancing intimacy and visual impact. Full-wall paneling makes a striking design statement, while half-wall paneling creates a cozy ambiance that encourages private conversations. If your dining room is going to be used for formal gatherings or casual family dinners, adjust the paneling height accordingly.
10. Mixed Materials
To give your dining room an industrial or futuristic feel, combine wood with other elements like metal or glass. These components are placed in opposition to one another in your panel design, resulting in an alluring combination of textures and aesthetics. Your eating area gains a distinctive personality because of the resulting dynamic style, which works as a conversation starter.
11. Eclectic Fusion
Create a unique dining space by combining various panel sizes, shapes, and finishes. This eclectic design strategy creates a unique area that highlights your taste. Combining various wooden patterns and stones results in a unified but eclectic space that is both aesthetically pleasing and hospitable.
12. Acoustic Enhancement
Wooden panels that absorb and distribute sound can improve the acoustics in your dining room. This practical advantage, along with the attractive aesthetics of the panels, guarantees a relaxed dining environment where conversations flow easily.
13. Formal Sophistication
A dining area with intricately carved wooden panels will add a new refinement. Each meal is treated as a special occasion thanks to these panels, which act as an exquisite backdrop for sophisticated dining arrangements.
14. Artistic Expressions
Turn your wooden panels into works of art that display your creativity. Panels with distinctive carvings or decorations become incredible conversation starters. Whether you choose ornate patterns or striking visual statements, your dining area will become a gallery-enjoy setting where gastronomic delights and fine art collide.
15. Seamless Integration
For a seamless design, integrate your wooden panels with the surrounding architectural elements. This method offers a unified appearance that enhances the beauty of your dining room, whether it is by adding panels around a fireplace or into built-in shelves. The panels blend very well with the spaces' current furnishings, adding to its allure.
Designing your delightful dining area with wooden wall panels is an exercise in imagination and expression. Each strategy turns your dining area into a mesmerizing retreat, whether it is through rustic nostalgia or modern beauty. You create a dining area where treasured moments and wonderful meals are enjoyed, surrounded by the natural beauty and warmth of wood, by choosing panel types, colors, textures, and groupings that connect with your unique style and vision.