10 Best Sleeper Sofas For The Ultimate Comfort
You can't possibly be a good host until and unless you own one fine sleeper sofa or at best, a few of them. Besides, even if you haven't got one, or don't have an idea what exactly is a sleeper sofa, we won't judge you at all and will rather present you with a fine explanation of it. Sleeper sofas, in the first place, are the thing to go for if you're a social person and don't get bothered with guests coming over!
Psychology apart, it's the kind of sofa that turns into a bed, in the simplest words. This sofa has a built-in mattress that can be pulled out and converted into a bed. The mattress isn't visible in the sofa form and is usually designed to either fold out or pop out. It is not only a perfect couch bed combo but also an incredible sleeping and resting arrangement that doesn't take a lot of space.
List Of The Most High-Quality Sofa Beds
Take a look at those finest and most useful sofa beds mentioned ahead: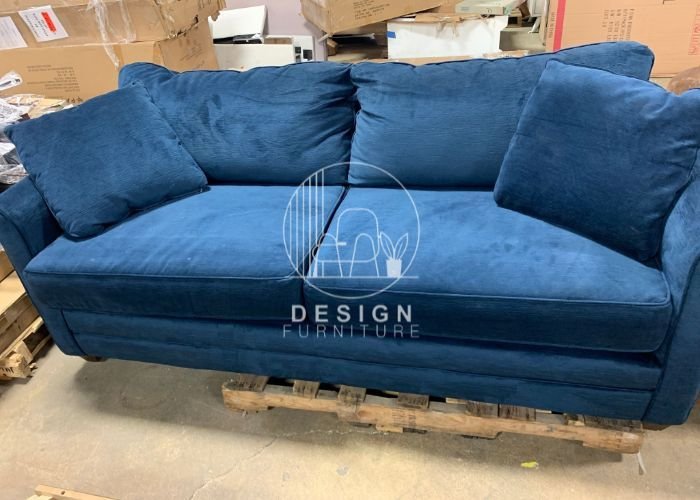 1. Lourenco 77" Sharkfin Sleeper Sofa Bed
This incredible couch bed combo features a perfect tailored touch and thus is the easiest to sync in all decor themes. Available in a number of classy colors, this sectional sofa with pull-out bed will be your perfect companion when you've got folks coming over or want to arrange the coolest sleepover party.
This high-quality wood sofa bed features a fold-out queen bed with a super comfortable queen mattress on top. What makes this couch bed combo absolutely worth going for is its amazing affordability. Not to mention the one that comes with high durability, as well.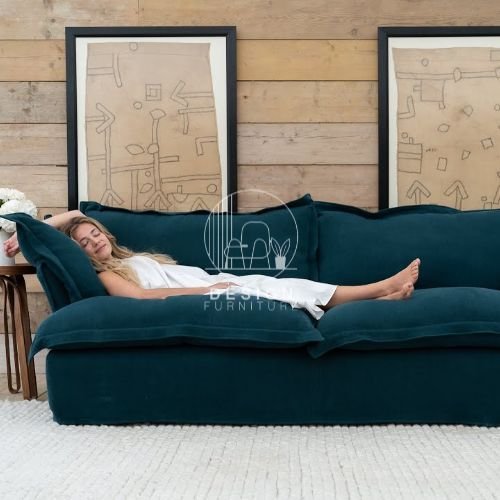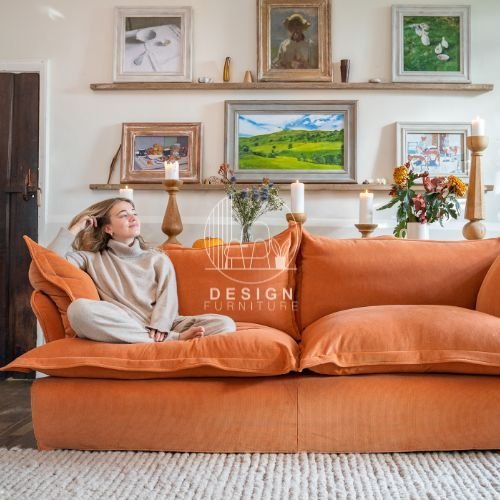 2. Shelter Queen Sleeper Sofa
This classy looking cocoon-like sofa features remarkable hand-finished upholstery and hand-made frames. It converts into a handy full size pull out couch (sleeper) whenever needed and provides an even amazing accommodation. Its gel-infused memory foam top features super plush cushions on all sides, ideally the most relaxing surfacing to experience.
The suave streamline profile of this sleeper features removable support legs that get concealed, as well. It folds out to be the plushest queen size mattress with a double-layered design that is extremely ergonomic and helpful for the body posture, too. The ticking of the mattress has breathable knitting and feels extremely soft to touch. Moreover, you can have this wondrous seating plus bedding in a number of eye-catching color choices.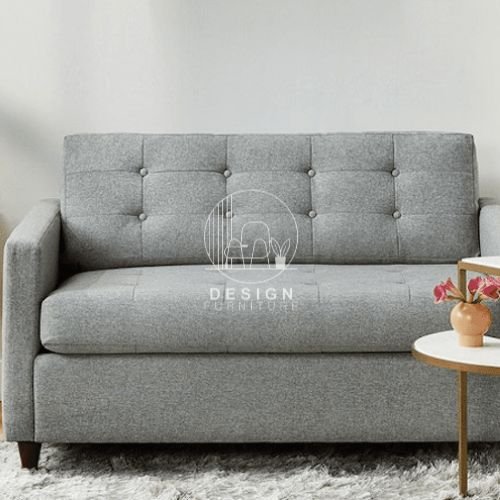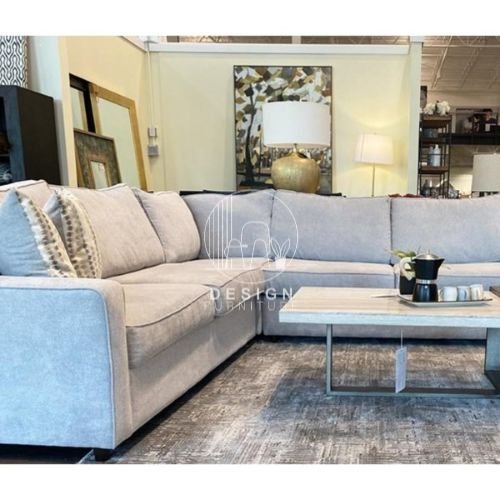 3. Eliot Twin Sleeper
This convertible twin sleeper chair features thick padding and a super soft mattress. Its kiln-dried frame and high-quality upholstery are hand-crafted and thus seem really appealing. The pull out couch works to be a twin sleeper and thus provides good accommodation for multiple uses. In addition to that, you can even get the customization of the fabric color and the staining of the frame, similar to the creation of a unique personalized bedding.
This customized sofa that turns into a bed is a wonderful element to place within offices, receptions and even nurseries, besides, of course, the residential usage. Not to mention that you get a praiseworthy return policy with the product, as well.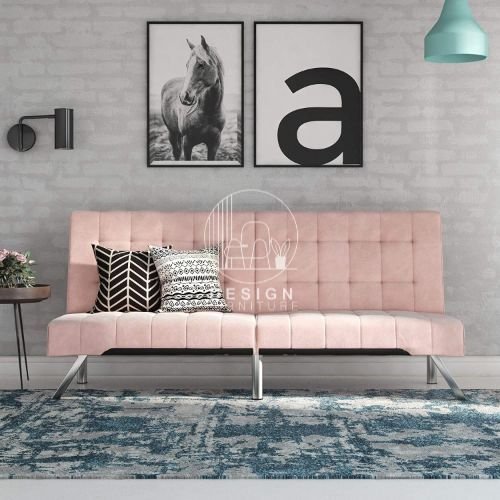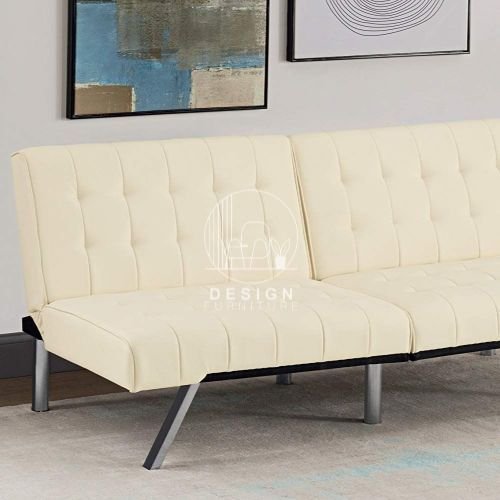 4. Emily Futon Sofa Bed
This futon with chrome legs is a perfect convertible seating space and the best furnishing element for a vast majority of places, specifically the small ones. You can have both a peaceful sleep and comfortable lounging on this sofa with its highly convertible split-back design profile. Over and above, there are multiple choices available in terms of the upholstery, as well.
You can choose either velvet, faux silk or linen upholstery within a variety of vibrant colors and shades. It is the easiest to assemble and looks the best with several custom made furniture pieces such as ottomans, loungers, chairs and couches, too.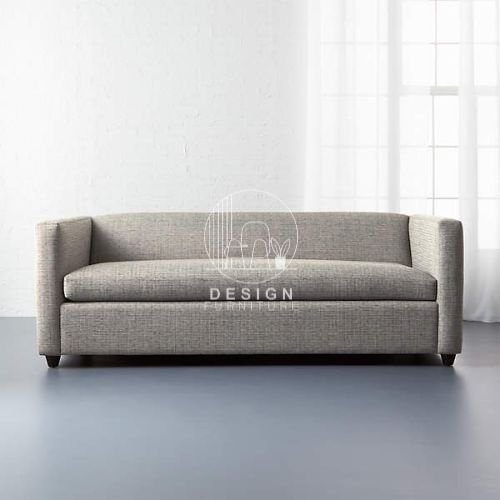 5. Wendover Queen Sleeper Sofa
This super convertible premium sofa features a high-quality metal frame queen size bed. As for the mattress, that measures a good 4-inch in thickness and has high-density memory foam. Its diamond-tufted back and double coil steel springs are heat tempered, too. The premium quality foam cushions provide maximum coziness as they have been wrapped with soft feathers.
The high-performance leather of this sleeper sofa is entirely resistant to scratching, staining and won't fade even after long usage, as well. Plus, the high-density mattress comes in versatile colour profiles to choose from.
6. Catalina Reversible Chaise Sleeper Sofa
This custom made and eco-friendly sleeper sofa features a solid, sturdy and durable wood frame. The cushioning is both flippable and reversible and combines entirely breathable and non-toxic hypoallergenic fabrics. This sleeper sofa comes with a unique and incredible versatility which makes it an ideal choice for both every day and hospitality usage.
The design is highly customizable so you literally get the most preferred comfort of yours in terms of fabric color choices, mattress type and even leg finish, too. Besides, this sleeper sofa is amazingly easy to take care of, as it comes with plush 2.0 density foam zippered cushions that are removable, as well. To use the sleeper mattress, all you've to do is remove the chaise ottoman or you can move it from both sides of the sofa, too.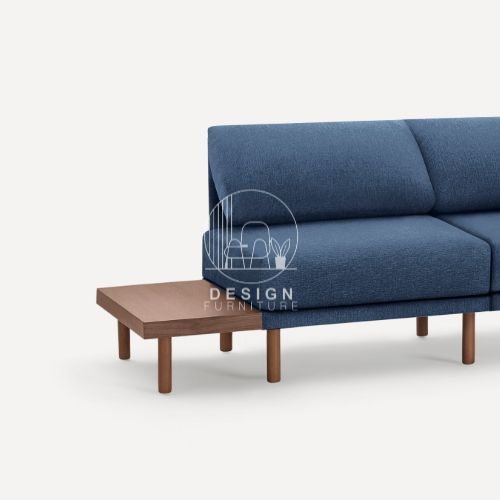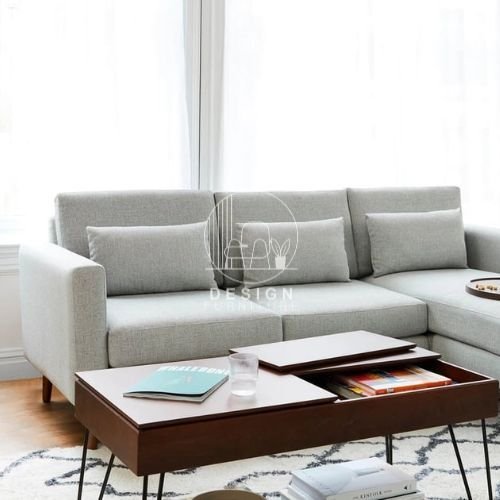 7. Arch Nomad Sofa
This is one incredibly easy-to-move sleeper sofa that can accommodate more than three people easily and is an unbreakable yet extremely comfortable sofa that turns into a bed. What makes this sofa bed even more amazing is the interesting compilation of multiple favorable and comforting features. These include a built-in USB charger, Memory foam topper, Custom sheet set, Pillow, quilted blanket and even an eye mask, too.
Each and every component is machine washable, making this whole mind-blowing combo the easiest to maintain. Besides, you can place everything in the included storage bag when not in use. This way, there is no clutter or excessive consumption of space and the sleeper sofa itself is super compact, too. Also, you won't ever experience running out of batteries or any spring leak, as well.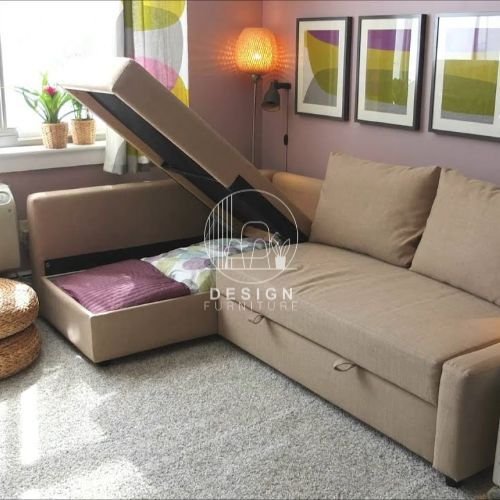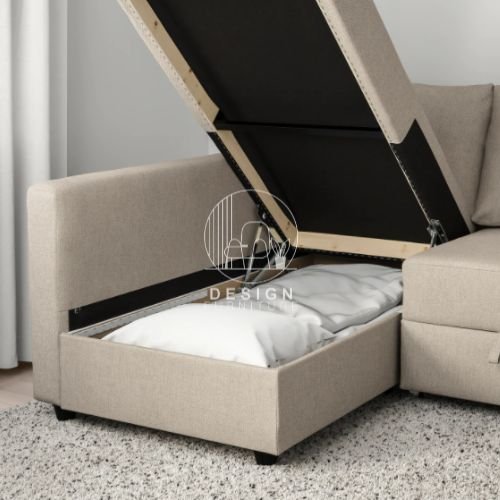 8. FRIHETEN Sleeper Sectional
This classy sectional sofa with pull out bed comes with built-in storage and is spacious enough to accommodate literally everything you like to dump, such as most relatively the bedding. The back frame, armrest frame and bed storage box are made from Particleboard and Plywood, along with Polyester wadding and Polyurethane foam.
The high-quality 100% Polyester fabrication can be easily cleaned with a damp cloth and at best, vacuum cleaning. For the conversion, all you need to do is pull out the underframe, followed by removing the back cushions. The chaise section can be placed on both left and right sides of the sofa and switching is really easy, as well. As for the durability factor, the cover has a colour fading resistance level of 5 (lightfastness level) and thus is perfectly damage-free.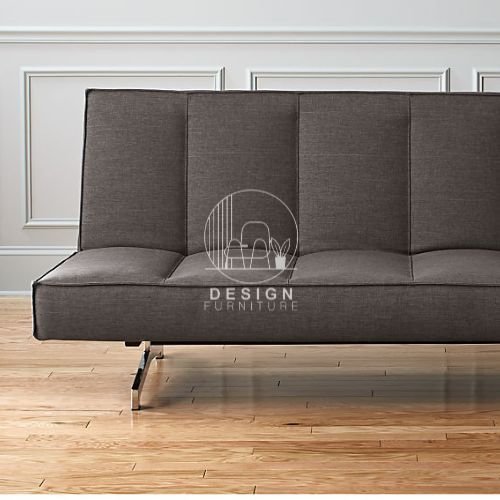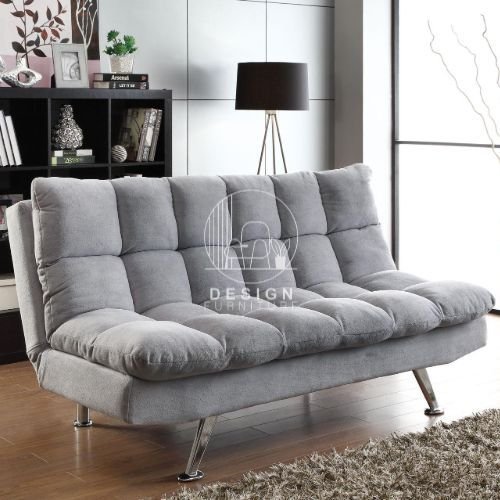 9. Lamotte 72.83" Armless Sleeper
This easily convertible armless sleeper has a full cushioned back and is a vastly suitable choice for not just homes and apartments but offices, too. You can enjoy enormous versatility with this incredible sofa bed for small spaces as the backrest has got multiple angles and the independent inclining backrest is highly flexible plus tiltable too. This mattress futon is a twin-size one and its high-density foam provides the best comfort.
The futon frame is made of metal along with solid wood legs and Sinuous springs seating. With the 3 reclining positions of the backrest, you get the most comfortable flexibility for all your favorite relaxing positions and can spend your quality time with significant convenience. Not to mention, while keeping your posture in the perfect state, as well.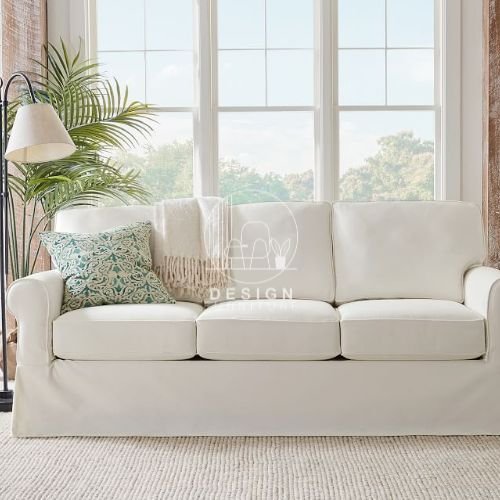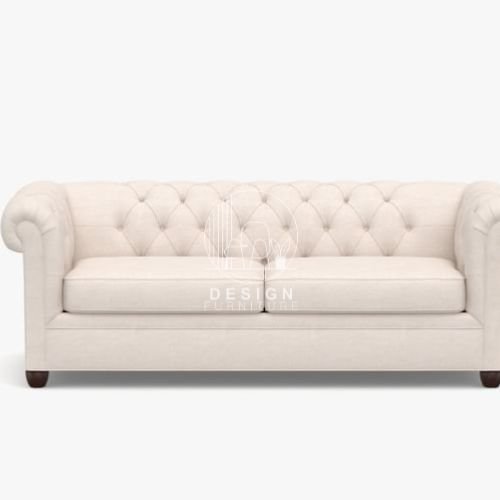 10. Chesterfield Roll Arm Upholstered Sleeper Sofa
A perfect embodiment of the vintage Edwardian style, this roll-arm sleeper sofa is a staple of style and comfort combined in the nicest way. A queen-size bed gets pulled out by tossing the cushions of the sofa aside and offers maximum comfort. The foam mattress of the bed features moisture-wicking technology and thus its improved elasticity aces in providing the most flawlessly peaceful resting.
As for the aesthetics of this spectacular looking sofa, it features a classy and classic tufted button design and so will be an inviting addition to your flat interior design. Its round tapered legs come with a tempered finish and the Kiln-dried engineered hardwood frame ensures the best durability. The polyester-wrapped loose cushions work truly as the icing on the cake, making the sofa an eye-catching piece of art.
The Cushioned Conclusion
Sleeper sofas, indeed are some of the most fundamentally favourable inventions and one can benefit from them in multiple ways. All that is left to do is a wise selection to carry out and we've got that aspect totally covered for you, as well. Our list of the 10 top-rated sofas that turn into beds is the most precise one-stop info and the perfect buying guide to give a thought to, before making a purchase. Besides, we've also got you certain sofa bed ideas for small spaces and full-size pull-out couches too, in order to have your needs ideally fulfilled.
These high-quality sofa beds will be the best addition to your furnishing equipment and are definitely the most lucrative furniture to invest in. And it is needless to say that the most major advantage of having these sleeper sofas, is its useful functionality when you're up to some hospitality and want to do it in the level best way!
A Quick Overview 
| | | | |
| --- | --- | --- | --- |
| Sr # | Product Name  | Style  | Notable Features  |
| | | | |
| 1. | Lourenco 77" Sharkfin Sleeper Sofa Bed | Couch Bed Combo | Foldable queen-sized mattress, high-quality wooden frame, affordable pricing |
| 2. | Shelter Queen Sleeper Sofa | Sofa With Pull Out Couch (Sleeper) | Hand-made upholstery and frame, space-saving streamlined profile, double-layered ergonomic design |
| 3. | Eliot Twin Sleeper | Convertible Twin Sleeper Chair  | Customizable wooden structure and fabrication, thick arm padding, adorable kiln-dried frame  |
| 4. | Emily Futon Sofa Bed | Futon | Flexible futon style, comfortable arm-rest, easy set-up |
| 5. | Wendover Queen Sleeper Sofa | Sleeper Sofa | Heat tempered diamond-tufted back, high-performance resistant leather, amazing color choices |
| 6. | Catalina Reversible Chaise Sleeper Sofa | Sleeper Sofa | Flippable and breathable cushioning, customizable design, removable zippered cushions included  |
| 7. | Arch Nomad Sofa | Sofa Bed  | Portable design, maximum accommodation, included storage bag with pillows and cushions |
| 8. | FRIHETEN Sleeper Sectional | Sectional Sofa With Pull Out Bed | Reversible Sectional style, built-in chaise storage, ideally affordable |
| 9. | Lamotte 72.83" Armless Sleeper | Convertible Armless Sleeper | Flexible to 3 reclining positions, ergonomic design, suitable for multiple areas |
| 10. | Chesterfield Roll Arm Upholstered Sleeper Sofa | Roll Arm Sleeper Sofa  | Beautiful vintage design, Kiln-dried engineered hardwood frame, Tufted button design finish  |
FAQs | Frequently Asked Questions
Sleeper Sofas Or Simply Sofa That Turns Into A Bed Is An Excellent Long-Term Favourable Investment. It Is A Super-Compact, Space-Saving, Versatile And Comfortable Seating Plus Resting Arrangement And Works Wonders In Situations Like Night Stays.
Sleeper sofas mostly feature pull out couches and they get transformed into sleepers by removing the seating and pulling the handle. That's how they turn into actual beds without occupying a lot of space.
A futon has similar cushioning for both the bed mattress and the couch. A sleeper sofa, on the other hand, features a bed mattress that gets folded into the frame of the couch. And the latter often has its own cushions, as well.
By all means, this is actually one of the most notable factors of the sleeper sofa that it can efficiently accommodate a considerable number of people. And besides the extensive provision of a bed, it does not take a lot of space, too.