What Wood Is Best for Wood Patio Furniture?
The aesthetics, durability, and upkeep needs of your patio furniture can all be dramatically impacted by the choice of wood you choose. Sunlight, rain, temperature changes, and other environmental hazards are all factors that should be considered before making any choice regarding patio furniture.
Therefore, considerable thought must be given to the wood before you select to guarantee that your furniture can withstand these difficulties. It also offers a durable and attractive outdoor seating solution. This thorough discussion by Design Furniture will delve into different types of wood available for patio furniture, suitability for outdoor use, and important considerations.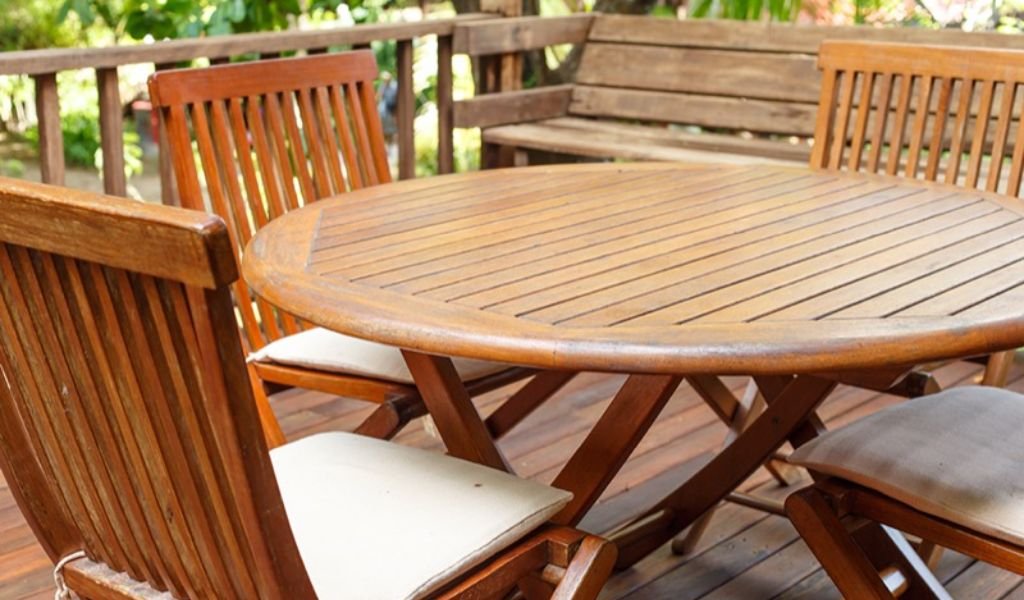 Teak wood is recognized as the best material for patio furniture due to its durability and built-in resistance to rot, insects, and decay. It is mainly inherent in wood qualities because of the high oil content of teak, which repels water and protects the wood from cracking.
The low maintenance feature of this wood makes it a great choice. Its look and longevity can be improved with regular oiling and cleaning. The price of the teak wood is one possible drawback. Due to its rarity and high demand, it is one of the most expensive wood selections for patio furniture.
The resistance of cedar wood to insets and decay makes it another popular option for patio furniture. With color ranging from reddish-brown to pale yellow, it has a distinct appearance and a pleasing aroma. Without chemical treatments, cedar's natural resistance to rot and insects ensures its endurance in outdoor situations. Compared to teak and other hardwoods, cedar's cost is a significant benefit, making it a practical choice for individuals on a tight budget.
Acacia wood is becoming increasingly popular for patio furniture because of its durability and affordability. It displays a cozy ambiance, giving your outdoor space a welcoming appearance. This wood is an excellent option for patio furniture since it naturally resists damage and insects.
Your patio furniture looks better with its appealing grain patterns and color variation. This wood does not need routine upkeep, such as sealing and oiling, to preserve its look. It might require more frequent maintenance to ensure long-term functionality and attractiveness.
The natural beauty of redwood and its resistance to rot and insects make it a popular choice for patio furniture. It comes in a range of hues, from reddish-brown to light pink, gradually deepening with time and developing a fascinating look that many people find attractive. You have more flexibility in how you can organize your patio space because of its lightweight operation and portability. Furthermore, redwood is a sustainable option for outdoor furniture. The availability and cost of redwood vary by region, so it's wise to study local providers to locate the best solutions for your needs and budget.
This wood has a pale yellow to light brown color and is resistant to rot and insect damage, giving it a long-lasting alternative for outdoor applications. Cypress is lightweight and easy to handle wood, allowing you to be creative when constructing and arranging your patio furniture. It requires regular sealing or staining to upkeep its appearance and prevent it from weathering. Cypress is the best purchase for longer-lasting furniture.
Pine wood is a popular option for patio furniture, but it does require special care and maintenance to sustain outside conditions. It is typically pale in color with a yellowish tone. One of the key benefits of pine wood is its cheaper cost compared to hardwood alternatives, making it more affordable to a broader range of budgets.
Pine is also widely available in most areas, lowering transportation costs and reducing environmental effects. This wood type is susceptible to rot, cracking, and insect damage without adequate treatment. Regular staining, sealing, and maintenance are required to extend its lifespan and maintain its appeal. When compared to hardwoods, it may have a shorter total lifespan.
Ipe wood, also called Brazilian walnut, is a robust, long-lasting tropical hardwood that is frequently used for upscale patio furniture. Its color ranges from dark brown to olive and is weather, pest, and rot-resistant. Ipe wood is well known for its durability.
One of its distinctive characteristics is its low care requirements. Due to its scarcity and remarkable features, it is also one of the most expensive wood selections for patio wood furniture.
Finally, the wood you choose for your patio furniture should match your budget, aesthetic, and choices. Teak, redwood, and cedar are noticeable for their natural resistance to rot and insects, but acacia, cypress, and pine wood are more affordable possibilities with different levels of durability. On the other hand, Ipe wood provides an unmatched lifespan for customers looking for quality. Your specific requirements and preferences will determine the ideal wood for your patio furniture.