8 No-Fail Ways to Update Old Furniture
Redesign, refresh, and reinvent are the formula for a new life start-up! Modernizing old furniture is an excellent method to infuse new vitality into your interior design. Whether it is an antique heirloom or a thrift store discovery, repurposing old furniture can add personality and flair to any room. Instead of letting those worn-out items collect grime in the corner, be inventive and give them a well-deserved transformation.
Today, Design Furniture will share eight tried-and-true methods for updating ancient furniture that will inspire and astonish you with what a little creativity can accomplish. So gather your paint brushes, and embark on this thrilling DIY transformation voyage!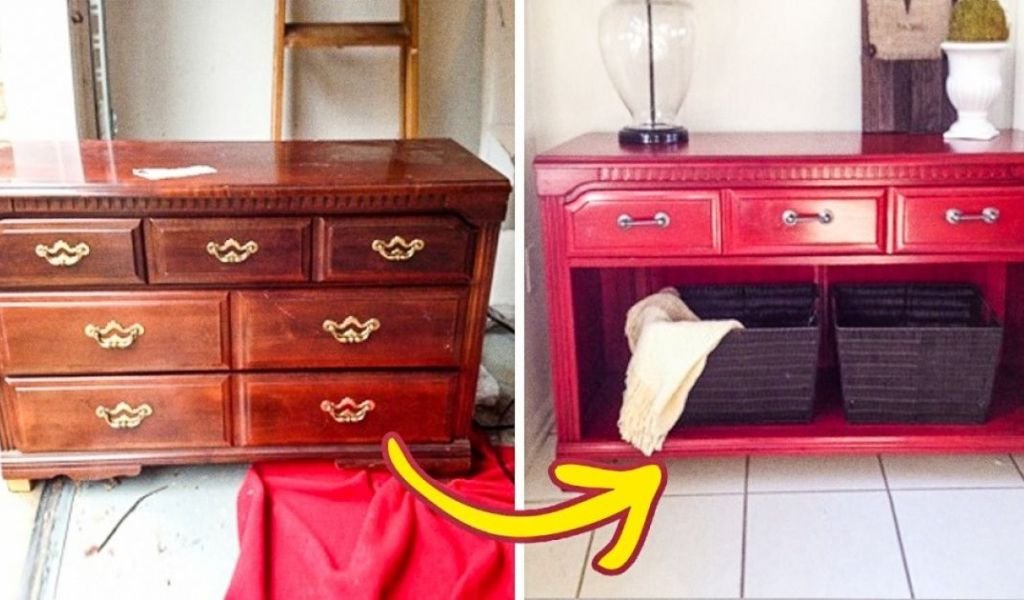 Try Something Different With Colour by Repainting Your Furniture
Refreshing ancient furniture with paint is easy and effective. Painting makes everything unique and personalized.
Create a colour! Colours make every area unique. Neutrals and pastels are ageless. Mix colours for a quirky appearance.
Prepare the surface before jumping in with brushes. Clean and burnish uneven spots. After priming, start painting! Chalk paint gives the wood a matte texture, while acrylic paint is smooth and convenient to work with.
Distressing and stencilling are equally creative painting methods. Distressing removes paint layers in certain locations to give the furniture an antique look. You can also customize your work using stencils.
Release your inner artist! With a few cans of paint and imagination, you can transform your old furniture into dazzling statement pieces that attract attention.
Modify to Serve a Different Function
Sometimes, giving ancient furniture a new function is all it takes to give it new vitality. Why not transform that worn-out bureau into a one-of-a-kind and eye-catching bar cart? Or you could transform that old end table into a fashionable plant stand.
By modifying the function of your furniture, you not only create something new and thrilling, but you also save money by eliminating the need to purchase additional pieces. Be original with your concepts! For instance, you can transform a disused bookshelf or an old desk into a display case for your collectables.
Regarding repurposing furniture, the possibilities are limitless. Imagine the pleasure of seeing your friends' astonishment when they discover that your hosiery drawer now contains wine bottles. Therefore, go ahead and let your imagination run rampant; give those ancient elements a new purpose!
Refresh outdated furniture by adding onto it and reupholstering, allowing customization based on style preferences.
Assess the best method to update ancient furniture, such as sanding and applying new paint or stain.
Update hardware with modern knobs and handles, or add decorative elements like stencilling or decals.
Incorporate contemporary colours or patterns for a modern touch when refreshing furniture.
Enhance functionality by attaching shelves or cabinets for additional storage or practicality.
When you decide to reupholster your furniture, you can choose from various fabrics to complement your intended aesthetics.
Choose a bold design or plain colour! Velvet or linen instantly improves the piece's look and feel.
Reupholstering enables furniture modernization and fabric personalization. You may replace worn-out couch legs or buttons with more modern ones to suit your style.
Add functionality before reupholstering. Add one beneath the seat cushion if your antique armchair has no storage. It will look better and be more functional if reupholstered.
Upgrade old furniture with upholstery and new legs or storage compartments to incorporate it with your new décor.
One Could Apply a Fresh Coat of Paint
A new paint application is one of the simplest and most effective methods to update ancient furniture. This straightforward technique can completely transform the appearance and feel of a piece, giving even the oldest and most lacklustre furniture new vitality.
Opt for a colour that matches your taste and décor. Painting furniture lets you customize it, whether you choose bold or neutral.
Before painting, properly clean and sand. This ensures paint sticks evenly and easily.
Instead of one thick coat, apply many light applications of paint. To avoid surface droplets. A dry and coat process should be followed.
Distressing and antiquing after painting adds creativity. These procedures can age furniture.
One of the best ways to update vintage furniture is by stripping and refinishing. Removing the finish and applying another one changes the item's look.
After removal, staining, painting, and varnishing can be done. Staining adds colour and depth to the wood. Painting offers endless colour and design opportunities. Varnish strengthens surfaces.
At the stage of refinishing, your creativity enters into play. You can experiment with techniques such as distressing and antiquing to obtain a distinctive appearance. Don't add new hardware or accents to your updated item to further enhance it.
Not only does stripping and refinishing furniture give old pieces new life, but it also enables customization based on your style preferences.
Add Some Fashionable Legs
Looking to upgrade your old furniture? Adding trendy thighs is easy. This little change can transform your furnishings.
Style first. Modern or traditional? The choice is yours. After this, choose the right type of legs. From sleek metal to elegant wood, there are many options.
Remove furniture supports. It requires basic instruments and abilities, but it's easier! Fasten or bracket the new supports after removing the old ones.
Fashionable legs provide style and solidity to furniture. This easy DIY project can turn a coffee table or dining set into a showpiece.
Apply Stickers or Stencils
Decals and stencils are great for updating vintage furniture. Adding elaborate patterns, flashy decorations, or subtle embellishments can make your piece unique.
Floral and geometric stickers attach easily. Wood, metal, and glass hold them. Stencils enable creativity.
Decals and stencils provide endless creativity. Delicate floral decals on drawer fronts can revive an old dresser. Stencil a fanciful pattern around a worn coffee table's edges.
Decals and stencils let you personalize your furniture and express yourself. Monograms, amusing motifs, and inspiring messages show your personality.
To refresh outdated furniture, add stylish supports. You'll be amazed how this tiny change can revive worn-out things and increase their look! These ornamental accents revitalize and personalize vintage furniture. Your creativity will shine with decals and stencils. If you're seeking an affordable way to refresh your furniture collection, this transformative approach shouldn't be undervalued.