Top Outdoor Gyms In Dubai: Where To Exercise To The Max
It's a straightforward strategy: if you train out at an outdoor gym rather than a home gym, you'll tend to be more fit. Because in the commercial or professional outdoor gyms, a completely motivating environment and availability of all the costly equipment have been ensured that enthuse the individual to workout out in an exceptional way.
Thus in this situation, if you have been visiting Dubai for a while, whether it be for business or a holiday, you must be aware of the best outdoor gyms in Dubai. But, if you are unaware of them, controlling your health and exercise habits may prove challenging. Going to a gym will assist you in sustaining and continuing your regular workout program without any issues. Discover the best outdoor gyms in Dubai for you by following us on this blog by Design Furniture.
An Extensive Guide to the Top 6 Outdoor Gyms Dubai
As is well known, Dubai has many enticing and contemporary gyms due to its status as a premier neighborhood. Yet, picking the best one with the most impressive amenities is a difficult process. So, we have included a comprehensive list of the top 6 gyms in Dubai in this article to make your choice easy. The names of these top gyms are mentioned below; let's quickly review them.
The names of the top-notch outdoor gyms that have been providing services to clients for a long time and are incredibly credible are listed above. Following a thorough study, we have narrowed down these options and presented them to you so that you can have the most intense workout ever in the top gyms in Dubai. Now let's dive into each outdoor gym's quick bio here on our site one by one.
1. Al Ittihad Park, Palm Jumeirah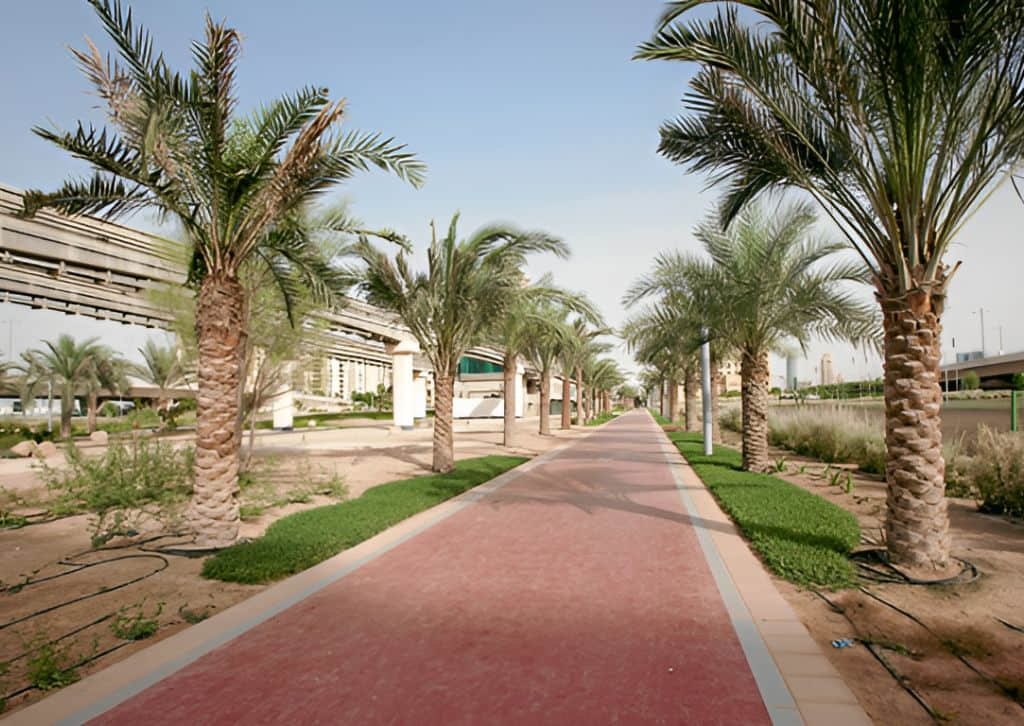 Location: Palm Jumeirah – Dubai
Address: Palm Jumeirah – Dubai – United Arab Emirates
Service Options: N/A
Timing: Saturday, Sunday, Monday, Tuesday, Wednesday, Thursday, & Friday (Open 24 hours)
Phone: 04 390 3333
This park is known as the lush green oasis of Jumeirah. You will see the maximum amount of greenery at this place which makes it an amazing spot to work out. About more than 100 types of local plants and trees are planted in this park. The serene atmosphere of Al Ittihad Park allows you to enjoy the marvels of nature and help you keep up your health routine as well. The running track of this park is the featured element that attracts the running community of Dubai the most.
The Magnificient Running Track
The total length of the running track present at Al Ittihad Park is 3.2 KM. It is the perfect distance for a running exercise that you can do on a daily basis. If you are fond of running in order to make yourself fit, then this running track is no less than a blessing for you. People perform different types of exercises, including yoga, running, pushups, etc. there. You can also carry out your workout in this park under the open sky and get fresh air as well.
Allows Family Gathering Too
The park management also allows family gatherings or group activities there. If you want to do exercise in the form of groups, then you can form your own family or friends group and visit the open and serene environment of Al Ittihad Park to carry out your exercises. You can bring your children or young ones to the park to play all sorts of games too. Families also come there in order to enjoy weekends, and they perform jogging, relaxing stroll, picnic parties, and a lot more there under the open horizon.
Location: Jumeirah Beach Hotel
Address: North Side, Jumeirah Beach Hotel – Dubai – United Arab Emirates
ServiceOptions: On-site services · No online classes
Timing: Saturday, Sunday, Monday, Tuesday, Wednesday, Thursday, & Friday (06:00 AM to 10:00 PM)
Phone: 04 406 8872
The J Club is much more than merely being an open-air outdoor gym on the rooftop of a hotel. If you are a tourist and are looking for an outdoor gym in Jumeirah, then The J Club is undeniably the best option ever. They have got amazing amenities that will astound you.
For the health conscious people, this open gym provides a mesmerizing environment so that you can carry out all your work out with great passion and determination. If you want to get full access to their indoor gym, then you can purchase their one month membership card as well. By doing so, you become eligible to enjoy the exclusive services of the J Club Jumeirah Dubai.
Facilities By The J Club
A wide variety of training types of equipment are present under the open sky. These high quality workout machines are advanced and manufactured skillfully so that they do not risk the lives of any person. You can also see different running areas, free weights, sprint tracks, climbing ropes, and other indoor activities as well.
The main reason why people prefer this club is its luxury and the wide variety of facilities that they offer. The J Club stands among one of the best outdoor gyms in Dubai that you must visit if you are a sports enthusiast, an athlete, or have a passion for a workout.
They Offer Group Classes As Well
For the people who prefer having a training instructor, the club offers them a person who guides them properly about all types of exercise and workouts. You can also get yourself enrolled in different types of exercise classes offered by them.
These classes include squash, water games, yoga, daily basic gym modules, and much more. You can enjoy an amazing fitness experience and lifestyle in the holistic environment provided to the residents of Dubai by the J Club. So register yourself now and enjoy the most amazing amenities of this fitness club. The J Club has a wide range of amenities and equipment, including ropes, a climbing wall, boxing, free weights, and a sprint track, making it much more than just a hotel gym. Whether you're in the mood for yoga, tennis, water sports, or even squash, there are a range of sessions available.
Location: Sheikh Zayed Road, Dubai
Address: Floor 6, City Tower 2 Car Park, Sheikh Zayed Road, Dubai
ServiceOptions: On-site services · No online classes
Timing: Saturday, Sunday, Monday, Tuesday, Wednesday, Thursday, & Friday (06:00 AM to 08:00 PM)
Phone: (800) 348462
For the people who love to get trained in outdoor environments but hate to wait for their turn on the equipment, the Fit Inc. has the solution to their problem. This outdoor gym in Dubai has got a large number of weights, dumbbells, and other fitness training equipment so that you do not have to wait for your turn. Instructors and trainers are available on demand. All other equipment, such as ropes, medicine balls, gym balls, ropes, bars, jump boxes, and other technical instruments are also there in order not to create any kind of hassle during your workout procedure.
Dubai's Premier Fitness Club
Want to enjoy your fitness activities right under the blue sky? If yes, then no other place than Fit Inc fitness company is the best choice. The club is designed in such a way that you will feel a really elite experience and will love to do exercises in the open atmosphere. This fitness club shows you the collection of the world's best and the most advanced types of equipment in bulk quantity. So in such an environment, it will be super motivating for the gym enthusiasts to perform their work out exercises and drills.
The Most Easily Accessible Fitness Community
Located at one of the prime locations in Dubai, Fit inc is listed as the best outdoor gym in Dubai. The spot is very easy to find, and you will not even get stuck in traffic while going to the location because the road has multiple lanes. You can really feel something extraordinary in this revolutionary fitness club. A fitness center resembling some for-profit gyms is produced by the combination of elliptical machines, pull-up bars, and a calisthenics area.
It is the best option for the residents who live near Shiek Zayed Road Dubai. So pull up your socks and be ready to join Fit inc in order to make your lifestyle more amazing and healthy. Fit inc is waiting for the gym enthusiasts that are motivated to attend all these activities and want to improve the style of their living.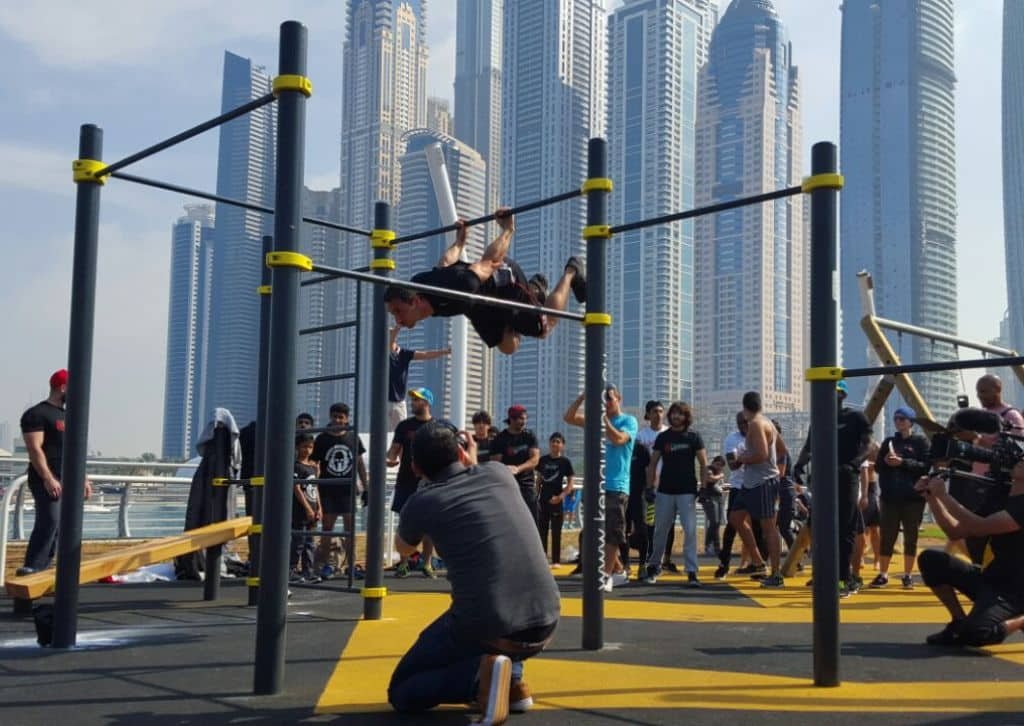 Location: Al Seyahi St – Dubai Marina – Dubai
Address: Outdoor gym, Skydive Dubai, Dubai Marina – Dubai – United Arab Emirates
ServiceOptions: On-site services · Outdoor Gym
Timing: Saturday, Sunday, Monday, Tuesday, Wednesday, Thursday, & Friday (Open 24 hours)
Phone: 04 377 8888
Skydive is located in Dubai Marina, where you can enjoy a really clear skyline and the waves of the sea as well. What more do you expect from an outdoor gym? There you can do your workout practices on various calisthenics and cross fit types of gym equipment.
A sprint track is also present, where you can do all sorts of exercise, including running and/or walking. People prefer this outdoor gym because of the open and refreshing air that is way too good for both your physical and mental health.
The Main Attraction
Skydive Dubai outdoor gym's main attraction is the skyline of Dubai Marina and the mesmerizing view of the Arabian sea. Because of these two factors, the people of Dubai are more attracted to this outdoor gym in Dubai. So for you, this gym can be the most impressive spot to work out. With the refreshing breeze coming from the sea, you can take a minute for your physical health at this outdoor gym. If you are a resident of Dubai Marina or are present here as a visitor, then you must consider this place as your outdoor workout gym as it lies in the list of the 6 best outdoor gyms in Dubai.
Offer Training Sessions According To Your Preferences
This outdoor gym also has got a number of instructors and gym trainers. If you are the kind of person who is comfortable with a gym trainer, then they can give you these services as well. You can select your own training module according to your needs, preferences, and requirements. This outdoor gym in the United Arab Emirates offers both types of training sessions, i.e., individual training sessions and group training sessions, for an exceptional workout. So be quick to register yourself, grab your gym trainer, and hurry in order to uplift the standards of your living in Dubai.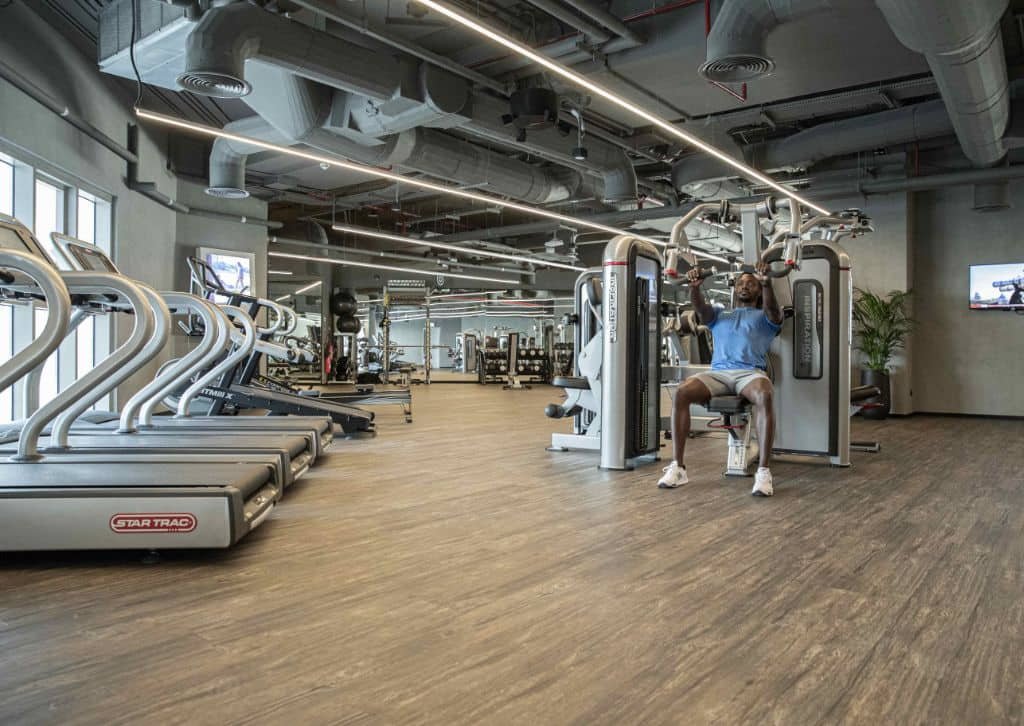 Location: Zabeel House by Jumeirah, The Greens
Address: The Onyx Tower 3 – Sheikh Zayed Road – Dubai – United Arab Emirates
ServiceOptions: On-site services · Outdoor Gym
Timing: Saturday, Sunday, Monday, Tuesday, Wednesday, Thursday, & Friday (Open 24 hours)
Phone: 04 519 1111
This gym is located in the newly opened Zabeel Hosue by Jumeirah, The Greens. The Native Club has a lot of amenities that make it a prior choice for the people who want to shape their bodies like athletes. You can get their indoor and outdoor physical fitness facilities. There is also a swimming pool and a spa present for the customers. To use the facilities of this gym, you have to be a member of the club or a customer.
All the gym machines are present both indoors and outdoors so that you can complete your workout and drills with ease according to your preferences. Following are the quick details about the Native Club that will compel you to join this outdoor gym for an effective workout.
Multipurpose Gym Training Apparatus
The site is full of different kinds of gym equipment that you can use for your workout. Their outdoor gym's training apparatus is advanced and designed just according to the international standards. If you are not a newbie, you can do your drills on these machines without any hassle. The fully equipped gymnasium of this club is always available for the members of the club and the customers. You can avail of their facilities 24/7 a week. No matter in which state of Dubai you live, you only have to be a member in order to get all the facilities.
If you are a visitor in Dubai and want to enjoy state-of-the-art fitness services in Dubai, the Native is the only solution that offers you the best. They are present to serve all the people on an equal level. Their training zones are well-known for completing your physical fitness goals and uplifting your lifestyle. So be with them and achieve all your fitness goals as the first priority.
The Most Premium Gym With The Most Spacious Area
If we talk about the area and workout space of this gym, then you would be stunned to know that the Native Club has got the most spacious training zones. Both their indoor and outdoor training zones have a very large area where you can get your training sessions. The gym also provides you with the individual and group class exercise training sessions.
For all your requirements, this gym has got all the solutions and answers to your tricky questions and queries regarding physical fitness. So what are you waiting for? Get yourself registered with this Native Club Dubai to avail yourself of all the facilities in Dubai. This fitness club also offers different exclusive packages to their premium members in which they can also use their other facilities, including a spa, pool, bar, and their resort amenities as well.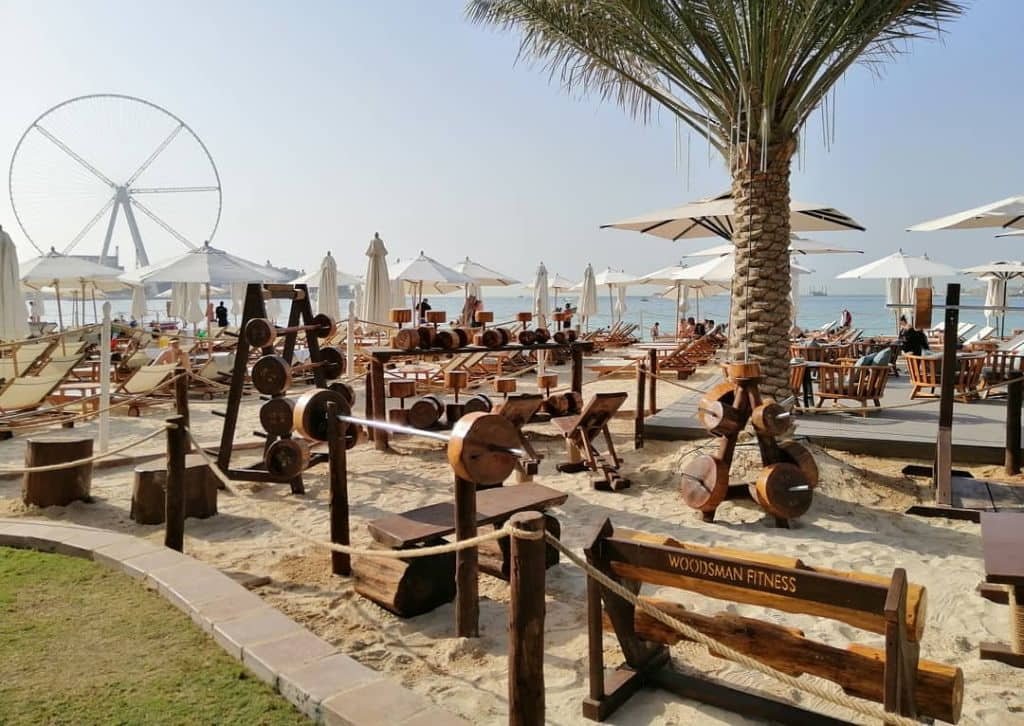 Location: Azure Beach – Dubai
Address: Azure Beach, Rixos Premium JBR – Dubai – United Arab Emirates
Service Options: On-site services · Outdoor Gym
Timing: Saturday, Sunday, Monday, Tuesday, Wednesday, Thursday, & Friday (10:00 AM to 07:00 PM)
Website: rixos.com
This gym is present in one of the most advanced and premium resorts of Dubai, located on the Azure Beach. It is an ideal place for such people who love to enjoy their workout on beaches and despite laying on sun loungers. The solution to this problem is presented by Rixos Premium JBR. They have managed their outdoor gym setup on the seashore so that you can carry out your exercise and enjoy the amazing experience of an Arabian beach as well.
The gym has a fully natural look, and the equipment present at this gym is also of traditional theme. The setup is very cozy and offers you a magnificent view so that you can perform all your exercise with great potential. The detailed information about this gym is given below. So without wasting any time, let us check about all the facilities, ambiance, and other details of this gym right here.
Ultimate Natural Jungle Gym
The woodsman Fitness company has set up all the equipment of this gym in order to give the enthusiasts a complete feel of the natural environment. The whole setup is present on the sand of the beach, which gives a really cold feel under your feet. Whenever you get tired from doing workouts, you can make yourself relaxed on the sand of the Arabian beach. The gym has got plenty of workout equipment that can make you busy for the entire day without any hassle. The gym facility is mostly availed by the people who are here to enjoy a luxurious stay at the premium hotel, Rixos Premium JBR.
The main purpose of providing such a natural woody environment is to boost the activity of the human body so that you can get fully motivated and carry out all your routine exercises without any loss of concentration. Besides this setup, you can also avail these amazing facilities in their 2nd outdoor gym in Dubai, which is located in Rixos the Palm. There the company has also created the same jungle-style theme to encourage the activity of the athletes and entertain the guests of the resort.
A Premier Wooden Fitness Club
To attract the attention of locals and the visitors, the theme of this gym is wooden. All the equipment and other elements of this gym are completely manufactured by Woodsman fitness company which makes it a distinctive choice for the people. From dumbbells to all other equipment, including weights, all the items are made from wood that gives a completely natural feel to workout enthusiasts.
Rixos Premium JBR has a solution for individuals who find it difficult to relax on a sun lounger and would rather be active while at the beach. The ultimate natural jungle gym has been created by Woodsman Fitness, complete with a tonne of tools and weights to keep you engaged. It also works well as the backdrop for your Instagram photo. At Rixos The Palm, there is also a different arrangement.
Following our review of this blog, we have come to the conclusion that it contains useful information for those looking for the top outdoor gyms in Dubai. In order to provide the readers with a quick note, we have listed the top 6 open-air gyms in Dubai. Thanks to our amazing and filtered sorting, you can now choose a specific gym that accurately satisfies your needs and tastes. In this guide, there are all types of outdoor gyms, from premium to local, located in the vicinity of the United Arab Emirates.
We hope that this post will be useful to you in continuing your daily exercise regimen. For the readers' benefit, all the pros and drawbacks of various workout facilities are also listed. So after going through this piece of writing, now you can conveniently select an appropriate gym to enjoy an effective workout. We wish you the best for your ultimate gym experiences and your targeted goals like muscle building.