A Tour of The World's Deepest Pool: Deep Dive Dubai
Have you ever imagined what it would be like to travel to the bottom of the ocean while remaining on dry land? Deep Dive Dubai may be the place you've been dreaming of visiting if you love diving or are simply looking for an adrenaline rush.
If you are a seasoned diver or just looking to try something new, read on to learn what makes Deep Dive Dubai a must-visit attraction. We will take a closer look at the features that make Deep Dive Dubai an unmissable destination for divers of all levels, from its cutting-edge technology to its stunning underwater city.
A Comprehensive Guide About Deep Dive Dubai
Dive Deep Dubai with the recent public opening of the world's deepest swimming pool, is creating waves in the diving community. With its unique opportunity to explore the depths of the pool's underwater metropolis, this Dubai-based pool has become a worldwide hotspot for thrill-seekers and divers.
Let's have a quick look at all the details by Design Furniture of this fantastic and deepest pool that is practical in Dubai.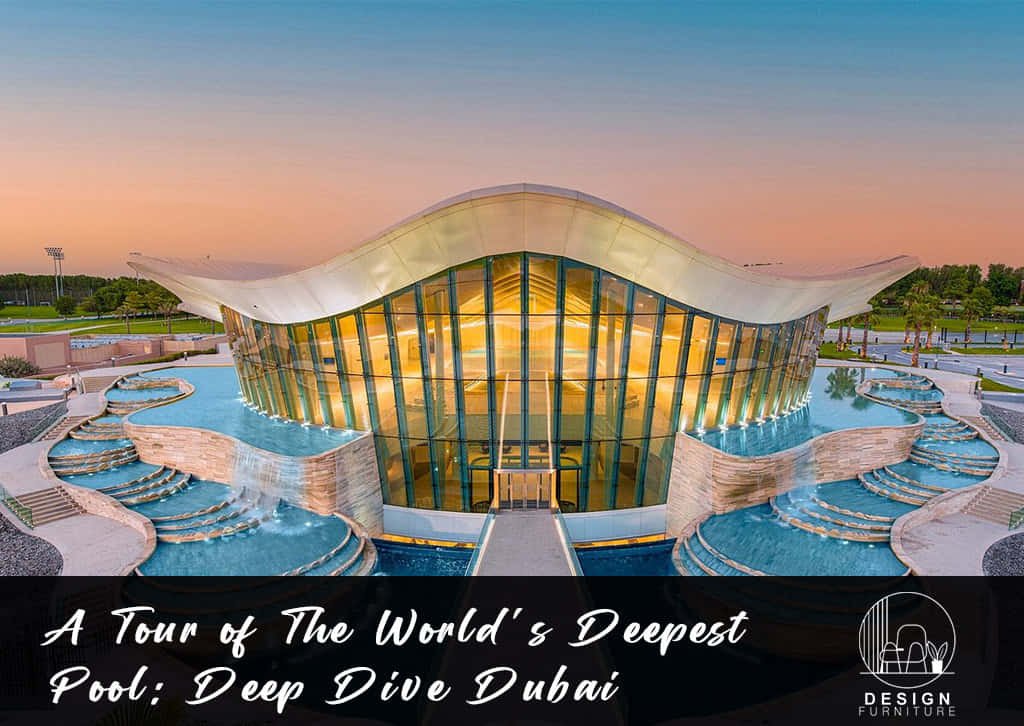 1. Some Pin Point Details
Address: NAS Sports Complex – Dubai – United Arab Emirates
Timing: Monday, Tuesday, Wednesday, Thursday, Friday, Saturday, and Sunday (09:00 AM to 06:00 PM)
Contact: +971 4 501 9444
The 60-meter-deep pool at Deep Dive Dubai is a stunning engineering achievement (196 feet).
The pool can store six Olympic-sized swimming pools' water capacity or 14 million liters.
Divers can comfortably spend a lot of time exploring the pool's depths because the water is kept at a constant 30°C.
Divers will be mesmerized by the pool's sophisticated lighting and sound systems, which are being installed.
Bright lights illuminate the underwater city at the bottom of the pool, creating the appearance of daytime.
Divers get a dreamlike experience thanks to the pool's sound system, which also includes music and background noises like underwater bubbles.
The most impressive feature of Deep Dive Dubai's pool is its underwater city. All the major features and details of this underwater city are:
The city is made up of many buildings, such as a garage, a library, an abandoned city, and a flat.
Each building is beautifully created, and the city has a genuine atmosphere thanks to the addition of furnishings and books.
By swimming through the many structures, which are connected by walkways and tunnels, divers can explore the underwater metropolis.
Additionally, the city has air pockets that give divers a secure location to rest and refuel.
The underwater metropolis not only has a stunning design but also fulfills a crucial function.
The buildings serve as training aids for divers, giving them a realistic setting in which to hone their abilities.
The details about enjoying a diving experience in this deepest pool are mentioned as follows.
Divers of all skill levels can enjoy a distinctive diving experience at Deep Dive Dubai. Both novice and expert divers can take training and certification courses at the facility. The courses are provided by qualified instructors who hold certifications from reputable international diving agencies like PADI.
For Experienced Divers: Deep Dive Dubai gives experienced divers a chance to explore the pool's depths and the underwater metropolis. Divers have the option of exploring the city themselves or with a guide. The facility also offers wetsuits, fins, and tanks, as well as all the diving gear required.
For Beginners: Deep Dive Dubai offers a beginner-friendly Exploration Dive course for individuals who have never dived before. The lesson introduces diving and permits new divers to delve deeper into the pool.
Safety is a top priority at Deep Dive Dubai, and the facility has taken every measure to ensure the safety of its divers. These safety measures are:
Modern safety equipment is available at the site, including a hyperbaric chamber and a sophisticated filtration system.
In an emergency, the hyperbaric chamber is used to give divers quick medical assistance if they experience decompression sickness.
The filtration system makes sure that the pool's water is of the greatest quality and that hazardous germs and viruses are not present.
Some engineering details of this pool.
The world's deepest pool, Deep Dive Dubai, was created by a team of diving and engineering professionals using the most recent tools and materials.
The pool's environmental design included the use of renewable resources and an energy-saving filtration system.
An area for spectating the pool from outside is also present.
Visitors may watch the divers as they explore the underwater metropolis at Deep Dive Dubai's spectator area.
Large windows in the spectator section allow for an excellent view of the divers, which is 4 meters below the pool's surface.
8. Photography and Videography
This pool is really heaven for photography enthusiasts. More details are:
Visitors to Deep Dive Dubai are permitted to record their diving adventures with photos and films.
In addition, the location provides expert photography and videography services for an additional fee.
9. Special Events and Activities
Other additional activities at the facility are:
Throughout the year, Deep Dive Dubai hosts a variety of unique events and activities, such as themed nights, diving contests, and live musical performances.
These activities enhance the whole pool experience and give guests a special and unforgettable experience.
10. Health Benefits of Diving
Diving is an amazing thing for your health. You can understand this fact by reading the following information.
Diving has a number of health advantages, such as enhanced cardiovascular health, decreased worry and tension, and greater strength.
Visitors to Deep Dive Dubai have the chance to take use of these advantages while exploring the underwater city and improving their diving abilities.
An engineering marvel, Deep Dive Dubai is a one-of-a-kind vacation spot for scuba divers and explorers. The pool provides visitors with a memorable, demanding, and thrilling experience because of its world-record depth, distinctive underwater city, and dedication to safety and sustainability. This engineering marvel is definitely an attraction for the people who are hydrophilic.
Deep Dive Dubai is a must-visit location whether you're an expert diver trying to develop your abilities or a beginner searching for a new and exciting adventure. The pool offers a totally immersive and amazing experience that will leave you with memories to last a lifetime because of its cutting-edge amenities, knowledgeable personnel, and distinctive features. In order to experience the excitement of diving into the deepest pool in the world, make sure to add Deep Dive Dubai to your list of must-do activities.