The Perfect Fabric for Roman Blinds; 7 Most Popular Fabrics to Use in 2022
Blinds are the most important part of your home. They can increase or decrease the beauty of your place easily. Choosing the fabric for roman blinds is thus a very interesting and challenging task. Of course, there are a large number of fabrics that are used for the making of roman blinds, but you want to choose the best one for your room.
Searching for the perfect fabric for your roman blinds? We are here to assist you in getting the dream blinds installed in your home. We have been concerned with many interior designers, and now we can suggest to you the most popular and trending fabric for roman blinds in 2022.
If you want to know about famous fabrics, their advantages, and disadvantages, then continue reading this blog because we are going to explain to you all the points that you must know about Roman blinds fabric.
How to Choose the Best Fabric for Roman Blinds?

One of the most important ways to choose the fabric for your blinds is to keep in mind the functionality of your blinds. If you want more privacy in your room, then you should select a closed-weave fabric for your room. You can select open weave fabric for your living room when you want to enjoy the outside environment and also want your blinds to filter unnecessary light rays.
If you want to reduce the glare from your room, then you must choose a darker fabric. Dark fabrics can absorb more heat, so they can warm your place. If you don't want your blinds to absorb heat, then you must select a lighter fabric for your place.
You should also look at your room while selecting the fabric for the roman blinds. All fabrics are not meant for all rooms, so your room plays an important role in selecting the fabric for blinds. You can't use wooden blinds in wet places, such as in your bathrooms and kitchens. Choose the synthetic fabric for these places.
You must consider your personal style and the needs of your interior while choosing the fabric of the roman blind. If you are hanging linen roman blinds in your place and it goes beyond your interior décor, then they will never look beautiful in your place. As a result, always try to choose a fabric that complements the interior of your home and your styling requirements.
The most popular fabrics for roman blinds that you can select for the perfect decoration for your rooms are: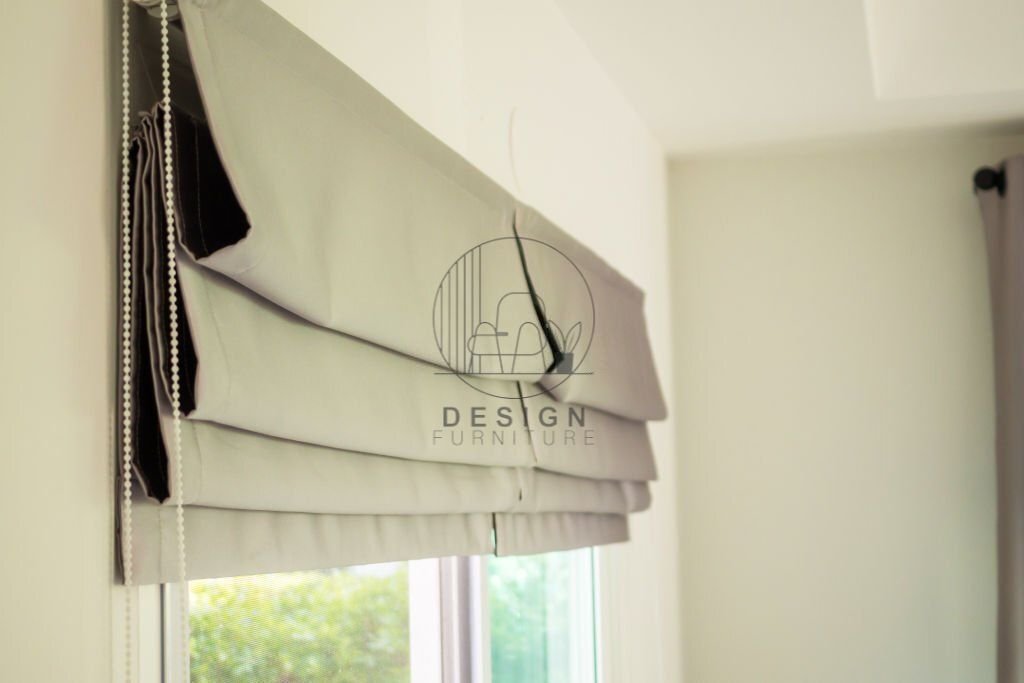 Linen is one of the best fabrics used for roman blinds. This fabric comes from natural sources. For beach-inspired styles in rooms, this linen fabric is ideal. Linen fabric comes in many neutral colors so you can choose according to your own needs. For the coloring of linen, natural dyes are used, so this fabric is completely eco-friendly.
If you want to give your room a cool and classy look, then this fabric is ideal for your Roman blinds. The linen blinds are very easy to clean so you don't need too much time for their maintenance. This fabric is a loose weave, so they keep your room ventilated.
You can use linen blinds in your rooms, outdoor sitting areas, hallways, entrances, or wherever you want. They look equally beautiful in all places. One thing that you need to remember while washing these blinds is to never put them in a dryer because their creasing can be permanent.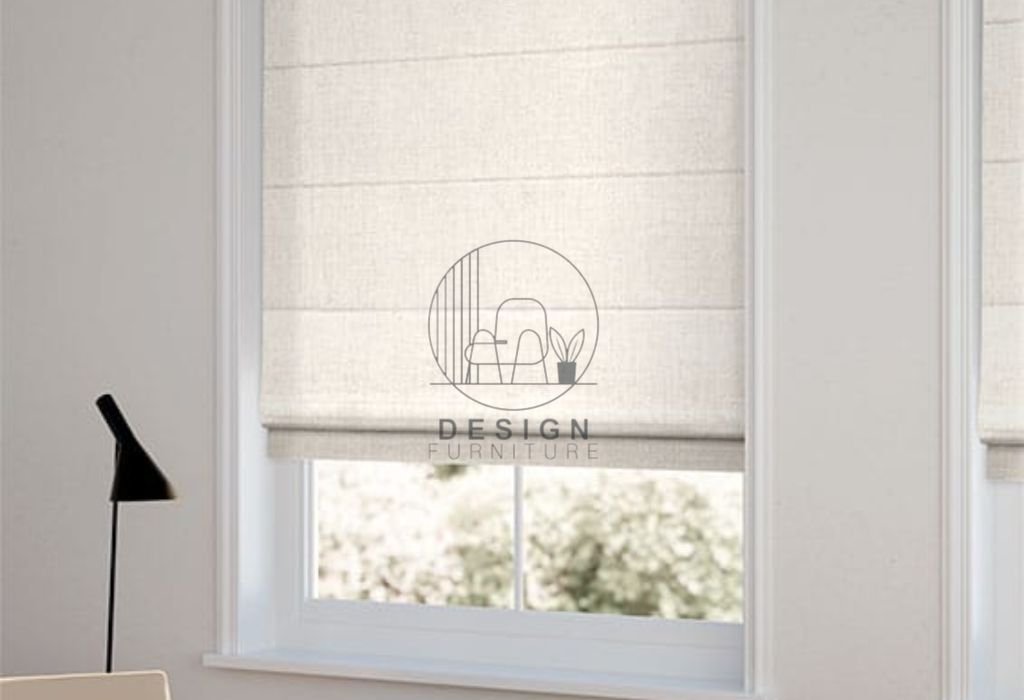 Cotton for blinds and cotton mixtures with other fabrics are some of the most popular blinds nowadays. Cotton fabric is perfect for those who want a fabric that needs very low maintenance. You can easily wash cotton blinds, dry them, and then hang them again with no difficulty.
The manufacturers of cotton roman or roller blinds blend cotton with nylon, polyester, or any other suitable synthetic fabric. These materials are used in cotton roman blinds to make them resistant to water and fire. They also help cotton blinds prevent color fading from dangerous sunlight.
The texture of cotton blinds is very soft and one of the most prominent benefits is that they are highly inexpensive, so you can easily afford them.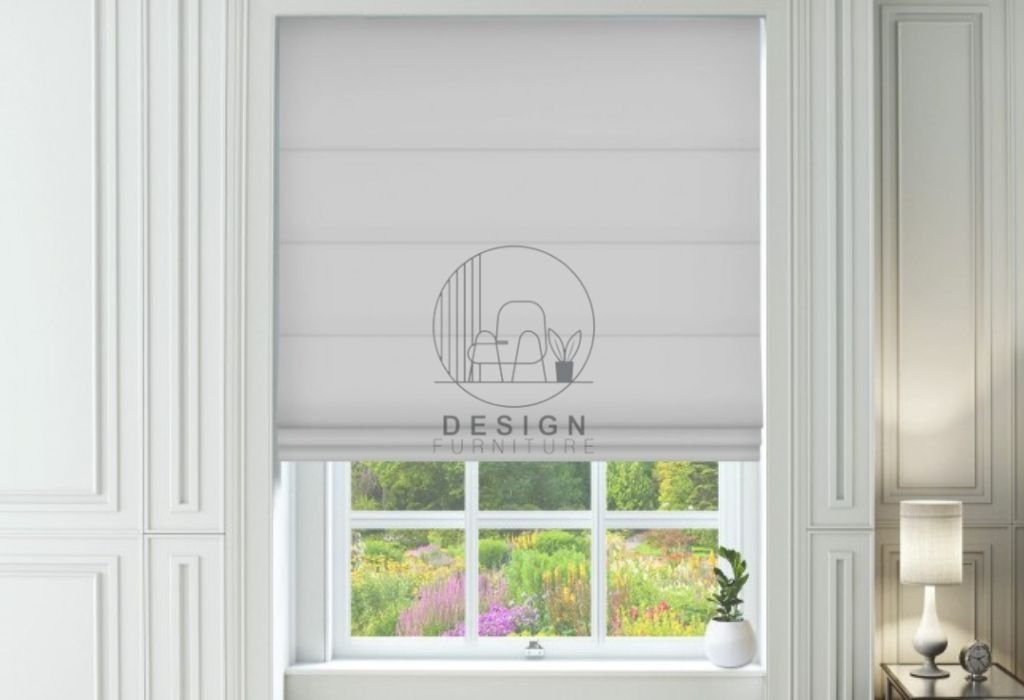 Chenille is not a single material, but a mixture of three fabrics, such as olefin, rayon, and cotton. When these three combine, we call the fabric chenille. These fabric blinds are exquisite and look completely amazing, especially when you want to give a royal look to your place.
This fabric is more durable than other fabrics because it is made from twisted fibers. You can use these blinds as much as you like. If you want thermal blinds to keep the heat in your home, chenille is an excellent choice for your blinds. This fabric easily keeps heat and gives you energy-saving benefits. These blinds are resistant to water and are very easy to maintain.
They can add a soft touch to your place when installed. If you want to give your place a light and cool environment that is relaxing for the eyes, then you can use chenille as the fabric for your blinds.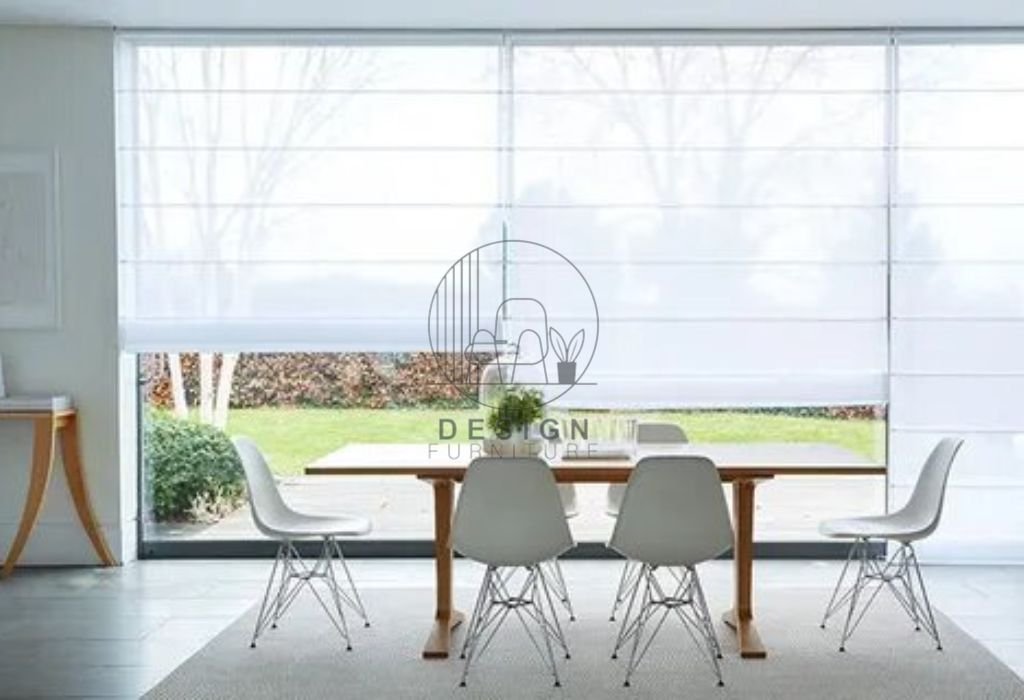 If your room is not along the street, then you can also use voile fabric for the manufacturing of your blinds. This fabric is very light and allows the air to come into your place. They are completely lightweight, so you can easily open or close them. This lightweight fabric is ideal for small rooms because they have little space and bulky blackout blinds don't look good in these places.
It is one of the best breathable fabrics that you can use for the manufacturing of your blinds. If your room is dark and you don't want to use blinds that can make your room darker, then these blinds are best for you. Along with giving you privacy, they allow light to pass through them, but only a sizable number of light rays.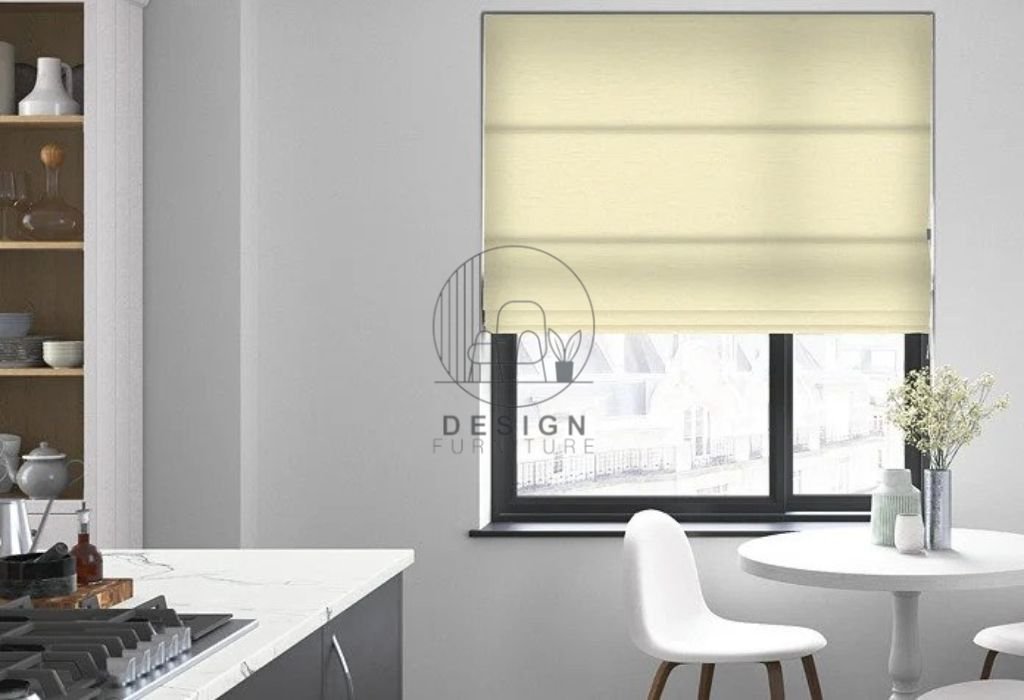 Looking for some sophisticated and elegant fabric for your blinds? Then the silk is the best solution for you. Silk has been used for centuries for the manufacturing of blinds and curtains, so you can also use silk as one of the best fabrics for roman blinds. Both natural and faux silk blinds are used in the making of modern blinds.
Read More: How to Clean Roman Blinds
It depends on your choice and whether you use natural silk or faux silk for your office blinds. If you are choosing fabrics for roman blinds for living rooms, bedrooms, and dining rooms, then silk fabric is the ideal option for you. These blend best into the soft interior looks and can add to the elegance of the place.
Don't select silk blinds for the kitchen, bathrooms, or any wet areas. This fabric is also somewhat more expensive than other fabrics for blinds.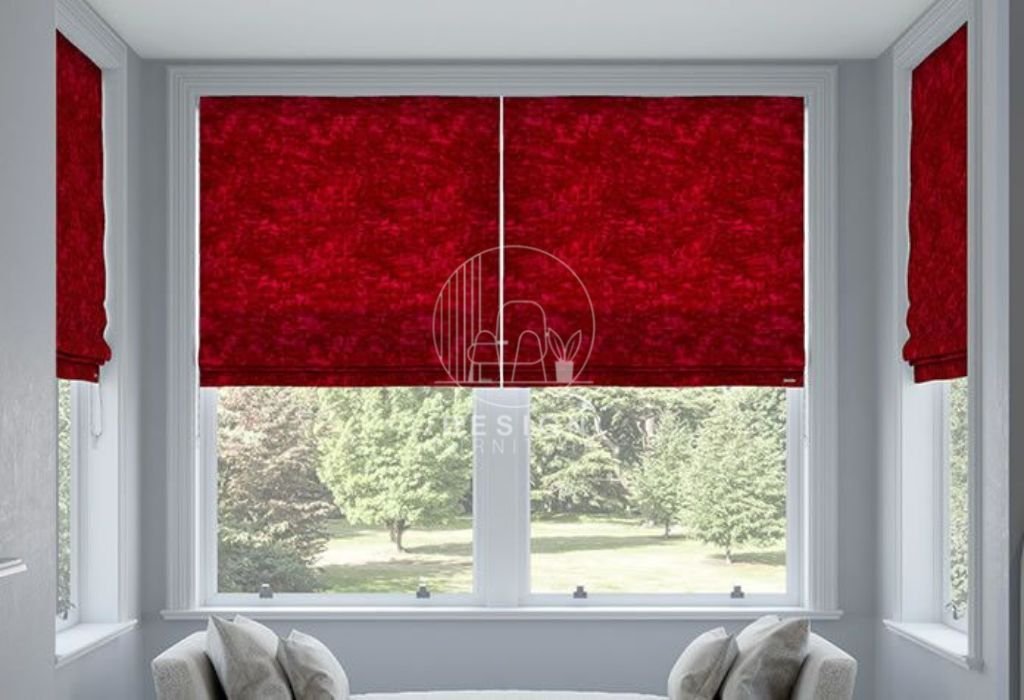 Velvet blinds are mostly used in royal-looking rooms because they adjust best in these types of interiors. If you are blending modern/contemporary looks in your home, then these velvet blinds are an excellent choice for you. You can use velvet when you want to add warmth to your rooms.
Velvet blinds are very common in hotel rooms these days because they enhance the beauty of the place. Velvet blinds are slightly heavier than other blinds, but you can adjust their weight by choosing the right blind manufacturer.
This fabric is highly dust-absorbing. If you are one of those people who don't find time for the washing of blinds, then you must use velvet in your blinds because they don't even get dirty after a year of use. The only problem with velvet blinds is that they are not as durable as cotton or silk blinds.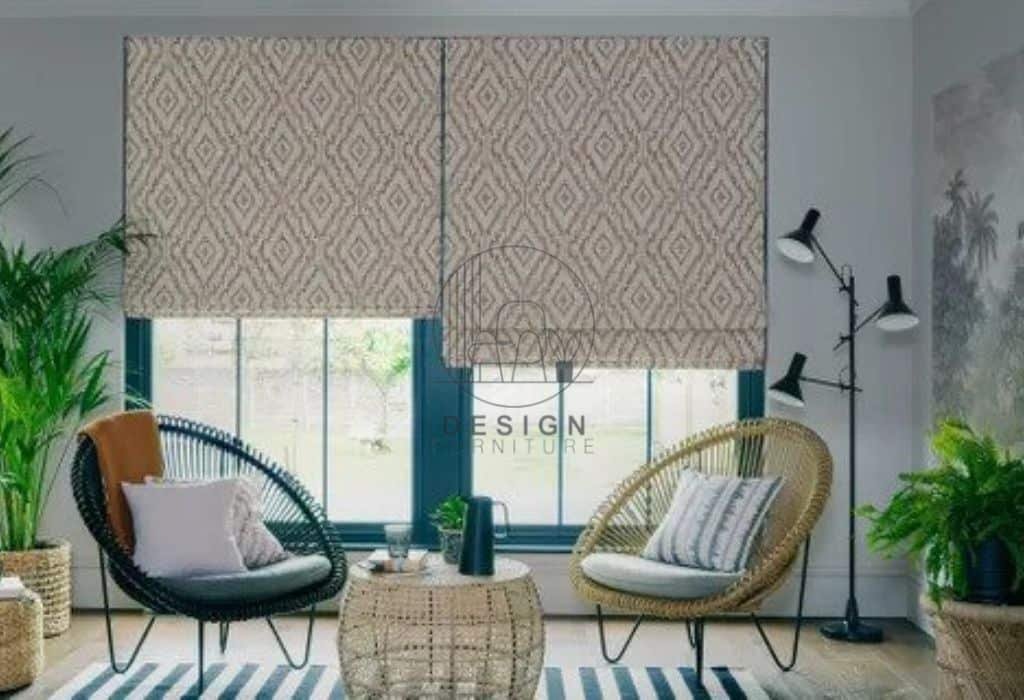 If you want something unique to your room other than traditional blinds, then you can use tapestry or jacquard fabric for the manufacturing of your roman blinds. Roman blinds with these fabrics look absolutely stunning. You can add distinctive properties to your room if you are adding jacquard fabric roman blinds.
If you are styling your home in a completely traditional style, then you can add tapestry fabric blinds in your room so they can give the 80s or 90s look to your place. They add not only a traditional look but are also very durable. You can use these blinds for many years without the need to maintain them.
Conclusion
Now you know all about the most famous and trending fabrics for roman blinds, so you can easily choose one of them for the roman blinds in your living room and bedroom. You must note the requirements of your place while choosing the blinds. Select your favorite color of your dream fabric blinds and let's glorify your place.