How to Clean Roman Blinds; Step-by-Step Guide For Stain Removal
People usually install fabric-made Roman blinds so they can easily clean them with a vacuum cleaner or a damp cloth. So, if your Roman blinds are also made of fabric, cleaning them will be a breeze. Are your blinds dirty? You must think of cleaning them so they look as beautiful as they were at the start when you installed them.
You must choose suitable cleaning products and a workable method for the cleaning of your blinds so the fabric doesn't get damaged. If you want to keep your blinds fresh and beautiful, then you can follow our how to clean roman blinds guide. We are going to tell you all the methods that you can try to remove all the stains from the fabric of your roman blinds.
You will also learn about the cleaning products that are ideal for the washing and cleansing of your blinds. So, continue reading this blog and explore what you know about your blinds.
To Remove Dust: How to Clean Roman Blinds Dust?
One of the best tips for the cleaning and maintenance of your roman blinds is to never let them get extremely dirty. Whenever you notice your blinds are getting dusty, then clean them at that point, and don't allow stains and dust to lodge in your blinds.
When you notice dirt particles on your blinds, vacuum them. If you don't have a vacuum cleaner, you can also use a brush for cleaning your blinds. For this purpose, extend your blinds as much as you can, then move the duster from top to bottom.
You should give some extra time to the folds of the binds because most of the dust accumulates at these points. The bottom of the blind is also very dirty because most of the dust gets trapped here in your blinds. So you must clean these two places thoroughly. Now you know how to clean Roman blinds with the easiest method.
To Remove Stains: How to Clean Roman Blinds Stains?

Cleaning dust from your blinds is very easy because you just need to vacuum or brush the blinds, but stain removal can be a tricky task for you. But don't worry, we have devised several ways with the consent of blind experts for stain removal. Some of the most effective methods for the cleaning of Roman blinds are: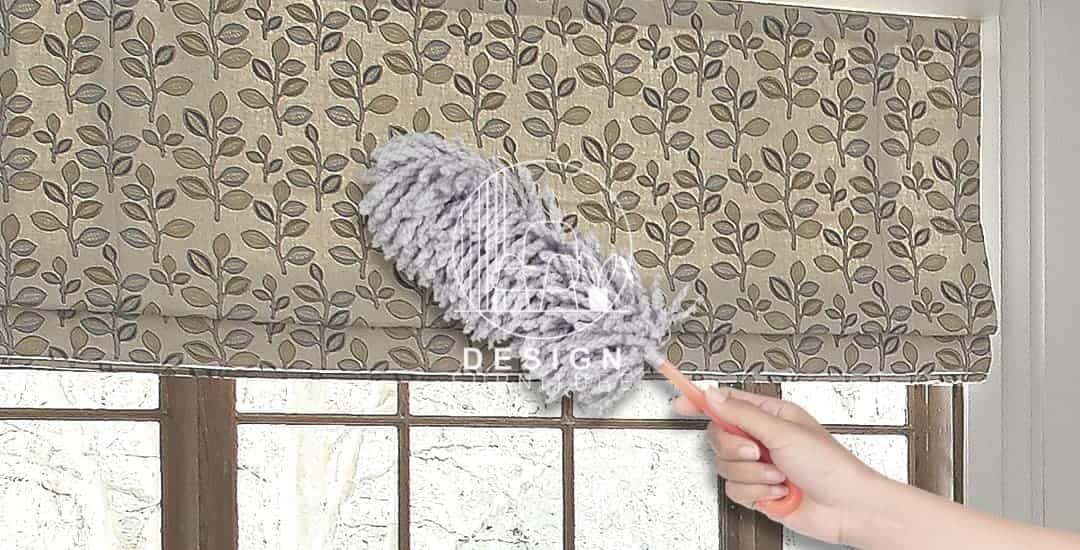 Get Rid of Stain With Damp Mop

This method is very easy to clean the roman blinds, and it also does not affect the fabric of your blinds. For this method, you just need to dip a mop in lukewarm water and then scrub the strain with this mop. You see that the stain will disappear in no time.
Stain Removal By Liquid Detergent

If lukewarm water and mopping don't work for the stain removal of your blind, then you can use this method. You just need to mix liquid detergent in water and then wash the stain with it. Your stain will definitely vanish with the help of this method.
Use Specialist Stain Remover Liquid If Nothing Work for you

If nothing works for your stain, then you must choose a specialist stain remover liquid for your blinds. I can't recommend you a specific stain remover because the fabric of every blind is different, so not every detergent is ideal for your blinds.
You just need to read the instructions carefully for the washing of your blinds and then buy the best-suited washing liquid for your Roman blinds. Please try to buy a high-quality stain remover so it does not affect the color of your blind's fabric.
After purchasing a stain removal product, I recommend testing it on a small non-appear area of your blinds to see the results.
Tips for How to Clean Roman Blinds
Here are some tips that you need to follow for the maintenance of your blinds.
Regularly dust your blinds with a brush to avoid the penetration of dust particles into the fabric.
Wash the fabric of your blinds every month or two to keep their beautiful appearance.
If you have embroidered blinds, then be gentle while scrubbing the blinds with a damp cloth.
Always clean the blinds with a neat and clean cloth.
Can You Use A Washing Machine For the Cleaning Of Roman Blinds?
You can wash your roman blinds in a washing machine if the fabric is safe for machine wash. When you buy fabric for your blinds, it has a sign that tells you whether you can wash the fabric in a machine or not. So always remember the instructions for fabric before putting your blinds in the washing machine.
If you want my advice, never wash your blinds in a washing machine because even if your fabric is machine washable, the fibers may be damaged. So you should be on the safe side and never put your expensive and adorable blinds in a washing machine.
What is the Safest Method for the Cleaning Of Roman Blinds?
Roman blinds can be cleaned in washing machines, steam dryers, or vacuum cleaners. If you want the safest way to clean your roman blinds, then I must suggest you give them a humble hand wash. I never recommend you forcefully scrub them because it can damage the fibers of the blinds.
Some people use steam wash for their roman blinds, but it is not safe for all fabrics because exposure to high temperatures and moisture can damage the color and quality of your fabric. So always try to wash your blinds with lukewarm water and detergent with the help of your beautiful hands. So your blinds won't get damaged.
How You Can Clean Your Roman Blinds While Hanging?
If you don't want to remove your blinds to wash them because then you can't install them properly, then this is the best way to clean them while hanging. For the cleaning of your blinds, while hanging, you need some basic things, such as
A duster
Lukewarm water
A clean mop
Premium quality detergent
With the help of the above material, you can easily wash your home blinds. First, you need to remove the dust from your blinds with the help of the duster. After cleaning the dirt particles, it's now time to remove stains from your Roman Blinds. For this purpose, add a rich amount of premium-quality detergent to lukewarm water and then dip a clean mop into it.
Clean your blinds with the help of this mop. When you observe that all the stains have been removed, it's time to clean your blinds with simple water and a mop to remove excess detergent from them. After this, turn on the fans in your room so your blinds can easily dry.
Conclusion
Roman Blinds are very easy to clean, but with the type of fabric, you just need to be choosy about the method regarding the fabric of your blinds. We have mentioned all the safe methods for washing your Roman blinds. So get your blinds clean with these amazing and less time-consuming methods.