How to Clean Roman Blinds; Step-by-Step Guide For Stain Removal
People usually install fabric-made Roman blinds so they can easily clean them with a vacuum cleaner or a damp cloth. However, their maintenance must be carried out with watchful conduct as any inaccurate handling can result in the damaging of blinds. Besides, cleaning your window blinds at regular intervals is also equally crucial, so as to keep them looking presentable.
You must choose suitable cleaning products and appropriate methods for the cleaning of your blinds so the fabric doesn't get damaged. And in order to help you upkeep your blinds, we're right at your services with our comprehensive guide on how to clean roman blinds the right way. We'll be mentioning all the useful yet convenient methods with which you can easily keep your blinds free of staining or any other damage.
Also, we shall let you know about a couple of handy tips and tricks regarding the right maintenance of your Roman Window Blinds, in order to have them well-protected and durable. Let's get started!
Regular Cleanup And Dealing With Minimal Buildup
One of the best tips for the cleaning and maintenance of your roman window blinds is to never let them get extremely dirty. Ensure a regular dusting and cleaning for them and most importantly address any of the stains as soon as they take place.
When you notice dirt particles on your blinds, vacuum them. If you don't have a vacuum cleaner, you can also use a brush for cleaning your blinds. For this purpose, extend your blinds as much as you can, then move the duster all the way from top to bottom, while being careful about thoroughly cleaning one section at a time.
You should give some extra time to the folds of the binds because most of the dust accumulates at these points. The bottom of the blind is also very dirty because most of the dust gets trapped here. So you must clean these two places thoroughly.
Stain Removal For The Roman Window Blinds

Cleaning dust from your blinds is very easy because you just need to vacuum or brush the blinds, but stain removal is likely to become a little tricky. But don't worry, we have devised several ways which will help you deal with your blinds most effectively. Some of the most useful methods for the cleaning of Roman blinds are: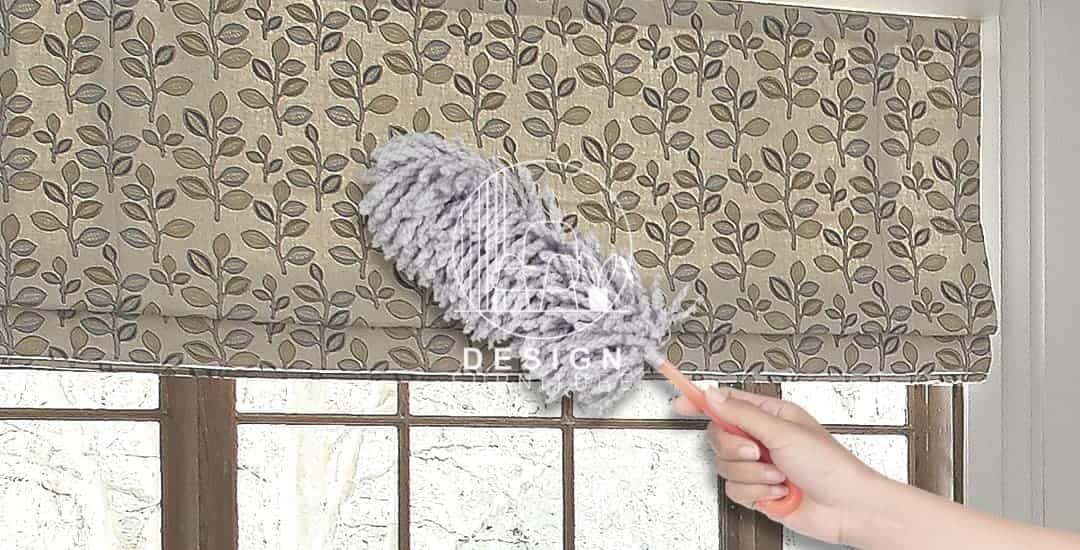 Getting Rid of the Stain With Damp Mopping

This method is very easy to clean the roman blinds, and it also does not affect the fabric of your blinds. For this method, you just need to dip a mop in lukewarm water and then gently scrub the strain with this mop. You will see that the staining will begin to disappear soon.
Stain Removal By Liquid Detergent

If lukewarm water and mopping don't work for the stain removal of your blind, then you can use this method. You just need to mix a suitable amount of any given mild liquid detergent in water to make a cleaning solution. Next up, you can take any sponge, cleaning cloth or mop to dip into the solution you made and go over the entire blind panel. Remember to address one section at a time for both slatted and panelled blinds. You might as well, need to scrub a little on the problematic parts and you should be able to cut down all the stains this way. Afterwards, you can wipe off the blind fabric with a clean and dry rag, so as to get rid of the cleaner residue.
Using Specialist Stain Remover Liquid For More Effective Outcomes

If nothing works for the staining of your blinds, then you must choose a specialist stain remover liquid to get the job done. As for the choice of the right cleaning element for your blinds, the safest approach is to go for the ones that have been recommended by the manufacturer of your blinds. This will diminish the likelihood of any damage. Besides, if you aren't exactly sure of the type of your blind fabric, it's best that you get a mild commercial cleaner since those are safe to use, as well.
Once you're done with the cleaner purchase, do test it out on a relatively non-prominent part of the blind, so as to check the compatibility. Doing this will majorly save you from things going bad and difficult to handle, particularly for the blinds in outdoors or other notable spaces.
Important Tips On How to Clean Roman Blinds
Here are some of the effective ways to consider for the perfect maintenance of your blinds.
Regularly dust your blinds with a brush to avoid the deeper penetration of dust particles into the fabric.
Do consider giving your blind fabric a good wash once a month or every two months, in order to upkeep them. This is specifically necessary for blinds with heavier fabrications.
If you have embroidered blinds, then be gentle while scrubbing them and only go over one section at a time.
Always clean the blinds with a soft and preferably microfiber cloth, so as to prevent any damage to the blind fabric.
While cleaning with a diluted solution, make sure to change the batch of water and soap regularly as soon as it gets dirty or murky.
Can You Use A Washing Machine For the Cleaning Of Roman Blinds?
You can wash your roman blinds in a washing machine if the fabric is depicted to be safe for machine wash. You can get to know about this at the time of your purchase or can get the required information from the manufacturer. This goes the same for following the washing instructions given for the blinds.
However, the safest approach in terms of your valuable window blind upkeep is to avoid giving it a machine wash. That's primarily because doing so is the most likely to result in the creasing of the blind fabric, which, in worst cases, can be permanent too.
What is the Safest Method for the Cleaning Of Roman Blinds?
Roman blinds can be cleaned in washing machines, with steam cleaners, or vacuum cleaners. If you want the safest way to clean your roman blinds, then I must suggest you give them a mild hand wash. Besides, ensure to be super gentle during the procedure, so as to not damage the fabric in any way.
Some people use steam wash for their roman blinds, but it is not safe for all fabrics because exposure to high temperatures and moisture can damage the colour and quality of your fabric. So always try to wash your blinds with lukewarm water and mild detergents, so that there is no chance of any damage.
How You Can Clean Your Roman Blinds While Hanging?
If you don't want to remove your blinds to wash them because then due to the inconvenience of reinstallation, then it's best to clean them while hanging. It's really simple as well and you'll only need a few supplies for this purpose:
A duster
Lukewarm water
A clean mop or cleaning clot
Quality commercial detergent
With the help of the above-mentioned materials, you can easily wash your home blinds. First, you need to dust off your blinds with the help of a duster. After cleaning the dirt particles, it's now time to remove stains from your Roman Blinds. For this purpose, add a rich amount of premium-quality detergent to lukewarm water and then dip a clean mop into it.
Clean your blinds with the help of this mop. When you observe that all the stains have been removed, it's time to go over them with a clean mop dipped in clean water to get rid of the cleaner residue. After this, turn on the fans in your room so your blinds can get dry easily.
Conclusion
Roman Blinds are generally very easy to clean, but with the type of fabric, you just need to be careful about the method regarding the fabric of your blinds. We have mentioned all the safe methods for washing your Roman blinds. So get your blinds clean with these amazing and less time-consuming methods. Also, you can consider this method for other fabricated blind types as well.
Frequently Asked Questions (FAQs)
Steam Cleaning is actually the best idea to clean Roman Window Blinds, since it's the most effective of all and doesn't require the removal of blinds either. All you need to do is run the steam cleaner across your blinds, however be extremely careful about not saturating the blinds excessively or make the material scald.
Start by filling a container or bucket with warm water and add in a suitable amount of a mild dish soap. Take a sponge, saturate it thoroughly in the cleaning solution and carefully go over each slat/fabric panel of the Roman Blinds, in a vertical direction. Follow up by rinsing them thoroughly with clear water and let them dry completely.
You can take aid from a washing machine, if you want a thorough and deep cleanup for your Roman Blinds. Just make sure to not use the spin settings of the washing machine, instead choose the one meant for delicate fabrics. Carefully remove any hardware from the blinds, including the detachable plastic one too and ensure complete drying for your blinds, however, never go for the tumble drying.
For this purpose, you can make a cleaning solution by mixing a few squirts of liquid soap, some White Vinegar and a cup of Baking Soda to a generous amount of hot water. After that, you can either remove and dip your blinds in this solution or can simply wipe clean them with a sponge or rag saturated with the solution.