Non-Toxic Baby Furniture and Nursery Essentials
Welcome to the world of parenting, where every choice you make for your child feels like it weighs a thousand butterflies. There are no limits to the amount of affection and care we invest into our infants' lives, from selecting the ideal name to creating a nurturing environment. And when it comes to their infancy, safety, and non-toxicity become of the utmost importance. In this article by Design Furniture, we will discuss some essential infant furniture and nursery items that provide comfort and reflect your commitment to a natural and healthy lifestyle.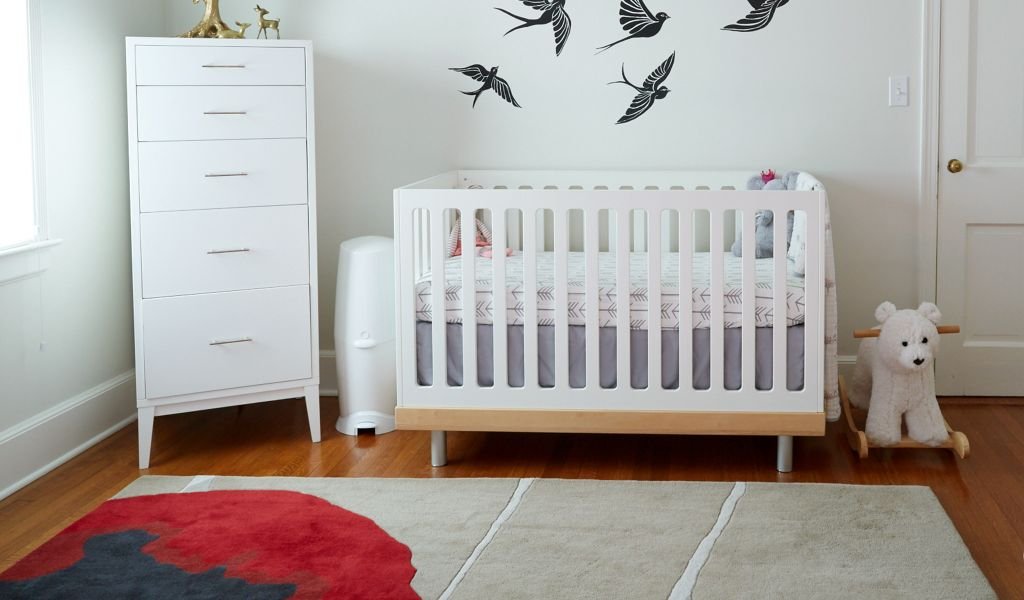 Baby-Friendly Wall Colors
For a child-friendly nursery, wall colors are vital. Choose non-toxic paints since traditional paints contain volatile organic compounds (VOCs). These volatile organic chemicals release harmful fumes that may cause respiratory issues or allergic responses in newborns.
Baby-safe wall colors are chemical-free and have various attractive hues to beautify your baby's nursery. Look for low-VOC brands. These pigments have undergone rigorous safety testing.
But let's also discuss aesthetics! You don't have to sacrifice aesthetics just because you opt for non-toxic materials. Numerous eco-friendly paint manufacturers offer a variety of colors and treatments, ranging from pastels to vibrant hues. You can create a tranquil environment with calming neutrals or add lively bursts of color while ensuring your infant draws in clean, healthy air.
 When selecting baby-safe wall colors, also remember to consider the finish. Choosing washable and durable finishes will simplify cleaning inevitable spills without compromising the paint job.
 100% All-Natural Material Rugs & Carpets
Every detail is essential when providing your child with a safe and healthy environment. Choose 100% natural rugs and carpets. They protect your baby's nursery from harmful pollutants and give a comfy sensation.
Organic cotton, wool, jute, or bamboo make natural rugs and carpets. These fabrics lack synthetic colors, insecticides, and other harmful elements , unlike ordinary carpets. Natural materials protect your baby from unnecessary hazards.
Natural rugs and carpets are non-toxic and more sustainable than synthetic ones. They biodegrade and reduce carbon emissions. You will protect your young ones and the environment.
These natural floor coverings are also available in many hues and designs to match the nursery's decor. There are neutrals and nature-inspired designs for every style.
Natural rugs and carpets are healthy for your infant and sustainable. These eco-friendly solutions promote a toxin-free atmosphere, creating a firm foundation for your child's health!
Nursery furniture should prioritize safety. Natural foot cradles are needed. Non-toxic materials and coatings make this cot safe.
 Your baby sleeps safely in a natural foot bassinet. It is made of durable maple or birch, an eco-friendly wood. For safety, these cribs feature rounded edges and smooth surfaces.
 An all-natural foot bassinet is safe and appealing. The nursery's natural wood finish creates a soothing atmosphere for naptime.
 These cribs often enable you to lower the mattress as your kid develops and becomes more mobile. Some types transform into toddler beds or daybeds.
 An eco-friendly foot bassinet protects your child's health and the environment. Why risk safety when you can provide your baby with a non-toxic sleep environment? Choose a stylish, natural foot bassinet.
You have numerous options when selecting a mattress for your baby's nursery. Natural latex mattresses are an option that always stands out.
These mattresses, crafted from the sap of rubber plants, are completely non-toxic and safe for your youngster to sleep on.
 Natural latex mattresses are dust- and mildew-resistant. This can provide a safer sleeping environment for your newborn, decreasing their exposure to toxins and offering parents peace of mind.
 Natural latex mattresses are also durable. They include numerous layers to support and calm the child as they grow. Some mattresses enable you to modify suppleness to your child's needs.
 Natural latex mattresses improve your baby's health and provide an eco-friendly newborn environment. Your youngster will sleep on a toxin-free surface nightly!
Organically Manufactured Baby Blankets and Sheets
Choosing the right linens is crucial to create a non-toxic nursery for your baby. Baby blankets and linens made from organic materials are safe and provide several advantages for your child.
 Organic baby blankets and linens are made from bamboo or cotton. Pesticide-free fabrics are suitable for your baby's delicate skin. They also lack allergens and dyes.
 In addition to being safer for your infant, organic bedding is also more environmentally friendly. Conventional cotton production requires substantial pesticides, which can negatively affect ecosystems and water supplies. By selecting organic materials, you help reduce environmental pollution.
 Additionally, organic fabrics are typically gentler and more breathable than synthetic alternatives. Modulating body temperature and fostering ventilation assures your infant's comfort throughout the night.
 Investing in organic comforters and linens of higher quality may cost more initially but will pay off in terms of longevity. Organic fabrics are typically more resistant to wear and strain, so that they will last longer even after repeated washings.
Organic newborn blankets and beddings provide a safe, pleasant environment for your kid while supporting green initiatives. Why not start their lives off right with these eco-friendly nursery essentials?
Eco-Friendly Baby Clothing
 Consider selecting environmentally favorable neonate outerwear when clothing your child. Numerous conventional infant garments are composed of synthetic materials and treated with chemicals that can irritate sensitive skin.
Go for dressing your infant in organic cotton or bamboo garments. These natural fibers are smooth, breathable, and kind to their sensitive skin. Look for labels that indicate organic certification or the use of sustainable materials.
 In addition, seek out brands prioritizing fair trade principles and ethical production methods. Supporting companies that care about the environment and the well-being of their employees ensures that you have a positive impact while clothing your infant in style.
 By choosing non-toxic furniture, nursery essentials, and eco-friendly clothing options, you can create a safe and nurturing environment for your child. When it comes to safeguarding the future generations of our planet, remember that every modest action toward a more eco-friendly lifestyle counts!
Therefore, decorate the nursery with relaxing colors, equip it with natural materials, and dress your infant in organic textiles. Enjoy the beauty of non-toxic baby furniture and nursery essentials as you enter parenting. So make your baby's nursery a paradise with nature-inspired colors and mystical clouds on the walls while considering their health. Baby-safe wall colors let you decorate while protecting your child's health.