How To Remove Carpet Glue From Tiles?
Coffee spills are one of the most common reasons that can cause a glitch in the aesthetic appeal of your light-colored carpet or any other carpet color for that matter. And, no need to mention that coffee stains on a carpeted surface are absolutely inevitable.
Stains from coffee spills and splashes are the most resistant types of marks and of course, look extremely unpleasant as well. However, that doesn't mean you'll have to call for professionals to remove these stains from your living room carpet.
Because in this blog post by Design Furniture, we're going to help you get coffee stains out of your luxurious carpets with simple yet effective DIY tips and tricks. And no matter whether you have to clean fresh or old coffee stains, we'll be explaining solutions for both scenarios.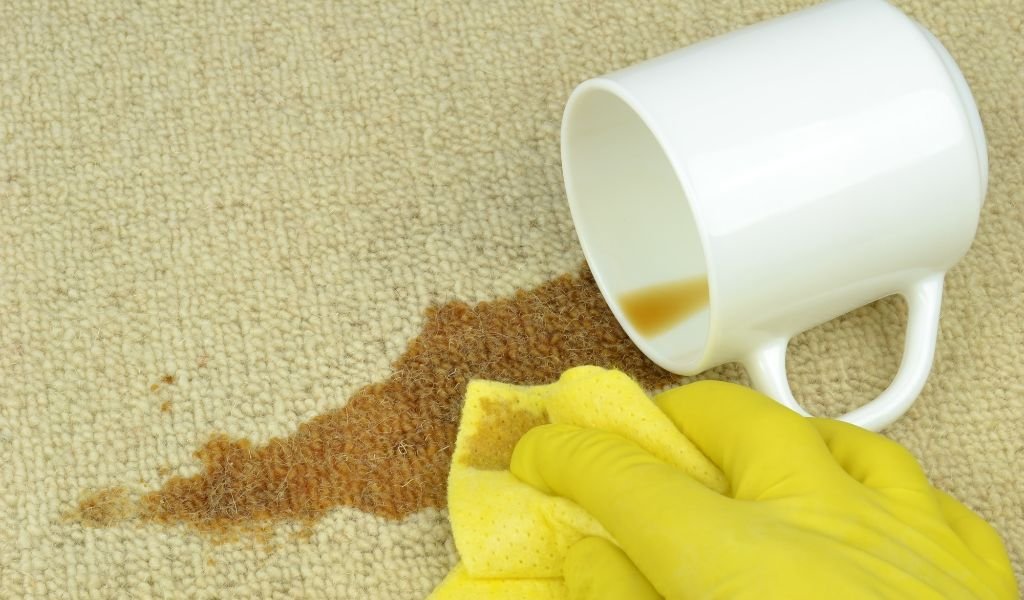 A Step-By-Step Guide For The Removal Of Coffee Stains From Carpet
Carpet fibers are soft and therefore when coffee gets accidentally spilled over a carpeted surface, the fibers soak the liquid and appear as if they are permanently stained. However, you will be glad to know that coffee stains are not permanent and can be removed entirely even from a luxurious Carpets Dubai surface following effective tips and tricks.
Still, the ideal approach will always remain to take immediate action for getting the stain out of the carpet surface. Here is a list of materials you'll need to efficiently remove the coffee stain from the carpet surface.
Dish Wash Or Detergent
White Vinegar
Commercial Stain Cleaner (Optional)
Warm Water
Microfiber cloth (Best If White)
And after you've arranged the required supplies, you can proceed with the process as explained below.
The first and foremost thing that you'll have to do is to blot the stain using a clean microfiber cloth. For this purpose, take your microfiber cloth and fleck the stain starting from the outside of the color to the middle area. This will help prevent the stain from further spreading on the carpet surface.
Always keep in mind that you need not rub the cloth over the stained carpet area. That's because doing so will only let the liquid penetrate deeper and get trapped in the carpet fibers especially if you're dealing with Persian Carpets. Thus, making the stain irresistible and at worst permanent.
Also, make sure to blot the stain with a clean area of the microfiber cloth so as to efficiently absorb as much liquid as possible. There's a trick to improving the liquid absorption and that is to dilute the stained area once you think you've gotten most of it soaked up.
To dilute the stain, always use cold water and never rely on warm water for this purpose. That's because warm water won't ease the stain removal process, rather it may damage or discolor the carpet fibers.
Moving on, you'll dilute the stained area of the carpet once or twice to make the stain appear somewhat colorless. Now, again blot the stain using a microfiber cloth to complete the first step of the process.
Read More: How to remove Carpet glue from Tiles
2. Make/Use The Cleaning Solution
At this point in the procedure, you'll notice that the carpet stain is not that prominent. So, it's time to apply the cleaning solution to completely and effectively remove the stain from the Silk Carpet. For this purpose, you'll have two options i.e. use a commercial cleaning agent or create a DIY cleaning solution.
The former option doesn't need any explanation but making your own solution for carpet stain removal is something that should be briefly explained. Here is a quick summary of how you can DIY a carpet stain removal solution at home.
First, mix a tablespoon of white vinegar, one spoonful of dish wash or detergent, and two cups of warm water in a bucket. Stir the mixture to create a somewhat foamy solution and you're done (Don't worry if the foam doesn't appear in the solution because it will still be effective enough for stain removal).
3. Apply The Cleaning Agent To The Stained Area
Now comes the time to apply the solution over the carpet stain. Take a clean microfiber cloth and saturate it in the cleaning solution. Once completely soaked, you need to gently rub the stain using that damp cloth.
Always make sure to be gentle while doing so otherwise some of the staining liquid will get trapped in the carpet fibers. Keep on doing so until the stain starts disappearing. Once the stain is completely gone, you can blot that area with a dry, clean towel.
Read More: How to Remove Soot from Carpet
4. Cleanse With Cold Water
Last but not least, you need to rinse the stained carpet area using cold water. Again, a clean cloth will be needed to blot the area. Don't forget that you have to avoid rubbing the carpet surface to eliminate the likelihood of getting into more trouble. After that, you can leave the carpet on its own and let it dry.
Cleansing with cold water will prevent the carpet fibers from soaking up liquid detergent or a commercial cleaning agent that can make the carpet fibers stiff over time.
What To Do With Old/Resistant Coffee Stains?
You must be thinking that it's a difficult task to take out resistant stains from the carpet fibers. However, it's the other way around and you need not be concerned about anything. For this purpose, the exact same procedure is to be followed but there are some changes required in the strength of the cleaning agent.
Yes, you'll be needing a strong cleaning solution to remove the resistant coffee stains, particularly for Sisal Carpets. In this concern, the best thing is to buy a commercial cleaning agent that can help you with pesky coffee stains i.e. Pure Baking Soda, MEYER'S Dish Soap, Distilled White Vinegar by HEINZ, etc.
However, if you want a household solution to deal with this problem then you can try sprinkling a handful or a proportionate amount of baking soda over the coffee stain. All the other steps are exactly similar and should be precisely followed. Although, the final step requires you to vacuum clean the carpet surface to remove baking soda particles from the carpet fibers.
Read More: Best EVER Homemade Carpet Cleaner Solution
Removing coffee stains may have been a daunting task but not anymore! Because this step-by-step guide on the carpet stain removal process lets you take out even the most resistant of coffee stains at home. Hence, there's no need to call for professional services for this purpose. No need to mention that you have to be careful and precisely follow all the steps to eliminate any chances of carpet damage.