How to Clean Dog Poop Out of Carpet and Get Rid of the Smell

Dogs and cats, despite being the cutest babies and pals, do give a lot of tough times to their parents' homes and nothing can be possibly done about this (somewhat) downside of keeping a pet. From cats tearing and assaulting curtains to dogs misusing carpets and rugs, there are more worst case scenarios than you can think of and being a dog-daddy (pet parent) you'll be totally aware of all of those. And of course would wish to not come across them ever!
However, residential stuff getting affected by pets is the kind of thing which does not have any major or permanent fix, except for addressing the damage and practicing the highest extent of patience (a major plus point indeed!).
Step By Step Easy Removal Of Dog Poop From The Carpet
Of course, pet poop atop the carpet is one of the most common and equally frustrating problems faced by every pet owner at some point in life or at worst at many! But at Design Furniture, we believe in looking for potential solutions instead of losing sanity. And with that being said, we've got you a really mainstream yet effective method for addressing your carpets and rugs which have been mistreated by your dogs.
Let's fix the mess your Cooper created lately.
Paper Towels/Baby Wipes (keep plenty of them)
Dishwashing Liquid (get the one which is bleach-free)
White Vinegar
Baking Soda
Vacuum Cleaner
Soft Bristle Brush
Hydrogen Peroxide (optional, for worst cases)
Ammonia (shares the similar significance with Hydrogen Peroxide)
Water (of course)
Protective Gloves (definitely)
Get Onto It 
Now there are two major scenarios that you could come across when treating your poop-stained carpets. We've got you the ultimate solutions for both!
1. Addressing Fresh Dog Poop Staining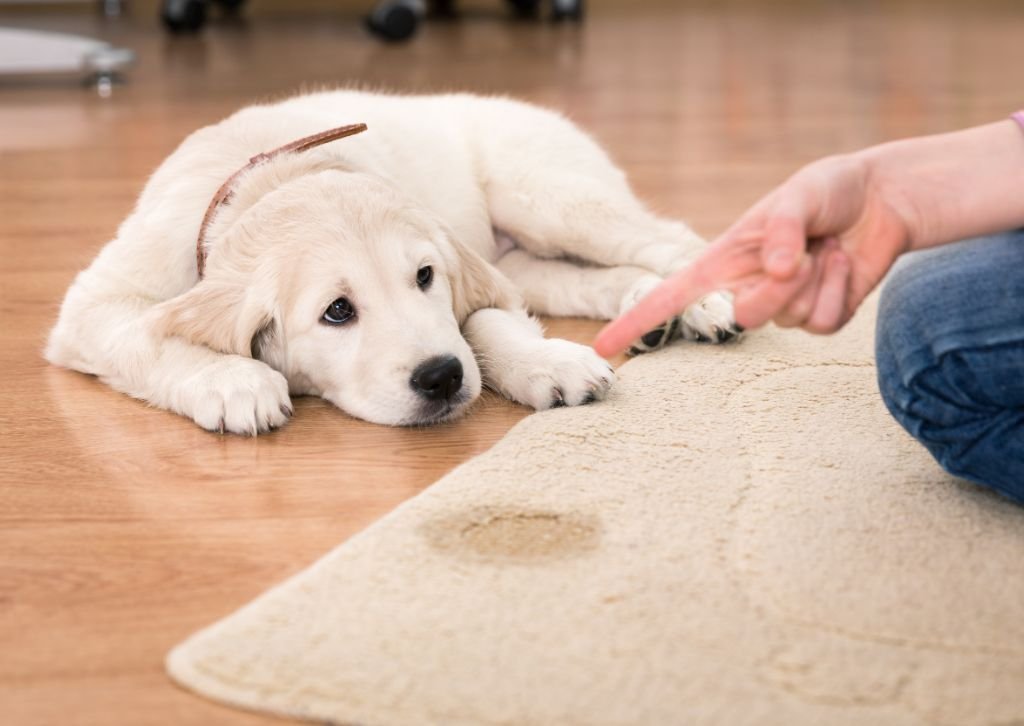 In case you're lucky enough to learn about this nasty incident in a timely manner, there's a major likelihood to find the treatment really convenient. In other words, you'll only need to perform a minimal poop stain removal method and be good to go.
Here's what you'll need to do.
Removing The Mess: With your gloves on, carefully remove as much of the poop or feces as you can by either scooping the material or wiping it off with paper towels or baby wipes. Be extremely patient at this step as you'll most probably be required to do this multiple times, but the good news is that you can totally fix most of the problem at this step only.
Making The Cleaner: Mix around a tablespoon of dishwashing liquid and white vinegar each to nearly two cups of water. As an alternative to white vinegar, you can also consider using Hydrogen Peroxide.
Applying The Cleaner: Take a clean cloth, have it saturated in the cleaner you've made and gently blot it atop the stained area. Be very careful about only blotting the stain and never rub it as this will only cause a deeper penetration of the stain into the carpet fibers. Alternatively, you can use a spray bottle to spritz the carpet with the cleaning solution, followed by blotting it mildly. Let it stay over the stain for a good 10 minutes.
Rinsing And Drying: Post the cleaner has been absorbed by the carpet, pour enough cold water over the affected area and keep blotting with another clean fabric. Keep paper towels at hand to clear out all the excess moisture.
Deodorizing The Area: Once you've treated the staining and the affected area has dried completely, sprinkle it thoroughly with plenty of Baking Soda. Let the Baking Soda sit atop the carpeting for at least 10 minutes or preferably overnight, followed by vacuuming the entire area.
With these simple steps, you should be able to efficiently address your stained carpets without a lot of mess.
2. Dealing With Set-in Pet Waste Stains

This one's for older pet poop or urine stains that have been (unfortunately) set deeply into the carpet fibers, just like the trouble getting settled into your brain cells. What we'd like to stress on at this point is to NOT STRESS over the situation as this too, can be totally fixed, as long as you have some patience and our precise stain-removal guide at hand.
Read More: Home Made Carpet Cleaner Solution
Let's take a look at what to do for stubborn/problematic poop stains.
Scrubbing The Stains: Mix around two tablespoons of Laundry Detergent into a suitable proportion of distilled water and soak the stain with this solution. Post 10 minutes, carefully scrub the area with a soft-bristled brush, followed by rinsing the area with plenty of distilled water. Don't forget to clear out all the excess liquid.
Some More Scrubbing Of The Stains: For even tough carpet stains (those that refuse to leave with the above-mentioned DIY), you'll need to take help from Hydrogen Peroxide and/or Ammonia. Simply put one to two drops of the Hydrogen Peroxide, followed by Ammonia in the same amount.
Deodorizing The Area: This step is similar to the one stated earlier.
Helpful Tips To Make The Stressful Times Easier (And Safer) For You

We've high hopes for our stain remedies to be maximally helpful for you regarding the treatment of your dearest soft floor coverings. And here's some more beneficial info for you to take into account, while you're on the way to fix "pet-assaulted" carpets.
Read More: Remove Carpet Stains
Do begin potty-training your cats and dogs as soon as possible.
Always ensure using gloves while removing all the waste material. In addition to saving you from feeling nasty, this also maintains hygiene to the fullest.
Test out every DIY cleaner on a rather insignificant/noticeable part of your carpet to look for any unwanted reactions or discoloration.
Never use Ammonia or Hydrogen Peroxide on wool carpets as they are extremely prone to discoloration this way.
For a more effective deodorizing, spray the entire affected area of the carpet with warm water and white vinegar prior to sprinkling Baking Soda.
This was our take on "How to Clean Dog Poop Out of Carpet and Get Rid of the Smell" and we hope for our guide to be greatly helpful for you in relieving all of your stress. Of course such adverse situations are a part and parcel of being pet parents, so it's better to work on fixes rather than getting frustrated and also to prevent your home décor from going bad ahead of time. Besides, addressing a situation immediately literally reduces half of the problem and keeps major trouble at bay. However, we've got you a fix for both the versions of this commonly faced issue.