How To Clean Different Types Of Car Mats?

From remote homes to personalized dining areas, our cars do serve as those best friends that are always there for us when no one else is. And of course, they are the sole spectators of several wonderful (and messy) moments of ours, as well. These activities do take a toll on the car's flooring (except for the machinery, of course!) and can easily make those carpets, rugs, or pads extremely contaminated and dirty enough to cause a lot of trouble.
So before worsening things to an irreversible extent, it's best to address the situation (the car's soft flooring) in an accurate way and save the day for both yourself and your four-wheeled companion. Now, just as you give this car maintenance aspect your very first thought, it's the most likely to bother you a lot.
Do I need to remove the car carpet/rug/liner? How do I get rid of that nasty lingering smell? How am I supposed to get rid of that stubborn wine stain on my car mat? These are some of the viable concerns that you could experience the moment you actually start thinking about cleaning your carpet or mat.
Well, the good news at this point is that you can always fix the situation, no matter how much you've been misusing your carpets, but only as long as you DON'T DELAY IT. And of course, there are certain things that need to be taken care of when you're about to deal with your car flooring, as you can't possibly get done with this job like normal carpeting.
Having that said, we are right here at your service to help you with cleaning your car mats and floor carpets the right way, with no misconduct (and mishappenings), and without having to indulge in a lot of effort.
So let's get started with this part of car maintenance right away!
Effective Ways For Cleaning Your Car Flooring
Ahead are a couple of effortless yet effective methods of cleaning and decluttering the soft flooring or floor coverings of your vehicles. We've compiled several different soft flooring types so that you don't have any difficulty learning about dealing with the one you own.
1. Cleaning Car Carpet Mats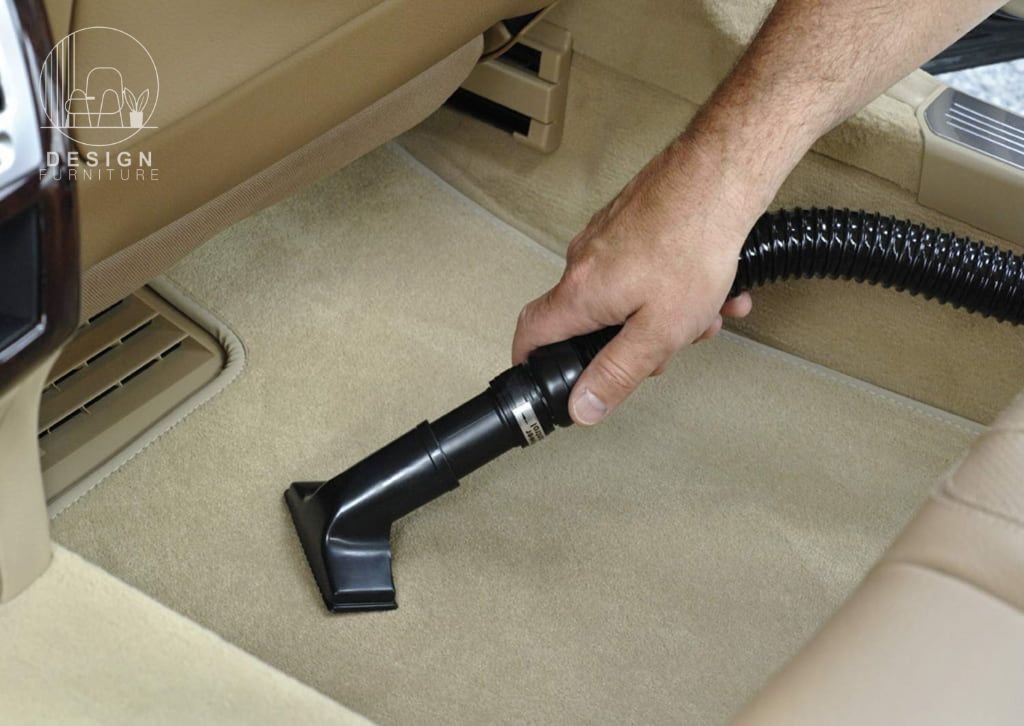 Car carpets are the most commonly used soft flooring and despite being super serviceable, they have the downside of getting dirty or contaminated soon. So you have got to consider the cleanup at regular intervals, in order to not end up with any long-term damage.
Grab Your Stuff 
Portable Vacuum Cleaner or Lint Roller
Carpet Cleaner (with Neutral pH)
Scrubbing Brush
Water Buckets or a Pressurized Water Hose
Getting Started With The Cleaning
Start by shaking the carpet matting thoroughly to get rid of any loosened debris or dirt and dust particles.
Lay the mats on a flat surface and start vacuuming each section and either side of the mats, being careful to only address one part at a time. Alternatively, you can also use a lint roller, which will help you efficiently grab all the dirt particles and pet hairs.
In case your car carpet mats are wet, do not vacuum them, instead go over each of them with a dry/wet Shop VAC for drawing out all the moisture from them.
Next up comes the cleaning of the carpet matting with the help of a commercial cleaner, which in fact, is quite similar to that of the residential carpet cleaner. You can either go for spraying the carpet cleaner over problematic areas (stained or greasy ones) or can dilute it in suitable amounts of water, under the guidelines given by the manufacturer.
Finish off by drying the mats thoroughly, and afterwards, you can simply place them back in your vehicle.
Read More: 7 Different Types of Carpet For Your Home
2. Cleaning Rubber Car Mats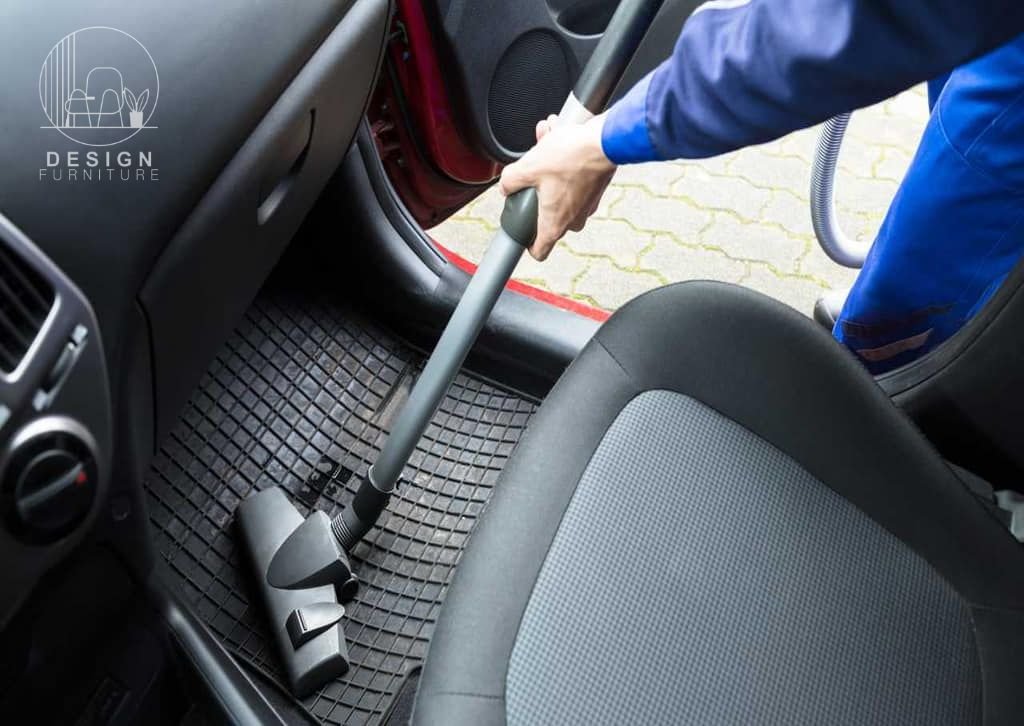 Rubber car mats are also a frequently used version of car soft flooring, and if you're looking for a new car floor, we strongly suggest you invest in rubber mats. That's because they are the most durable and outperform as compared to other matting choices. Ahead is a simple yet effective cleanup for them, which is entirely safe as well, considering the rubber structure.
What You'll Require
Laundry Soap or any other liquid soap
Baking Soda
Car Washing Shampoo
Water Buckets or a Pressurized Water Hose
Vacuum Cleaner or Scrapper
Medium Bristle Brush
Cleaning The Rubber Car Matting
Start by vacuuming the rubber car mat thoroughly, in order to clear out any of the caked-up or loosened debris and/or buildup. Alternatively, you can also make use of scrapers to get rid of all the accumulation.
Make a cleaning solution by mixing suitable amounts of Laundry Soap/ Liquid Soap and baking soda in around a full bucket of water. You can simply use the car washing shampoo instead and have it diluted or prepared according to the instructions.
Take the cleaning solution you've made and, with the help of the medium bristle brush, apply it all over the mats.
Keep scrubbing the mats thoroughly yet gently to address the entire structure. Also, make sure to change the solution batch once it gets muddy or murky and replace it immediately with a new one.
Rinse out the mats with clean water from either a pressure hose or simply a bucket. Make sure to get rid of all the cleaner residue effectively. Finish off by laying the mats at a suitable distance for air drying.
3. Cleaning Fabric Car Floor Mats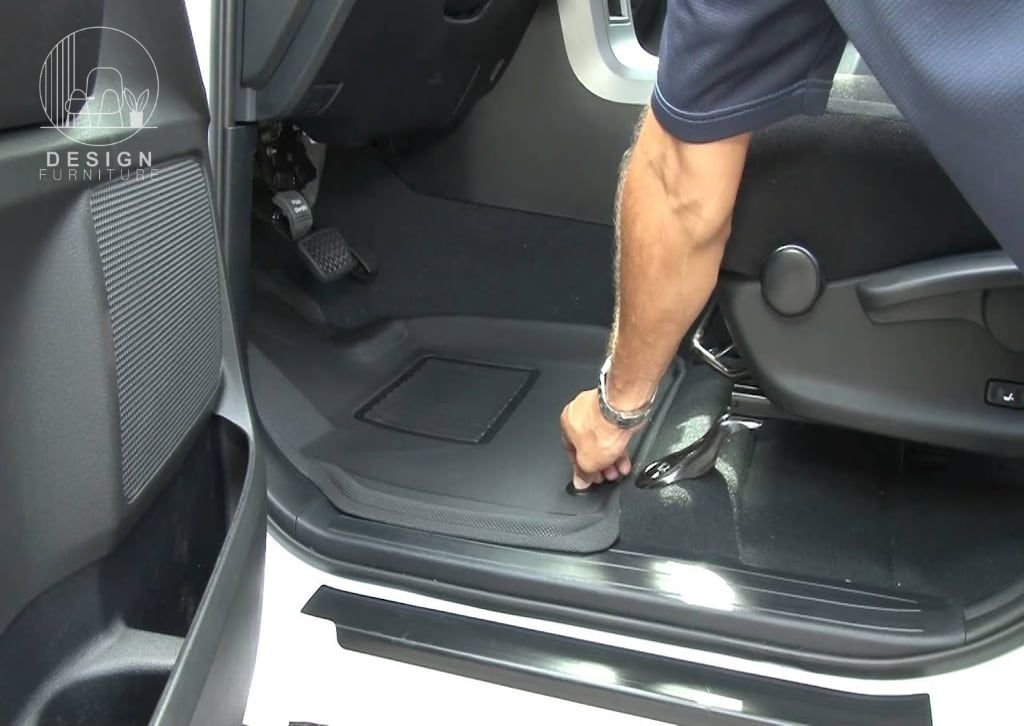 Addressing the cloth or fabric car floor mats comes with the major advantage that you can carry out this cleanup in several ways. As for the suction part, you can either use a vacuum cleaner or a Shop VAC. Besides, it's crucial that you only use mild cleaning agents since fabric mats are relatively more delicate than other types of car matting.
Have Your Checklist
Vacuum Cleaner or Shop VAC
Detergent or washing liquid and shampoo
Commercial Carpet Spray Cleaners
Water
Stiff Bristle Brush
Baking Soda
Steps To Follow
Start by vacuuming the fabric mats to remove all the grime and dirt from the surface. You can achieve more effectiveness by using a Shop VAC for doing this since it comes with a moisture-sucking setting and will make the cleaning easier, in case you're dealing with damp mats.
As for the next step, you can choose either of the above ingredients for making a cleaning solution, i.e. Baking Soda and Water, or Washing Liquid/Detergent, Shampoo, and Water. If you aren't into DIYs, you can simply stick to commercial carpet cleaners.
Take the cleaning solution and apply it onto the mat surface with the stiff bristle brush, while being more cautious about the problematic areas. If you're using a commercial cleaner, spray/pour the recommended amount of it onto the mats.
Gently scrub away all the stains, buildups, and grease. If there are multiple mats that you need to clean, make sure to change the cleaning solution batch frequently, so as to not have any contact with the dirty/murky water. As for Commercial Carpet Cleaners, do not let them sit atop the mat surface more than the recommended time span, and also carry out a patch test first to check the cleaner's compatibility.
Wash your mats thoroughly with clear running water and ensure you clear out the cleaner/cleaning solution completely. Allow your fabric mats to dry completely before you reinstall them.
Read More: Best EVER Homemade Carpet Cleaner Solution
4. Cleaning Vinyl Car Floor Mats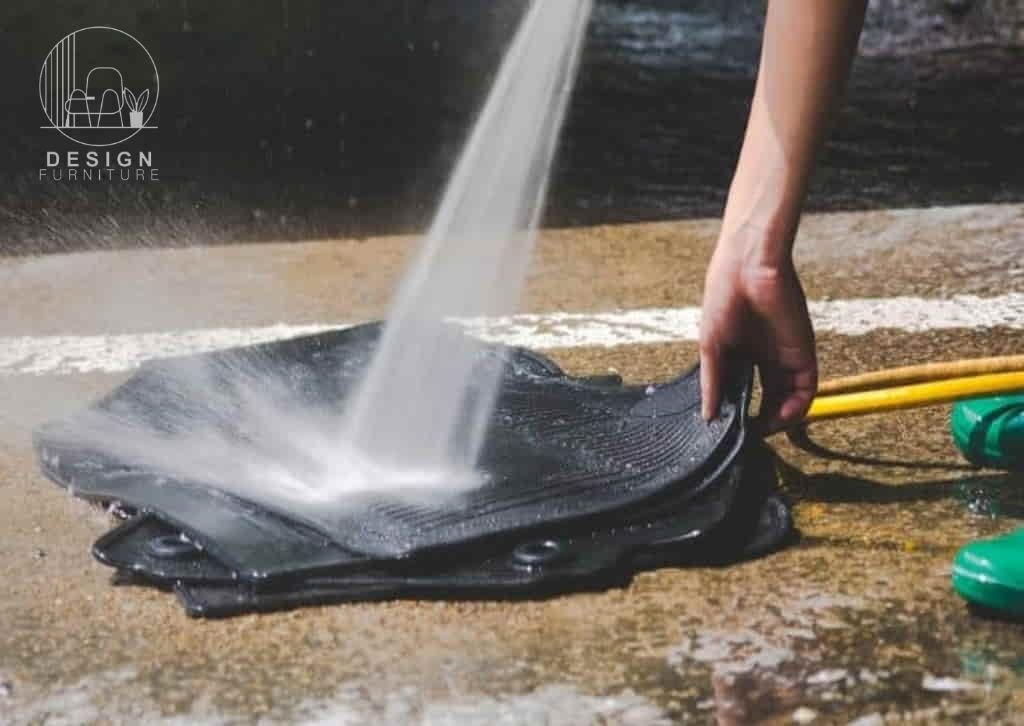 Vinyl or PVC Mats have been a really popular choice lately, and the credit goes to their resilient nature and super-promising durability. These mats can easily withstand just about any condition and provide excellent performance. While these mats stay really tough against staining, it's always a favorable approach to clean them at regular intervals, so as to not compromise on hygiene maintenance.
Stuff You'll Need
Detergent or Liquid Soap
Scrubbing Brush
Water
Addressing The Vinyl Mats
Start by giving your vinyl car mats a good shake to remove any of the loosened build-up or particles. Feel free to be aggressive or forceful at any point in cleaning vinyl mats.
Wash off the entire mats with running water from a hose or with a bucket of water. This will remove all the accumulated dirt and dust.
Get your cleaner ready by mixing the detergent or soap with water. Apply it all over the mats with the help of a scrubbing brush.
Give the mats a good scrub and if you come across any stubborn or tough stains, don't hesitate to scrub aggressively, since vinyl mats don't get damaged easily.
Finish by rinsing the mats thoroughly till you get rid of all the cleaner. Ensure the complete drying of your mats before using them again.
Read More: 15 Carpet Cleaning Hacks That Can Save Your Carpet
Useful Tips And Tricks For Maintaining Car Flooring

Here are some of the essential guidelines for the perfect upkeep of your cart matting and carpeting. You can make them last a lot longer just by ensuring watchful usage.
Take these factors into consideration:
The Smart Cleanup: One of the quickest cleanups and a smart reviving hack for car mats is to sprinkle them with baking soda and let them sit for the next 30 minutes. After that, you can either scrub it away or vacuum it thoroughly to get perfectly fresh-smelling mats.
Be Careful With The Cleaner Choice: Never make use of harsh chemicals or toxic elements such as chlorine bleach for cleaning your car mats, as they will simply worsen the situation.
Get Enough Drying: Ensure you dry your mats perfectly before installing them back into the car, as damp mats can provide breeding grounds for bacteria and mold.
Choose The Right Products: Invest in good quality mats and essentially those that come with resilient surfaces or coatings, since they prevent the mats from getting stained quickly.
Consider The Alternatives: Steam cleaning is also a good recommendation for maintaining your car mats. Also, you can try an air compressor for quick drying instead of air drying for your mats.
Ensure The Replacement: Keep replacing the car floor mats regularly since they are likely to go bad soon, even if the wear isn't noticeable. This is especially crucial if your car mats or carpetings get subjected to excessive usage or dirty shoes.
This was our compilation of the useful ways How To Clean Different Types Of Car Mats the right way. You don't really need to seek professional help when you can carry out the job most efficiently yourself. All it takes is sound info about the right compatibility between products and cleaning elements, plus how to deal with a certain flooring product harmlessly. And in most cases, you can easily nail your car's soft flooring cleaning without a lot of effort or time consumption. Do get in touch if you need any expert consultations.
Wishing you squeaky clean mats and well-maintained cars ahead!
Frequently Asked Questions (FAQs)
You can consider a machine wash for your car mats, but only as long as their manufacturing details say so. That's because most of the car mats are made of rubber which can never be machine washed and as for the fabric mats they often contain some rubberized component or edges. Therefore, the only mats that are safe to put in a machine are entirely fabricated ones.
You can simply make use of a pressure washer or a hose to lift off all the dirt from your car matting and then leave it to dry. However, if that doesn't work, you can take help from any commercial carpet cleaner or simply a kitchen detergent to get rid of any staining or other buildup of your car mats.
That totally depends on the type of your car matting, however, most of the mats take around 24 hours to dry completely. Still, some mats can require more drying time depending on their materials, however, it's crucial to ensure complete drying, as even the slightest dampening can give rise to mold and mildew growth.
DIY or home based carpet cleaners work wonders for car carpets and mats and are a great idea to settle for, if you don't want to expose your pricey car matting to harsh cleaners or detergents. You can make various different solutions, such as those involving Baking Soda and Vinegar.