Exploring Some Of The Amazing and Unseen Sights Of Dubai
Dubai is famed for its cutting-edge skyscrapers, opulent malls, and energetic city life. But, there are a number of lesser-known locations just waiting to be discovered beyond the flash and glamour.
The country has a wide range of undiscovered treasures to showcase, from old neighborhoods and ancient souks to vast flower gardens and indoor jungles. This article will give you a peek at some of Dubai's most fascinating and distinctive attractions as well as what the city has to offer outside of its most well-known tourist attractions.
The city also has a rich history and culture, which can be discovered by visiting some of its less well-known sites. We'll delve deeper into some of Dubai's lesser-known attractions in this post, like the charming Al Bastakiya area, where you can see traditional Emirati architecture and culture. Prepare to witness a side of Dubai that you may not have seen before, whether you're a frequent visitor or a first-timer.
List Of Dubai's Hidden Gems That You Must Visit
These are just a few of the many hidden gems waiting to be discovered in Dubai. Take the time to explore the city beyond its famous attractions and discover the lesser-known places that make Dubai so unique. Some are mentioned below by Design Furniture:
Let us have a look at the detailed information about all these places one by one.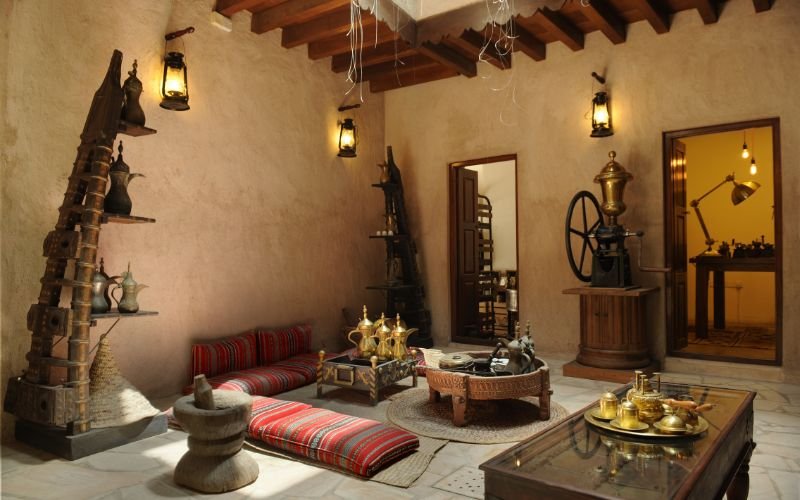 Location: A 1-min walk from the Al Bastakiya
Address: Historical Neighborhood, Bastakiya, Villa 44 – Al Hisn St – Al Fahidi – Dubai – United Arab Emirates
Timing: Monday, Tuesday, Wednesday, Thursday, Friday, Saturday, and Sunday (09:00 AM to 05:00 PM)
Phone: 04 353 8777
The history and culture of coffee in the Middle East and the United Arab Emirates are the focus of the Dubai Coffee Museum. It is situated in Dubai's Al Fahidi Heritage District, which is well-known for its traditional architecture and old structures.
What Does The Place Contain?
From its beginnings in Ethiopia to its growth throughout the Middle East and, eventually, to Europe and the rest of the world, the history of coffee is on display at the museum. It also emphasizes the significance of coffee as a socializer and a symbol of hospitality in Emirati and Middle Eastern cultures.
The museum's displays feature vintage coffee roasters, grinders, and pots, in addition to customary attire and coffee-related antiques. Also, visitors can try various coffees from around the world, including traditional Emirati coffee, and discover the various ways that coffee is made and served.
Other Offerings
The Dubai Coffee Museum provides workshops and classes on coffee roasting, brewing, and tasting in addition to its exhibitions. It is a well-liked destination for coffee enthusiasts and anyone curious about the fascinating history and culture of coffee in the Middle East.
2. Life N One Cafe /SEVA experience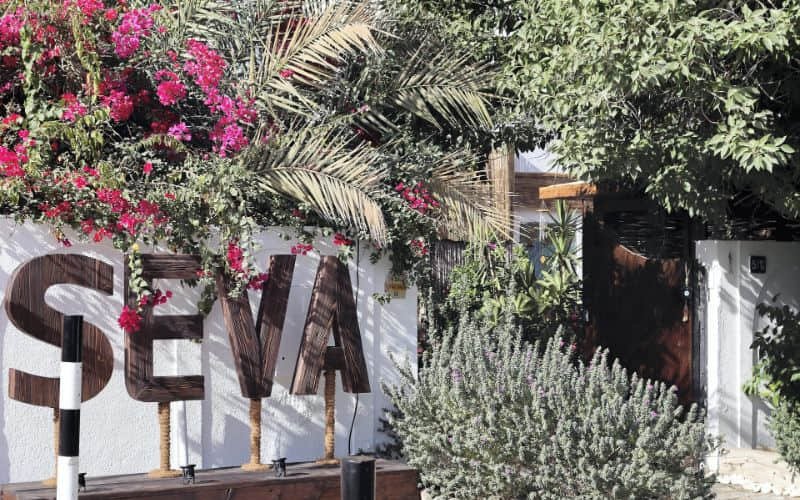 Location: Jumeirah 1
Address: Jumeirah Beach Road, 27B Street, Villa 5/1B Jumeirah 1 Postcode: 413752 – Dubai – United Arab Emirates
Timing: Monday, Tuesday, Wednesday, Thursday, Friday, Saturday, and Sunday (08:00 AM to 10:00 PM)
Phone: 056 534 2899
In Dubai, United Arab Emirates, there is a wellness center and café called Life N One. It provides a variety of events and services geared towards encouraging wellness, unwinding, and personal development. The facility provides a range of holistic therapies, including Reiki, yoga, meditation, and sound healing. Also, it features a storefront where customers can get books and wellness supplies.
Join Awareness Workshops
It also often organizes courses and events focused on wellness and health. The Life N One event is called SEVA, which stands for Service, Energy, Vibration, and Awareness. It consists of a variety of wellness techniques combined to provide guests with a revitalized and balanced feeling.
An exercise like yoga or meditation usually precedes the sound bath, where participants lie down and take in the sounds of instruments like singing bowls and gongs. Visitors are provided with a healthy meal or juice to refuel after the sound bath.
Offers Bites And Sips As Well
In addition to serving organic coffee and tea and vegan and vegetarian food, Life N One also operates a café. A variety of nutritious selections are available on the menu, including salads, sandwiches, smoothie bowls, and raw desserts. The café also has a peaceful outdoor seating area surrounded by greenery, providing a relaxing and serene atmosphere.
In the hectic city of Dubai, Life N One and its SEVA experience give tourists a chance to relax, connect with themselves, and adopt a healthy lifestyle. It will be a wonderful experience for you.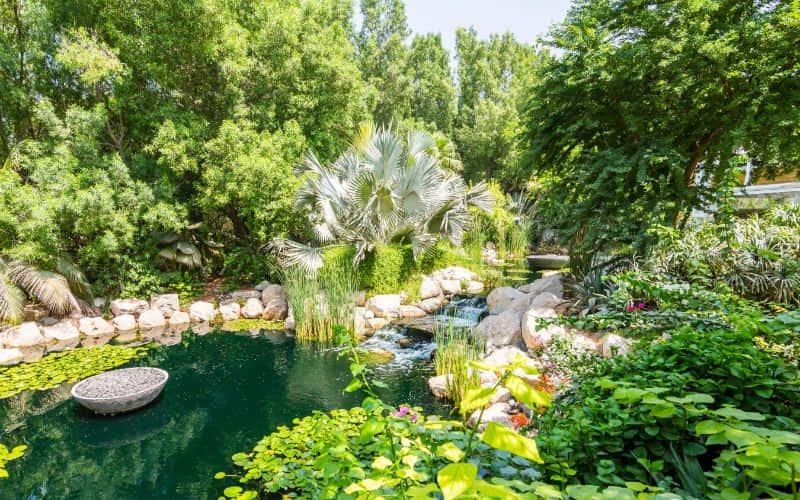 Location: Al Barari
Address: Al Barari – Dubai – United Arab Emirates
ServiceOptions: Dine-in · Takeaway · No-contact delivery
Timing: Monday, Tuesday, Wednesday, Thursday, Friday, Saturday, and Sunday (07:30 AM to 10:30 PM)
Phone: 04 886 6223
In Dubai, United Arab Emirates, the Al Barari residential complex is home to the distinctive restaurant and farm-to-table concept known as The Farm Dubai. It provides a sustainable eating experience in a calm and natural setting with a focus on locally produced, fresh, and organic ingredients.
An Amazing Natural View
The restaurant is surrounded by verdant gardens, vegetation, and water features, which create a calm and relaxing ambiance. Together with some meat and fish alternatives, the menu offers a variety of vegetarian and vegan options. Many of the fruits and vegetables are grown on-site on the restaurant's organic farm, and all of the meals are prepared with seasonal and regional ingredients.
Together with a juice bar that provides a selection of nutritious and energizing drinks, The Farm also features a bakery that serves freshly baked bread, pastries, and sweets. Beyond its menu, the restaurant is dedicated to sustainability, making efforts to cut waste and lessen its environmental effect.
Participate In Wellness Activities
The Farm provides a variety of wellness activities in addition to its eating experience, including yoga lessons, meditation sessions, and events and workshops focused on sustainability and environmental consciousness.
The Farm Dubai provides a distinctive eating experience that highlights the value of sustainable and mindful living while praising the beauty of nature.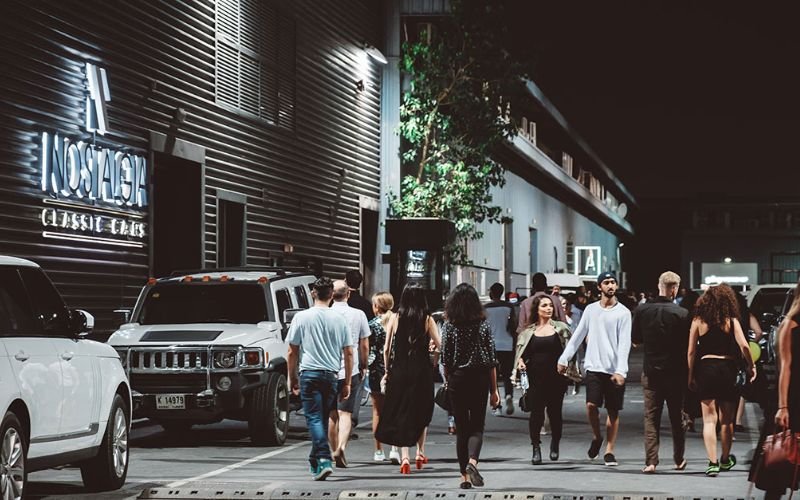 Location: Al Quoz Industrial Area 1
Address: 17th St – Al Quoz – Al Quoz Industrial Area 1 – Dubai – United Arab Emirates
Timing: Monday, Tuesday, Wednesday, Thursday, Friday, Saturday, and Sunday (10:00 AM to 07:00 PM)
Phone: 04 333 3464
Al Quoz, a booming industrial sector in Dubai, United Arab Emirates, is home to Alserkal Avenue. It was founded in 2007 to serve as a focal point for cultural events and modern art and design.
Two-in-one (Farmhouses converted into Galleries)
A number of warehouses that have been transformed into art galleries, studios, and creative businesses can be found in the area. It is one of the biggest and most significant art centers in the area, with over 70 modern art galleries, design studios, and cultural organizations as residents.
A variety of cultural events, such as art exhibitions, movie screenings, performances, talks, and workshops, are held on Alserkal Avenue throughout the year. These gatherings are intended to highlight and encourage young creatives and artists from the Middle East and elsewhere.
Wide Range Of Eateries
Alserkal Avenue features a wide range of cafes, restaurants, and businesses that serve the creative community and tourists in addition to its cultural attractions. Unique and imaginative concepts, such as artisanal coffee shops, design boutiques, and pop-up businesses, are frequently found in these venues.
A Dynamic Place For Thinkers
For creative people to work, exhibit, and collaborate, Alserkal Avenue provides a vibrant and inspirational environment. It serves as a center for cultural events that highlight the creativity and diversity of the Middle East and beyond.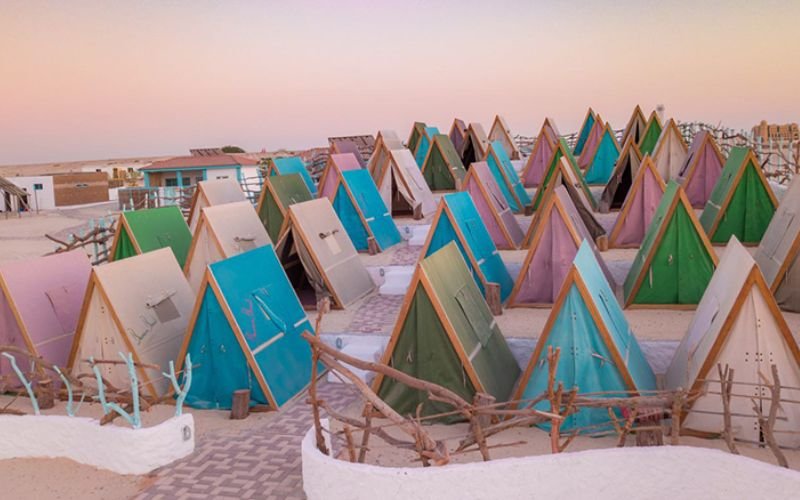 Location: Ras al Khaimah
Address: Nad Al Sili – Ras al Khaimah – United Arab Emirates
Timing: Monday, Tuesday, Wednesday, Thursday, Friday, Saturday, and Sunday (Open 24 Hours)
Phone: 07 235 3566
On the artificial Bluewaters Island in Dubai, United Arab Emirates, there is a beach club and restaurant called Banana Beach Dubai. With a seaside location, a variety of activities, and entertainment options, the club offers a pleasant and energetic atmosphere.
Banana Beach Club – A Must-Visit Place
The beach club offers a sizable pool, cabanas, sun loungers, and a designated private beach section. The array of water sports available to visitors includes kayaking, paddle boarding, and jet skiing. There is also a kids' area with activities and games for children.
Seafood, salads, and grilled meats are among the international fare served at the Banana Beach restaurant. A variety of cool drinks, such as smoothies, juices, and cocktails, are also available on the menu. The beach club often hosts themed parties and events, with DJs and live music performances.
Other Facilities
Banana Beach Dubai has a boutique that sells beachwear, accessories, and mementos in addition to its beach club and restaurant. Moreover, there is a spa and fitness center that provides a variety of wellness services and treatments.
A variety of activities and entertainment are available at Banana Beach Dubai, a fun and energetic beach club. It is a well-liked location for both tourists and locals wishing to unwind for the day in the bustling city of Dubai.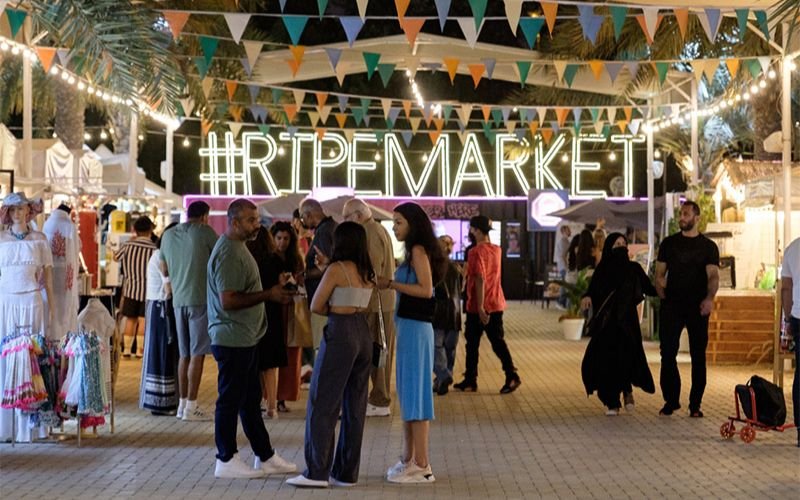 Location: Al Sufouh 1
Address: Sheikh Zayed Rd – Al Sufouh – Al Sufouh 1 – Dubai – United Arab Emirates
Timing: Monday, Tuesday, Wednesday, Thursday, and Friday (Closed), Saturday (09:00 AM to 09:00 PM), Sunday (09:00 AM to 07:00 PM)
Phone: 04 315 7000
A well-liked local market in Dubai, United Arab Emirates, is called The Ripe Market. It was founded in 2011 and has since become a go-to destination for local produce, handmade crafts, and artisanal goods.
It Is The Best For People Who Shop On Weekends
Every weekend from October to May, the market is held in numerous places throughout Dubai, including Zabeel Park, Dubai Festival City, and Al Barsha Pond Park. The market features over 100 vendors offering a variety of goods, such as fresh fruits and vegetables, baked goods, handmade crafts, jewelry, clothing, and accessories.
The Ripe Market offers a range of activities and events in addition to its exhibitors, such as workshops, live music performances, cooking demonstrations, and fitness classes. The market is pet-friendly and provides a family-friendly ambiance with kid-friendly games and activities.
Heaven For Local Businesses
Local businesses and sustainability are major priorities at The Ripe Market. Several of the merchants are small, independent companies that provide distinctive and locally made goods. The market also encourages customers to bring their own reusable bags and containers as part of its zero-waste goal.
The Ripe Market is a buzzing, neighborhood-focused market that supports small businesses and eco-friendly practices. It provides guests with a lively and welcoming setting to eat, shop, and interact with the local population of Dubai.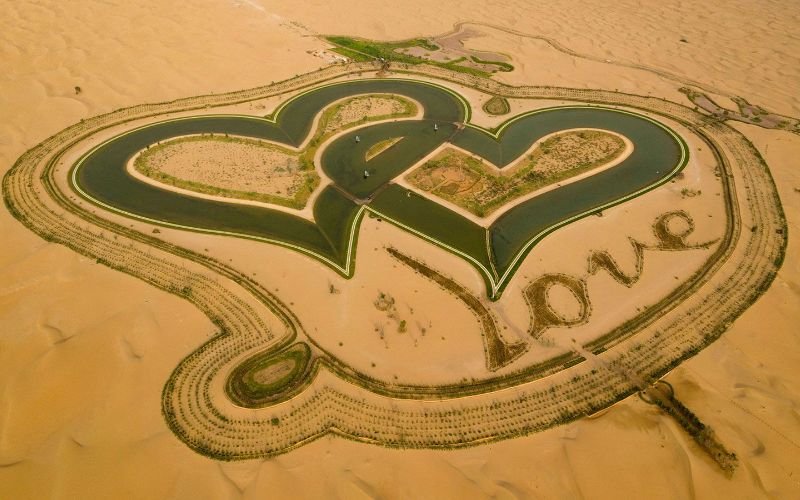 Location: Al Qudra
Address: Love Lake – Al Qudra – United Arab Emirates
Timing: Monday, Tuesday, Wednesday, Thursday, Friday, Saturday, and Sunday (Open 24 Hours)
Phone: 052 692 8310
A man-made lake in the shape of a heart can be seen in the Al Qudra neighborhood of Dubai, United Arab Emirates. Couples can enjoy a romantic stroll along the lake's gorgeous trails, sit back on benches, and take in the breathtaking views at this well-liked tourist destination.
Man-made Romance Destination With Many Engaging Activities
The lake, which had a surface area of about 550,000 square meters, was inaugurated in 2018. It is surrounded by vegetation and provides breathtaking views of the skyline of Dubai in the distance. The lake is known as "Love Lake" because of its heart-shaped structure, which is evident from above.
Picnicking, cycling, and birdwatching are just a few of the activities that visitors to Love Lake Dubai can partake in. Also, there are a number of food trucks, and beverage stands on-site that serve a variety of snacks and beverages.
Popular Place For Photography Enthusiasts (Love Is In the Air)
Instagram users and photographers frequently travel to Love Lake Dubai to take images of the lake's breathtaking beauty and distinctive heart shape. The lake is a well-liked location for drone photography because it provides a distinctive viewpoint of the surroundings.
In general, Love Lake Dubai is a special and romantic location that provides a serene and picturesque getaway from the bustle of the city. Everyone who wants to take in Dubai's natural beauty should go there.
8. Milk Bath (Cleopatra's Spa)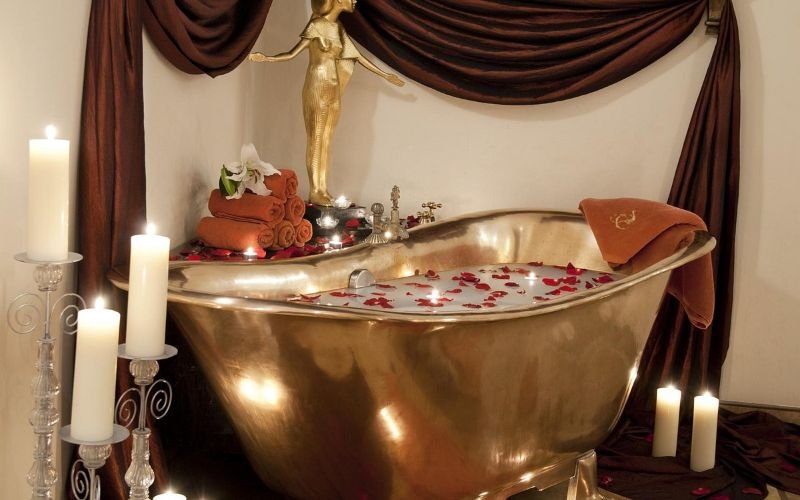 Location: Wafa City
Address: Ground Floor, Pyramids at WAFI, Oud Metha District – Dubai – United Arab Emirates
Timing: Monday, Tuesday, Wednesday, Thursday, Friday, Saturday, and Sunday (09:00 AM to 09:00 PM)
Phone: 04 324 7700
In Dubai, United Arab Emirates, spas and salons frequently offer the well-liked beauty procedure known as a milk bath. This indulgent treatment is bathing in a milk bath that also contains nourishing elements like honey, oatmeal, and essential oils. Cleopatra's Spa is one of them.
Get Your Skin Nourished With Milk Bath
Since ancient times, milk baths have been used as a home cure for calming and moisturizing the skin. Lactic acid, which can be found in milk, has a hydrating and exfoliating impact on the skin. Oatmeal and honey are two additional ingredients that aid in further hydrating and calming the skin.
During Milk Bath therapy, the client is advised to soak in the bath for a certain amount of time, typically around 30 minutes. Warm milk-filled water is added to the bath. Soft music, candles, and other calming elements are frequently used in conjunction with treatment to foster a serene and calming atmosphere.
Enjoy the Therapeutic Effects Of Milk Bath
Treatments using milk baths are renowned for making the skin seem better by leaving it moisturized, velvety, and smooth. Also, they are thought to provide therapeutic advantages such as stress reduction, muscular relaxation, and well-being enhancement.
Milk Bath treatments provide an opulent and decadent spa experience that encourages rest, nourishment, and renewal. They are a well-liked option for people who want to treat themselves and give their skin some much-needed tender loving care.
9. Courtyard Playhouse Dubai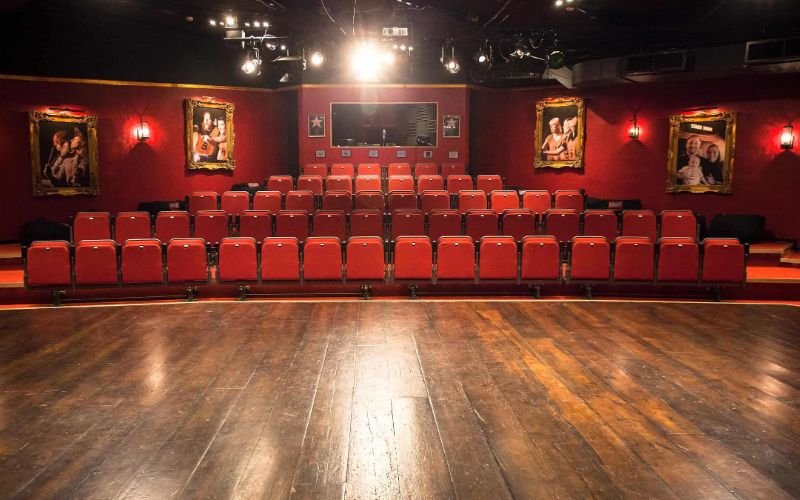 Location: Courtyard
Address: The Courtyard – 4 B St – Al Quoz – Dubai – United Arab Emirates
Timing: Monday, Tuesday, Wednesday, Thursday, and Friday (10:00 AM to 07:00 PM), Saturday and Sunday (09:00 AM to 06:00 PM)
Phone: 050 986 1760
In Al Quoz, Dubai, United Arab Emirates, there is a theatre and an improv comedy club called The Courtyard Playhouse. Both professional actors and amateur performers can participate in a variety of live performances, workshops, and events in this distinctive and energetic setting.
An Amazing Refreshment Place
Two actors who wanted to create a place where actors and performers could congregate to develop, collaborate, and display their talents founded The Courtyard Playhouse in 2013. Since then, the location has developed into one of Dubai's most well-known and recognized theatre venues.
Plays, musicals, and improv comedy shows are just a few of the performances that are available at The Courtyard Playhouse. It also offers a range of workshops and classes for both adults and kids, including acting, improvisation, and writing. The setting places a heavy emphasis on community and teamwork, inspiring artists and performers to collaborate and produce original and cutting-edge work.
Enjoy Different Events Throughout the Year
The Courtyard Playhouse presents a variety of events throughout the year, including film screenings, live music performances, and poetry nights, in addition to its regular shows and workshops. The location is renowned for its friendly and inclusive ambiance, which offers performers and artists of all skill levels a secure and encouraging environment.
The Dubai community can attend a range of plays, lectures, and events at The Courtyard Playhouse, a lively and exciting theatre venue. Everyone who likes improv comedy, theatre, or the performing arts should visit there.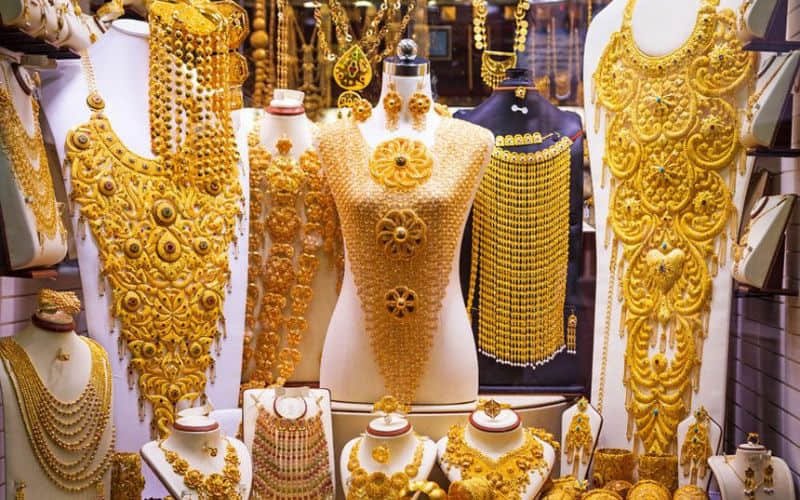 Location: Gold Souq – Deira – Dubai
Address: Gold Corner Building, 3rd Floor – Gold Souq – Deira – Dubai – United Arab Emirates
Timing: Saturday, Sunday, Monday, Tuesday, Wednesday, and Thursday (09:30 AM to 09:30 PM) and Friday (4:00 PM to 9:30 PM)
The Deira neighborhood of Dubai, United Arab Emirates, is home to the Gold Souk, a traditional market. With more than 380 stores selling a variety of gold goods, including jewelry, bullion, and gold coins, it is one of the largest gold markets in the world.
Some Pages From The Past
The early 1900s saw the beginning of the Gold Souk's lengthy history as a major trading hub for Iranian and Indian businessmen. The market has expanded in size and prominence over time, becoming one of Dubai's top tourist destinations.
The souk offers a wide variety of gold goods in many designs and styles, including conventional Middle Eastern and modern designs. Customers from all over the world rely on the Souk's merchants because they are skilled at creating and offering for sale gold jewelry.
Buying Experiences
Haggling is expected because the prices in the Gold Souk are often negotiable. It is crucial to keep in mind that the grade of the gold might vary, thus, it is advised to only buy from reliable merchants who provide an authenticity certificate.
The Gold Souk is a must-visit location for anybody interested in gold jewelry or searching for a distinctive keepsake from their trip to Dubai because it offers a distinctive shopping experience.
In order to assist you in exploring Dubai's hidden jewels and learning more about the city's rich history, culture, and natural beauty, we have included a detailed guide in this article. So, Dubai's hidden treasures have something to offer everyone, whether they're searching for an adventure, a cultural experience, or just a quiet getaway.
Explore the bustling souks, or markets, on each side of Dubai Creek, a natural seawater inlet that splits the city into two sections. Hatta provides a tranquil escape into the mountains where outdoor enthusiasts can engage in pursuits like hiking, riding, and kayaking. We hope you enjoy exploring these lesser-known Dubai attractions.