Dubai's Finest Specialty Chocolatiers To Visit
Dubai is famed for its grandeur and elegance, and this extends to its food scene as well. Dubai is home to some of the world's best chocolatiers, which is great news for those with a sweet craving. These specialty chocolatiers offer one-of-a-kind and decadent delights that are sure to sate the needs of any chocolate fan, from handcrafted truffles to bean-to-bar chocolate.
Gourmet chocolate shops and specialist chocolatiers in the city provide some of the most inventive and sumptuous delicacies, making it a chocolate lover's paradise. These chocolatiers are definitely worth a visit, whether you're looking for a gift or just want to treat yourself.
It's not your usual candy store; these specialty chocolate stores in Dubai offer handcrafted truffles and bean-to-bar chocolate. They use the finest ingredients, the rarest cocoa beans, and cutting-edge flavorings to create chocolates that are not only aesthetically pleasing but also a feast for the taste buds.
The List Of Dubai's Top 5 Specialty Chocolatiers
The top 5 specialty chocolatiers in Dubai, who are renowned for their outstanding chocolates, elegant packaging, and impeccable service, are listed in this article. These chocolatiers are definitely worth a visit, whether you're seeking the ideal present for your loved ones or just want to splurge on some of the best chocolates the city has to offer. Without further ado, let's look at Dubai's top 5 specialty chocolatiers by Design Furniture.
Anybody who visits a chocolatier will have a singular and decadent experience because each one has their own unique style and technique for creating chocolate. The specifics for each location are listed below.
1. Mirzam Chocolate Makers
Location: Al Quoz 3
Address: Al Ghurair Warehouse complex – 4th St – Al Quoz 3 – Dubai – United Arab Emirates
ServiceOptions: Dine-in · Takeaway · No-contact delivery
Timing: Monday, Tuesday, Wednesday, Thursday, Friday, Saturday, and Sunday (8:00 AM to 12:00 AM)
Phone: 04 333 5888
Specialty chocolatier Mirzam Chocolate Manufacturers is situated in Dubai and is known for its handcrafted, bean-to-bar chocolate. The business is dedicated to using smallholder farmers' cocoa beans from places like Madagascar, Tanzania, and Peru, and they work closely with them to make sure they get paid fairly for their beans.
The Most Authentic Manufacturing
Each bar of chocolate created by Mirzam is individually handcrafted and packaged in small amounts. From single-origin dark chocolate bars to milk chocolate bars flavored with cardamom and saffron, the company combines traditional chocolate-making methods to provide a variety of distinctive flavors and textures.
Amazing Product Variety
Mirzam sells a wide range of chocolate products in addition to chocolate bars, such as truffles, hot chocolate mixes, and chocolate-covered nuts and fruits. Customers may try some of Mirzam's delectable creations and witness the chocolate-making process in action at the company's main store in Dubai's Al Quoz area.
One of the best specialty chocolatiers in Dubai, Mirzam is known for its commitment to ethical and sustainable sourcing methods as well as to quality and innovation.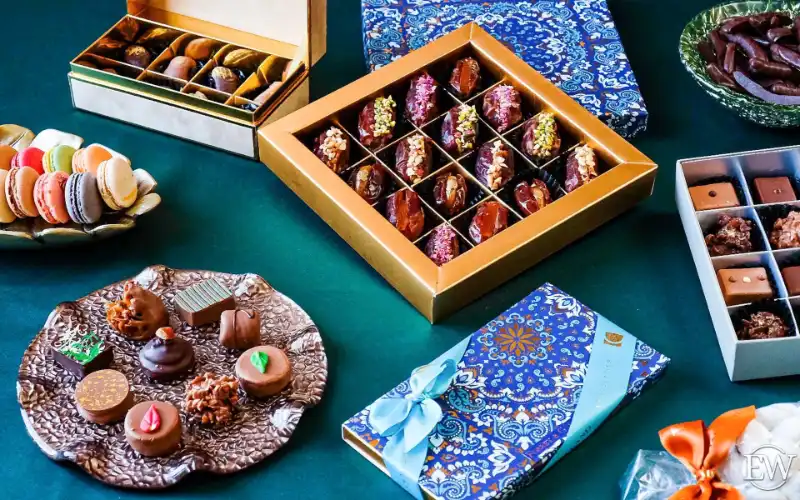 Location: A 3-min walk from Dubai Aquarium & Underwater Zoo
Address: Unit Lower Ground – Shop no 109 – Downtown Dubai – United Arab Emirates
ServiceOptions: Takeaway · No-contact delivery
Timing: Saturday, Sunday, Monday, Tuesday, and Wednesday (10:00 AM to 10:00 PM), Thursday and Friday (10:00 AM to 12:00 AM)
Phone: 04 339 8850
High-end chocolate gifts and confections are the specialties of Dubai-based luxury chocolatier Forrey & Galland. Isabelle Jaouen and Cedric Barberet, who together have over 30 years of expertise in the pastry and chocolate industries, created the business.
The Best Ingredient
One of the best chocolate brands in the world, Valrhona, is one of the premium ingredients used in Forrey & Galland confections. The business provides a large selection of attractively presented chocolate boxes and gift sets that are ideal for special events like weddings, birthdays, and anniversaries.
Their ingenuity and attention to detail set Forrey & Galland apart from other chocolatiers in Dubai. They provide a variety of unusual tastes and textures, such as cardamom, saffron, and cinnamon-infused truffles. They also offer personalized chocolates, where customers can have their names or messages printed on the chocolate boxes.
Other Offerings
Forrey & Galland sells a variety of sweets in addition to chocolates, such as macarons, pastries, and cakes. They have numerous other locations spread out over the city in addition to their flagship store, which is situated in the Dubai Mall. For those looking for a luxurious and unique chocolate experience in Dubai, Forrey & Galland is definitely worth a visit.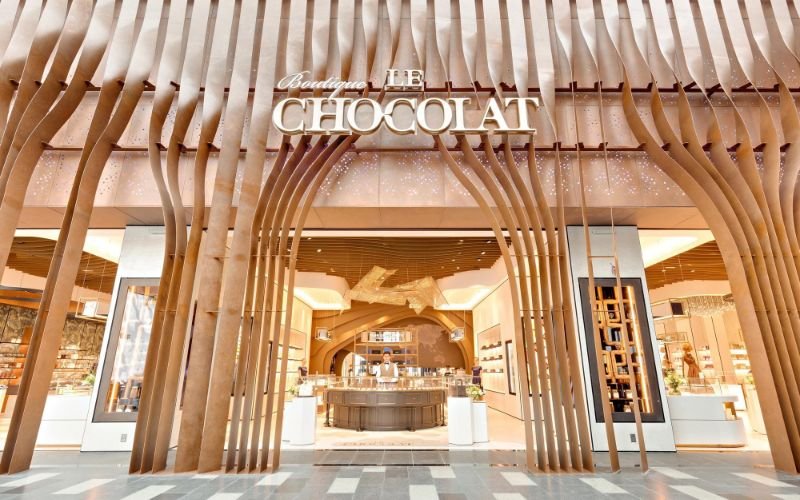 Location: City Walk Dubai
Address:16 Al Safa St – Al Wasl – Dubai – United Arab Emirates
ServiceOptions: Dine-in · Takeaway · No-contact delivery
Timing: Sunday, Monday, Tuesday, Wednesday, and Thursday (10:00 AM to 10:00 PM), Friday and Saturday (10:00 AM to 12:00 AM)
Phone: +971 4 5905075
Specialty chocolatier Boutique Le Chocolat, situated in Dubai, provides a distinctive shopping experience for chocolate enthusiasts. Isabelle and Romaine, two sisters who loved chocolate and wanted to establish a one-stop shop for everything chocolate, launched the business.
Get Your Hands On Handcrafted Chocolates
A wide variety of chocolate items are available at Boutique Le Chocolat, including upscale chocolate bars, truffles, bonbons, and chocolate-covered fruits and nuts. A broad variety of handcrafted chocolates from renowned chocolatiers, including Valrhona, Michel Cluizel, and Amedei, are also available there.
What sets Boutique Le Chocolat different is its novel approach to chocolate shopping. Customers can sample chocolates, learn about chocolate's history, and even participate in workshops where chocolate is made thanks to the company's concept store. Also, they have a chocolate library where clients can look through publications on the topic.
Ley Your Chocolate Shopping Experience be Different
The flagship site of Boutique Le Chocolat is in City Walk, and the company also has a number of additional locations all across Dubai. Anyone with a sweet tooth should surely pay a visit to Boutique Le Chocolat because of its distinctive shopping experience and a vast selection of high-quality chocolates.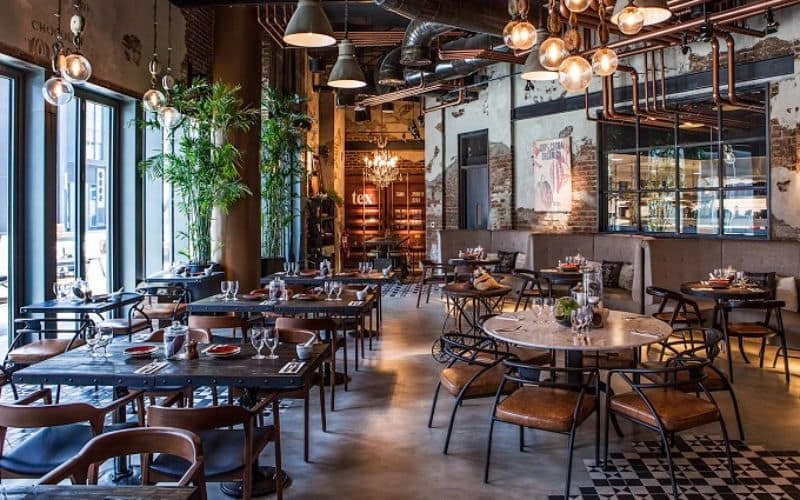 Location: Jumeirah 1
Address: Store Number B02-00-12, City Walk, Jumeirah 1 – Dubai – United Arab Emirates
ServiceOptions: Dine-in · Takeaway · No-contact delivery
Timing: Monday, Tuesday, Wednesday, Thursday, Friday, Saturday, and Sunday (8:00 AM to 12:00 AM)
Phone: 04 343 2506
In the center of City Walk in Dubai, there is a restaurant and specialty chocolatier called Chocolate Kitchen. The idea behind the restaurant is to make all of its dishes, from appetizers to main courses to desserts, with chocolate as a fundamental element.
Creative Chocolate Infusion
A variety of foods inspired by chocolate are available at Cocoa Kitchen, including chocolate-infused kinds of pasta, steaks with chocolate rubs, and even chocolate soup. Also, the restaurant serves a variety of specialty desserts and chocolates, such as truffles, hot chocolate, and chocolate fondue.
The commitment of Cocoa Kitchen to using premium, sustainable foods sets them distinct. They purchase their cocoa beans from small-scale farmers in nations like Madagascar and Ecuador, and they try to employ ingredients that are organic and locally produced whenever feasible.
Most Appealing Chocolate Brand
Rich brown hues and cocoa bean themes can be found throughout the restaurant, which also has a chocolate-themed interior design. The outside patio at Cocoa Kitchen offers diners a laid-back and welcoming setting in which to enjoy their meal.
Cocoa Kitchen has established itself as a favorite hangout for chocolate lovers in Dubai because of its distinctive concept and emphasis on high-quality ingredients. Anybody looking for a distinctive and opulent eating experience should definitely pay it a visit.
Location: UAE
Address: Available in overall United Arab Emirates
ServiceOptions: In-store shopping
Timing: Monday, Tuesday, Wednesday, Thursday, Friday, Saturday, and Sunday (10:00 AM to 10:00 PM)
In Dubai, United Arab Emirates, there is a high-end chocolate company called Al Nassma Chocolate. It is renowned for its premium chocolate goods manufactured from camel milk that is obtained from camels owned by the UAE. German businessman Martin Van Almsick established the brand in 2008 with the goal of bringing a distinctive and cutting-edge product to market.
Camel Milk – Their Speciality
As camel milk contains more protein and vitamin C and less lactose and fat than cow's milk, it is seen to be a healthier option. A variety of chocolate goods, including bars, pralines, truffles, and chocolate-covered dates, are produced by Al Nassma Chocolate using camel milk.
Al Nassma Chocolate is distinguished by its distinctive ingredients as well as its opulent packaging and sophisticated decorations. The company has won multiple honors for its quality and originality, and its goods are offered in high-end retail establishments in the UAE and other nations.
For chocolate enthusiasts who value the finer things in life, Al Nassma Chocolate provides a distinctive and exquisite experience.
Why Dubai's These 5 Chocolatiers?
Dubai boasts a booming chocolate culture, with a wide variety of specialty chocolatiers selling top-notch and cutting-edge goods. These chocolatiers are reinventing what it means to be a luxury chocolate brand with their artisanal chocolate bars and truffles as well as unusual ingredients like camel milk.
Visit these five finest chocolatiers and indulge in their delectable delights, whether you're a local or just visiting Dubai. These specialist chocolatiers are certain to satisfy even the most demanding chocolate enthusiast with their attention to detail, dedication to quality, and passion for chocolate.
These chocolatiers are pushing the limits of what is possible with chocolate, whether it is through the traditional Belgian-style chocolate of Pierre Marcolini or the creative usage of camel milk at Al Nassma Chocolate. With their own distinctive flavors and textures, Choco'a, Mirzam Chocolate Manufacturers, and Forrey & Galland each give their own distinctive perspective on artisanal chocolate.
These chocolatiers stand out not only for their originality and ingenuity but also for their dedication to quality. These chocolatiers take the time to make chocolate that is not only delicious but also aesthetically pleasing, starting with acquiring the best ingredients and hand-crafting each piece.
Visit one of these specialty chocolatiers and indulge in their delectable creations, whether you're a chocolate connoisseur or just seeking a special treat. These chocolatiers should not be missed because Dubai's chocolate scene is certainly a feast for the senses.