Are you planning on a voyage and wondering how to make your cabin feel more like home? Or perhaps you've a cruise liner business and are looking for ideas to spruce up your ship's décor? In this post by Design Furniture, we'll explore some creative cruise ship décor ideas that are sure to inspire.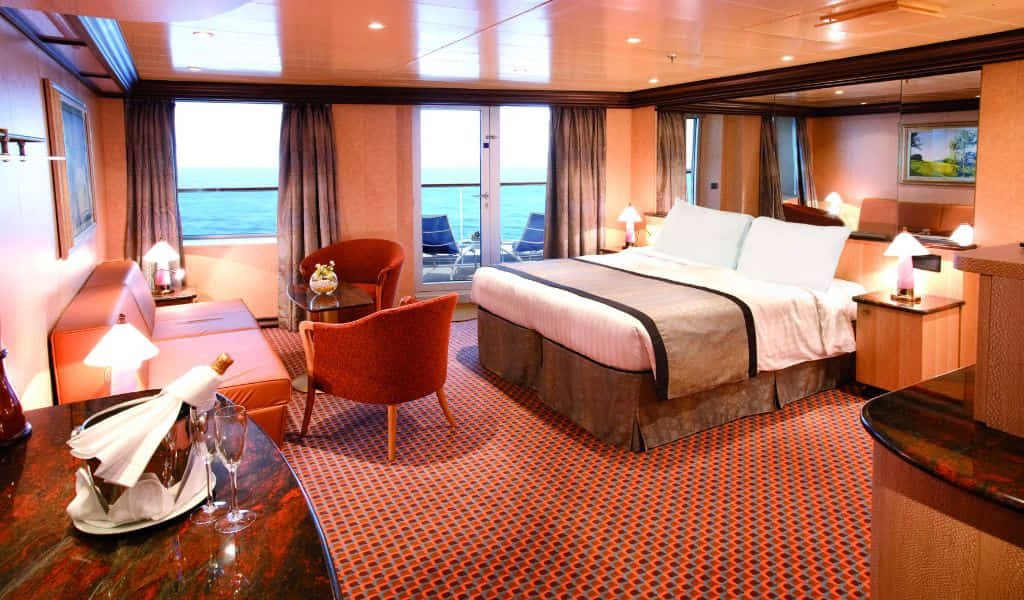 Why Is The Design Of A Cruise Ship Important?
When speaking about cruise ship decorations, the overall design becomes really important because it can influence the effectiveness and appeal of decorations. Adding further, a cohesive and well-planned design can enhance the impact of the decorations and create a more memorable experience for the passengers.
Understanding The Approach To Cruise Ship Decorations
The present-day trends for cruise ship decorations incorporate modern styles, innovative technology, and unique concepts to create an appealing cruise design and add to the experience of passengers.
Finally, the world has understood the importance of prioritizing the three most important design elements namely comfort, functionality, and aesthetics. And that's what it's all about for decorating cruise ships to enhance the overall atmosphere and ambiance.
The Popular Colors & Materials Used For Cruise Ship Decorations
The right color choices set the mood, create a sense of spaciousness, and enhance the overall ambiance of the ship. Similarly, the right materials provide durability, elegance, and modernity to the design, which can improve the overall experience for passengers.
Popular colors used in cruise ship interiors include blue, green, and neutral tones, which create a calming and serene atmosphere. Materials commonly used in cruise ship design include wood, glass, and metal, which offer durability, elegance, and modernity.
Creative Cabin Design Ideas For Cruise Ship Enhancements
The cruise ship design can look way more attractive and appealing to visitors if you upgrade them to modern preferences. Here are a few tips that if followed will surely transform your cruise ship cabin into a restful retreat.
Use multi-functional furniture and have hidden storage compartments to save essential space and resolve storage problems at the same time.
Make a combination of warm lighting and soft textures like plush carpets and fluffy pillows (for cabin seating) to create a cozy and inviting cabin atmosphere.
The best approach is to install modern technology like touch-screen controls for lighting and several other operations to design a high-tech cabin and add convenience for the cabin crew. Not to mention for entertainment purposes, too.
The Importance Of Creatively Designing Public Spaces On A Cruise Ship
Public spaces like bars, lounges, restaurants, cafes, etc are of much importance in a cruise ship design. For all these elements, you should keep in mind the aspects of public accessibility, optimum seating, menu considerations, and entertainment options.
The sole purpose of creatively designing public spaces on a cruise ship is to provide the masses with a feeling of enjoyment and relaxation during the voyage.
Why Are Entertainment Spaces Important On A Cruise Ship?
Luxury cruise ships offer passengers entertainment and a way to enjoy their time while onboard. For this purpose, the cruise ship design includes casinos, theaters, lounges, and performance spaces.
Other entertainment spaces include more intimate settings, such as lounges with live music or comedy acts. With a wide range of entertainment options considered in a cruise ship design, the aim is to provide guests with a diverse and exciting experience throughout their journey.
Spa & Fitness Centers: Innovative Design Tips & Ideas From The Experts
Designing spas and fitness centers on a cruise ship requires special attention to detail and a complete focus on functionality. Here are a few design tips briefly yet comprehensively explained;
Natural materials like wood, stone, and bamboo should be preferably used for a calming and relaxing environment.
Incorporating multi-purpose equipment that can be adjusted to various working routines is another good approach.
For fitness centers, it's preferred to create distinct workout zones for cardio, strength training, yoga, etc.
Warm, low-intensity lighting is recommended for spas and bright, high-intensity lighting should be preferred for fitness centers.
Install interactive screens for enhancing the guest's experience and helping them stay engaged.
For spas, you can install features like hydrotherapy pools, hot tubs, and saunas to add to the overall experience of guests in spas.
Maximize The Passenger Experience: Designing Outdoor Spaces On Cruise Ships
Outdoor spaces are a crucial element of a cruise ship's design. Decks and pool areas should be designed to provide a relaxing and comfortable environment for passengers. And, only high-quality materials for furniture and finishes should preferably be used to create a luxurious feel.
Plus, you can incorporate outdoor activities like rock climbing walls, sports courts, and miniature golf courses to maximize the use of outdoor spaces. Not to mention the importance of integrating shade structures and misting systems that provide relief from the sun and heat.
Eco-Friendly Cruise Ship Design: Maximizing Sustainability
Thanks to the global efforts of activists, people have started recognizing the importance of a greener and brighter future for upcoming generations. Sustainability is a key factor in designing modern-day cruise ships with an emphasis on incorporating eco-friendly materials and design practices such as natural fibers, recycled plastic, etc.
Cruise ships are built to run entirely on solar energy and LED lighting to further reduce their carbon impact and increase energy efficiency. Additionally, practices like reducing waste, conserving water, and promoting responsible tourism practices should be encouraged.
Exploring The Case Studies Of Successful Cruise Ship Designs
Designing a cruise ship and decoration is an art and requires design expertise, creativity, and mega-project leading skills. Case studies of successful cruise ships provide valuable insights into the design choices that were made back then and their impact on the ship's performance.
For this reason, you should analyze the design of the Oasis-class ships from the Royal Caribbean to know how incorporating outdoor spaces and entertainment options will enhance the guest experience.
Other successful examples include the MSC Seaside's innovative "Beach Condo" design and the Norwegian Bliss's focus on outdoor dining and entertainment. Not to mention that a successful cruise ship design is a result of careful planning, absolute hard work, sharp creativity, and analyzing existing choices.
Final Thoughts On The Importance Of Cruise Ship Design & Decoration
The design and decoration of a cruise ship play an important role in enhancing the overall guest experience. From cabin design to entertainment spaces, outdoor areas, and sustainability, every aspect of cruise ship design deserves careful consideration. A well-designed and thoughtfully decorated ship will attract more guests, generate positive reviews, and ensure repeat business.
FAQs–Frequently Asked Questions
1. How Can Cruise Ship Design Impact The Passenger Experience?
A successful cruise ship design creates a comfortable, safe, and visually appealing environment that enhances the customer's voyage experience.
2. What Are Some Unique Challenges When Designing A Cruise Ship?
Limited space, safety regulations, and the need for durability and sustainability are unique challenges when designing a cruise ship.
3. What Factors Should Be Considered For Cruise Ship Decorations?
One should consider the ship's theme, intended audience, durability, and functionality when choosing cruise ship decorations.
4. How Can Lighting Be Used To Create Different Moods And Ambiance On A Cruise Ship?
It's preferred to use LED lighting for a soft, cozy ambiance, and adjusting the color, intensity, and positioning of lights will help a lot.
5. What Are Some Sustainable And Eco-Friendly Ideas For Cruise Ships?
Natural fibers, recycled plastic, solar power, energy-efficient technologies, and waste reduction are some eco-friendly ideas for cruise ships.
6. How Can Cruise Ship Decorations Be Used To Reflect The Local Culture And Customs Of Destinations Visited?
Cruise ship decorations can incorporate local cultural elements such as colors, patterns, and artwork to reflect the destinations visited and create a sense of place for passengers.
7. What Are Some Important Color Schemes And Patterns Used In Cruise Ship Decorations?
Blues, whites, and nautical themes as well as bold prints and geometric patterns are some popular choices.
8. How Can Technology Be Incorporated Into Cruise Ship Decorations?
Technology can be incorporated through interactive displays, virtual reality experiences, advanced technology controls, and smart features for passengers' comfort and convenience.
9. What Are Some Safety Considerations When Choosing Cruise Ship Decorations?
Cruise ship decorations should not obstruct safety equipment and exits, be fire-resistant, and not pose a tripping hazard. Plus, the design accessibility should also be considered.
10. How Can The Use Of Artwork And Sculptures Enhance Cruise Ship Decorations?
Artwork and sculptures can add aesthetic value to cruise ship decorations, create a sense of luxury, and reflect the ship's theme or destination.