10 Restaurant Decoration Ideas You Can Apply On a Low Budget
Restaurants are places where people go for aesthetic pleasure. Otherwise, they can also order food online and get it delivered to their home. People usually choose to go to their favorite restaurants so they can enjoy their time with their family and friends outside of their house. So the restaurant must be aesthetically appealing if it wants more customers.
If you are a restaurant owner and want to renew your place on a limited budget, then this blog is going to be very useful for you. Today we are introducing some budget-friendly ideas for new business owners to decorate their place with a minimal budget. The average cost of restaurant decoration varies from $2,000 to $100,000. Of course, new business owners can't afford this, so we have skillfully devised some ideas to brighten up your business.
You can use the following low-budget small restaurant design to make your restaurant more attractive to your customers. These ideas will increase the flow of people into your hotel and help to increase your sales.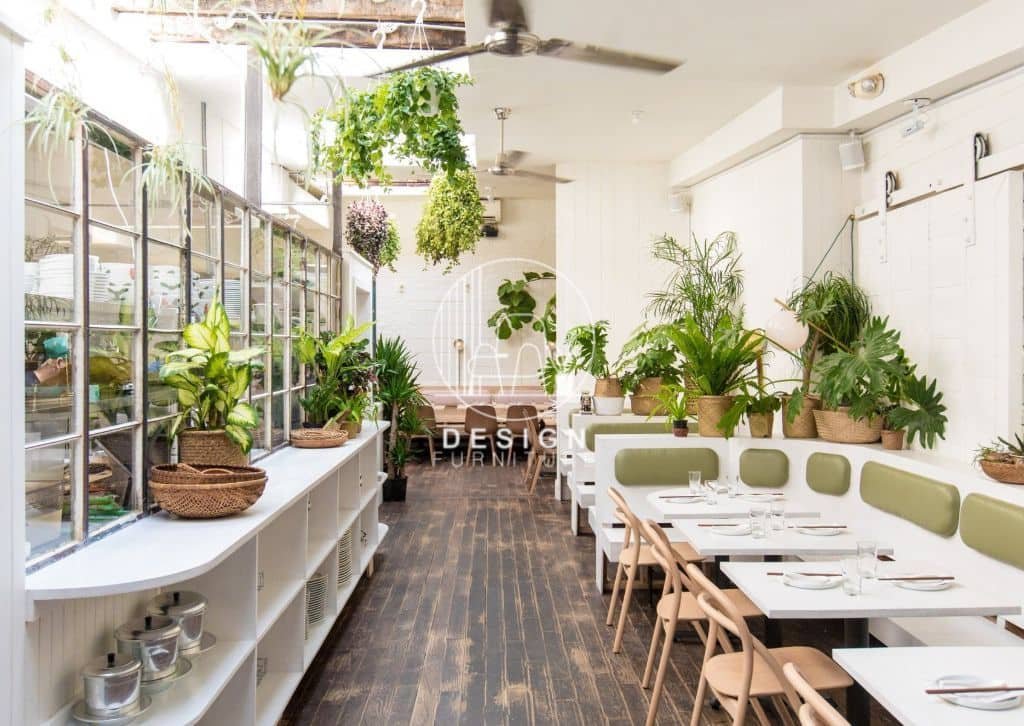 If you are looking for cheap decoration ideas for your restaurant, then it is best to glorify your place by introducing indoor plants. Indoor plants in hotels and restaurants are very trendy these days. If you search for the most favorite restaurants in your area, you will come to know that they have added indoor plants to their places to give a natural touch.
This is one of the most pocket-friendly options for you. If you buy the cheapest plant from the nursery and add it to the entrance area of your restaurant, it will definitely look beautiful. You can also buy hanging plants and get them hung above the tables and on the countertops of restaurants.
It will change the look of your restaurant altogether and give an exquisite aesthetic pleasure. They also purify the air in your place and make the environment more pleasing and peaceful. This is one of my favorite small space, low-budget small restaurant designs.
2. Make Use Of Chalkboards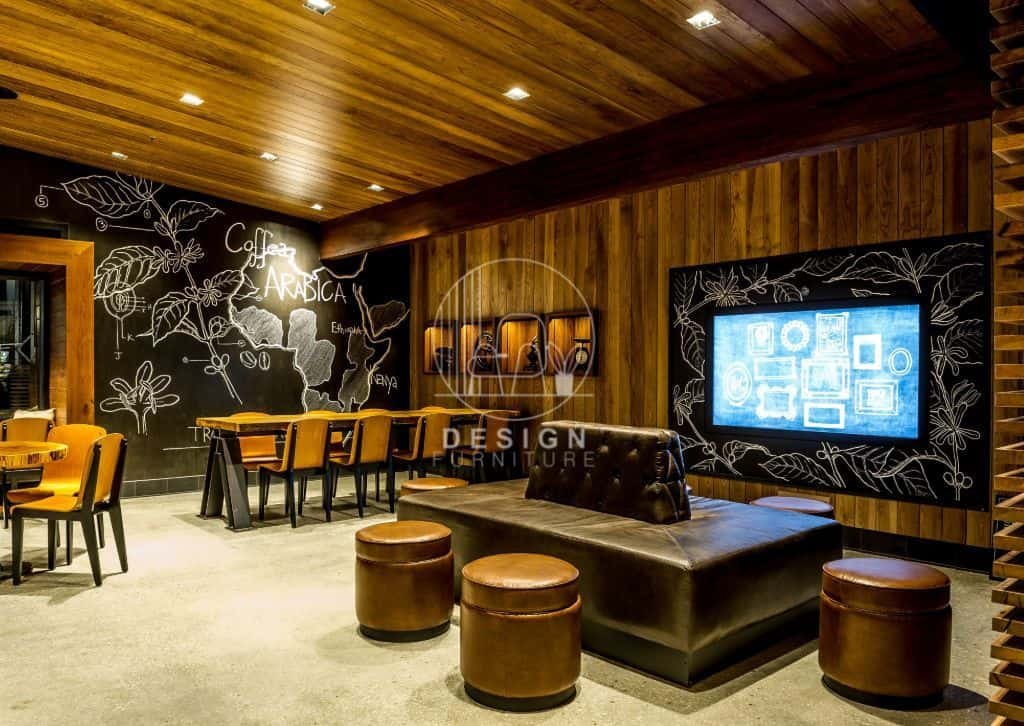 Chalkboard ideas are not new, but they are still one of the best ideas to decorate your restaurants on a low budget. If you love art and the people of your area as well, you can decorate the chalk boards with calligraphy and add the deals of the day on them. It not only looks inspiring, but also adds to the aesthetics of your place in no time.
Adding an attractive line for your restaurant on the chalkboard can help you attract more customers. You can easily get chalkboards from any stationery store in unique designs and sizes. You can select according to the space of your restaurant. This not only adds uniqueness to your place, but also looks very impressive. It makes your place more artistic.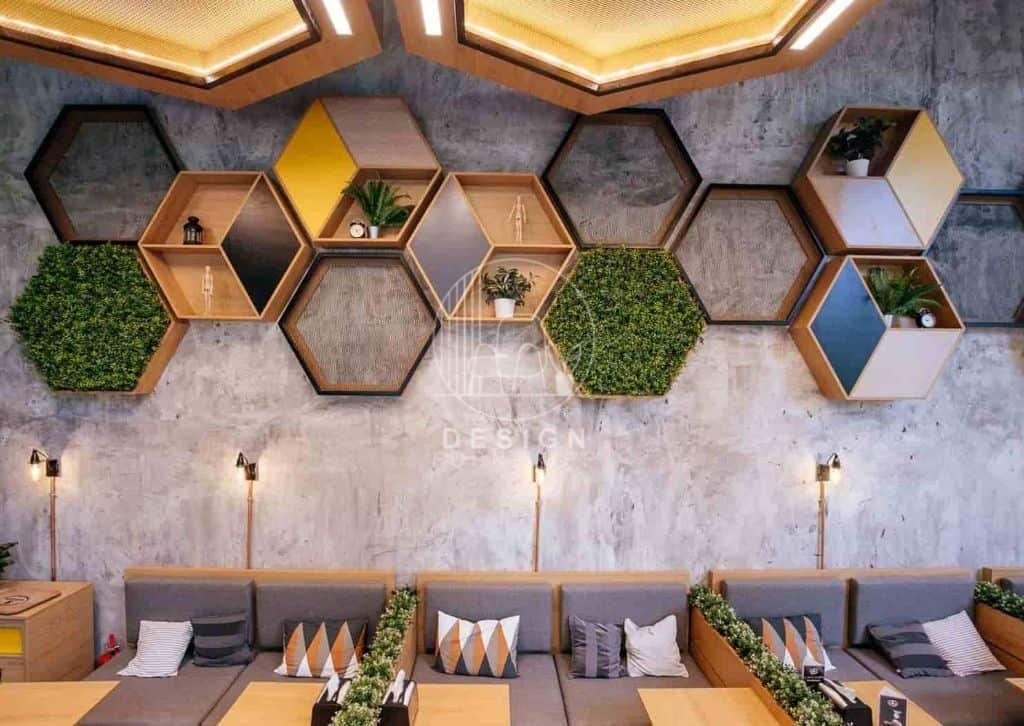 Statement walls and featured walls are trending these days, and you will be pleased to know that you do not need to spend much. An amazing thing about these walls is that you can even paint them on your own. A statement wall can have abstract designs that look unique and attractive and grab the attention of people. You can add a perplexing statement on the wall along with the absurd paint.
This idea creates interest in people in your restaurant. This is one of the best low-budget unique restaurant themes that can help you glorify your place in no time. You just need to invest a few dollars in this idea, and it will change the appearance of the restaurant completely.
4. Ceiling Art by Local Painters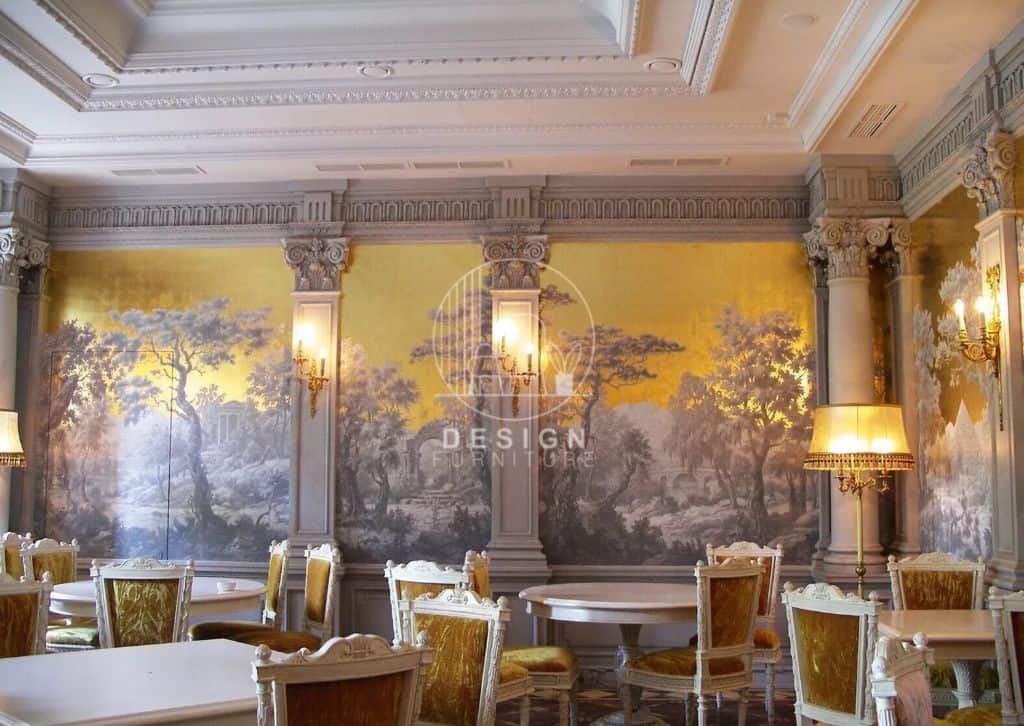 Decorating the ceiling is one of the most interesting interior ideas for the restaurant's owners. If you own a hotel, then you must know about this. People are attracted to beautiful ceilings, so it is necessary to make your ceiling attractive/beautiful. For the ceiling of your restaurant, we have different ideas. You can use the peel and stick tiles on the ceiling to give it an amazing look.
You can also call the local painter and ask him to paint your ceiling differently. You can even add a drawing of a dino, or a bird from Journey 2 to impress your customers. Local painters charge little for such drawings, so you can easily hire him.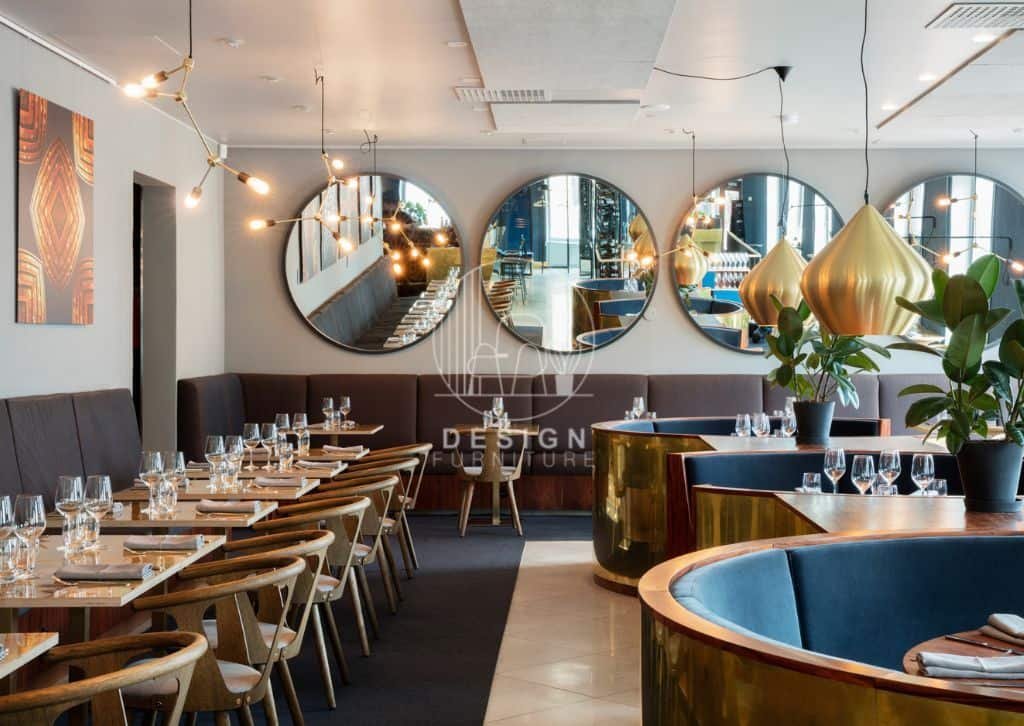 Adding mirrors to your restaurant is another very important idea that you can apply to your restaurant. Add mirrors in different dimensions to your place to enhance the look of your place. Use mirrors of different sizes and shapes, so you can easily add diversity to your place.
You can also design a feature wall by using mirrors in distinct patterns. It depends on your aesthetics how you are going to use a mirror in your restaurant, but you can use this minimal budget idea to make your place more presentable.
6. Try To Install Some Unusual Shelving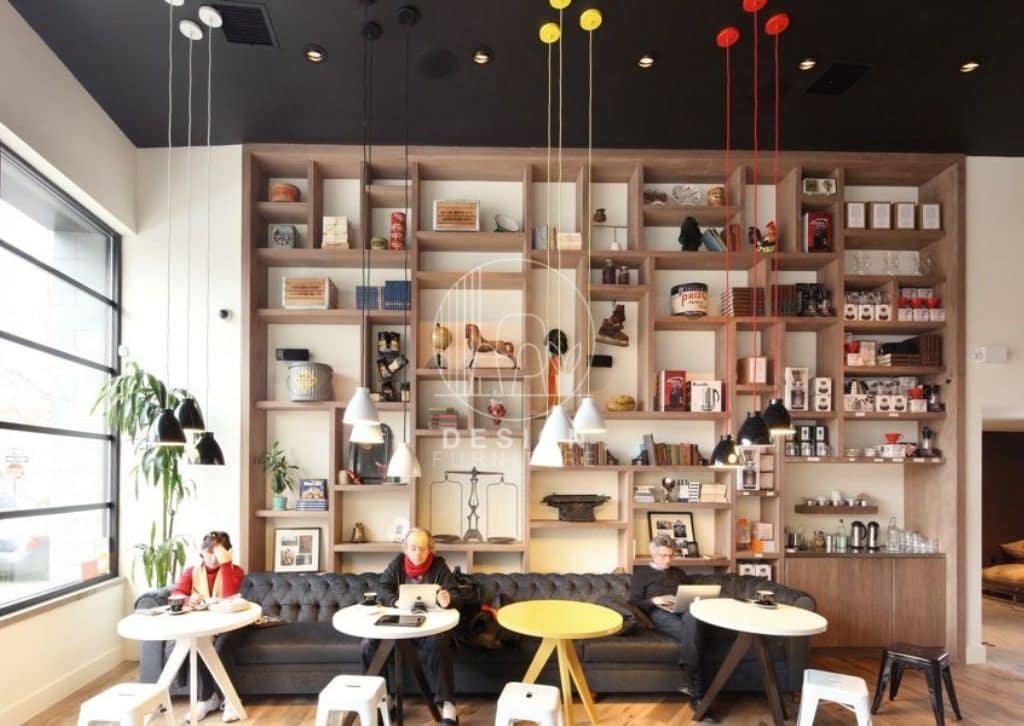 Unusual shelving can be the best idea for your restaurant. Install different color shelves that don't match the walls and ceiling of your restaurant. After installing the shelves, you can decorate them. You can even give your place a vintage look by adding old books to the shelves.
If you have not added some plants at the entrance of your hotel, then you can place some mini flower plants on the shelves to give a refreshing look at the restaurant on a minimum budget. This is considered the best restaurant interior design ideas for a low budget.
7. Mindful Fairy Lightning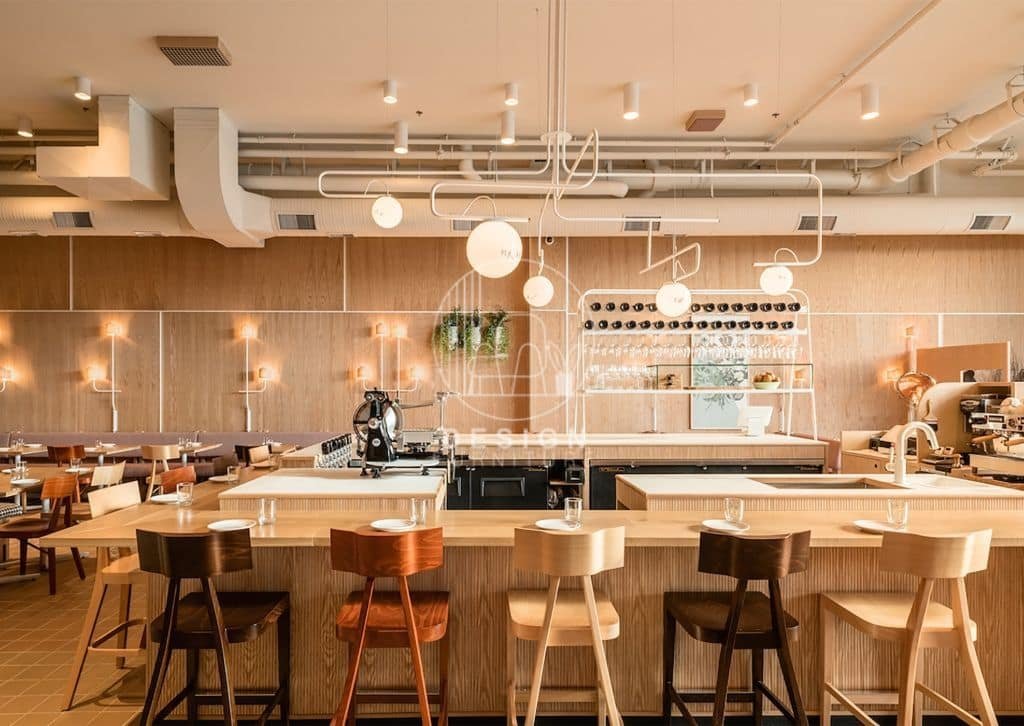 Lights are used to brighten up your place, so add fairy lights to your restaurant, and they will beautify your place. You can change the small fairy lights on your restaurant's ceiling and also add these lights at the entrance along with the hanging plants.
This is one of the most suitable and budget-friendly ideas for your restaurant that you can implement without burdening your budget.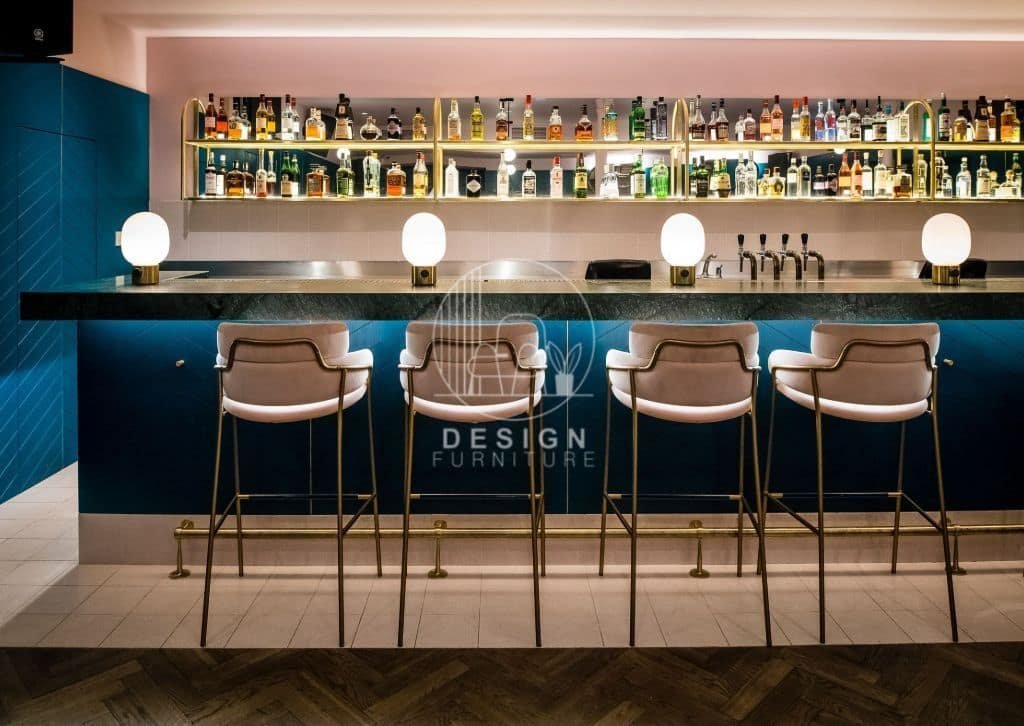 The bar is the representative of your restaurant, so it must be neat and clean. It should be properly decorated and look appealing to the eyes of the customers. You can add biscuit jars to the bar and some hanging plants and lights to beautify the countertop of your restaurant.
You can also add an unusual shelf over the countertop and display some amazing food items on it to attract the customers towards the food of your restaurant. Decorating the bar is one of the best restaurant interior design ideas on a low budget.
9. Choose A Good And Bright Flooring Design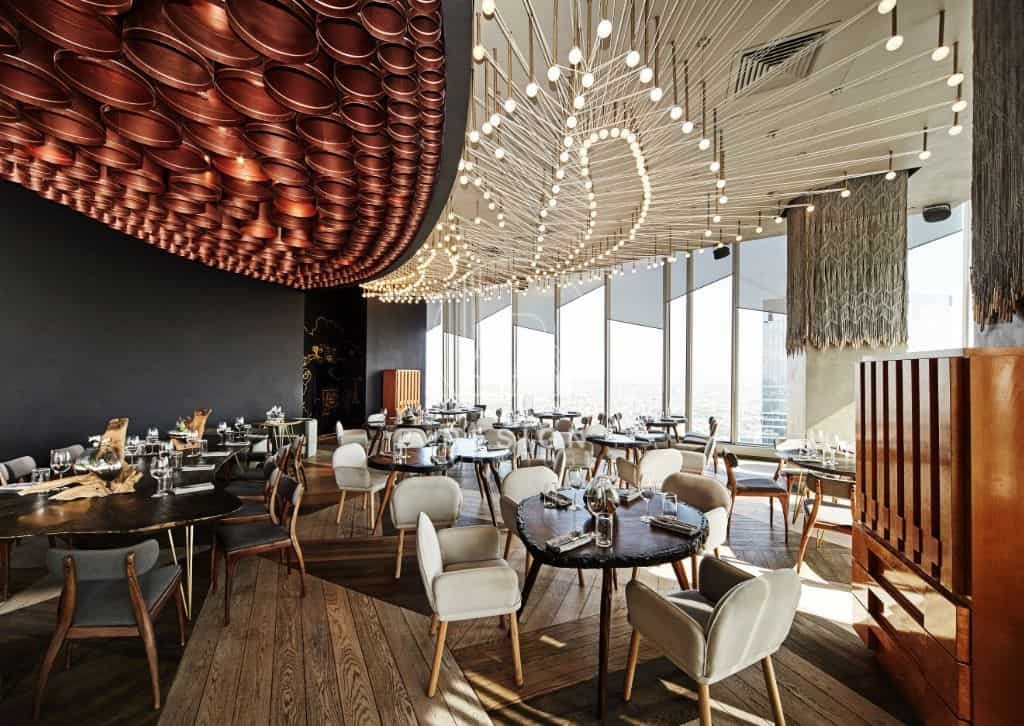 The flooring of your restaurant must be attractive and bright because your customers have to enter your restaurant while stepping on the floor. So, select a bright floor color with a beautiful design. Boring design and the dim color of flooring can damage the look of your interior.
You should choose a budget-friendly floor for your restaurant. Make sure the flooring is durable so it can bear the traffic of people in your hotel.
10. Use Old Furniture With Some Changes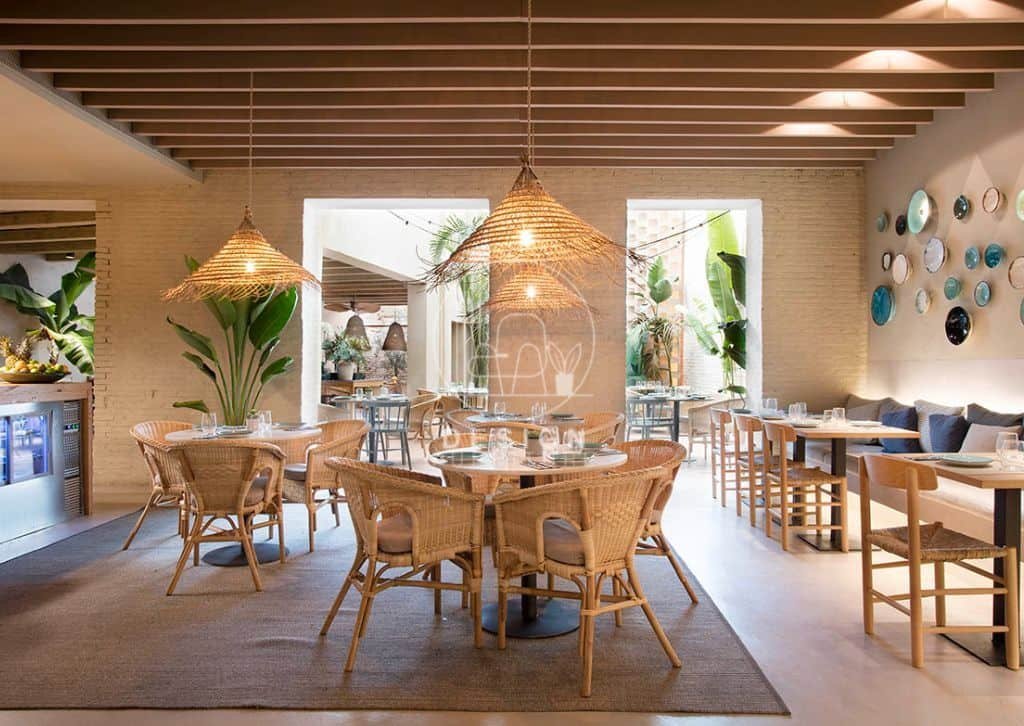 If your restaurant needs furniture but your budget is too low that you can't buy new furniture, then it is one of the best cheap restaurant design ideas to buy used or old furniture for your restaurant.
Make sure the condition of the furniture is good, and that it is comfortable for your customers. You can also get upholstery services for the old furniture from Design furniture to make the old furniture more comfortable.
Conclusion
Now you have many ideas to decorate your restaurant on a limited budget. You can apply any of the most appealing ideas to you and get the best results. You can add your unique ideas with these budget-friendly ideas to make your place more enchanting and beautiful in the eyes of your customers. We hope our ideas will help you with decorating your restaurant. Best of luck with your business!