10 Restaurant Decoration Ideas You Can Apply On a Low Budget
Restaurants are places where people go for recreation and to seek pleasure. Otherwise, they can also order food online and get it delivered to their home. People usually choose to go to their favorite restaurants so they can enjoy their time with their family and friends outside of their house. So the restaurant must be aesthetically appealing if it wants more customers.
If you are a restaurant owner and want to renew your place on a limited budget, then this blog is going to be very useful for you. Today we are introducing some budget-friendly ideas for new business owners to decorate their places with a minimal budget. The average cost of restaurant decoration varies from $2,000 to $100,000. Of course, new business owners can't afford this, so we have skillfully devised some ideas to brighten up your business.
You can use the following low-budget small restaurant design to make your restaurant more attractive to your customers. These ideas will boost your business growth and ultimately your sales, as well.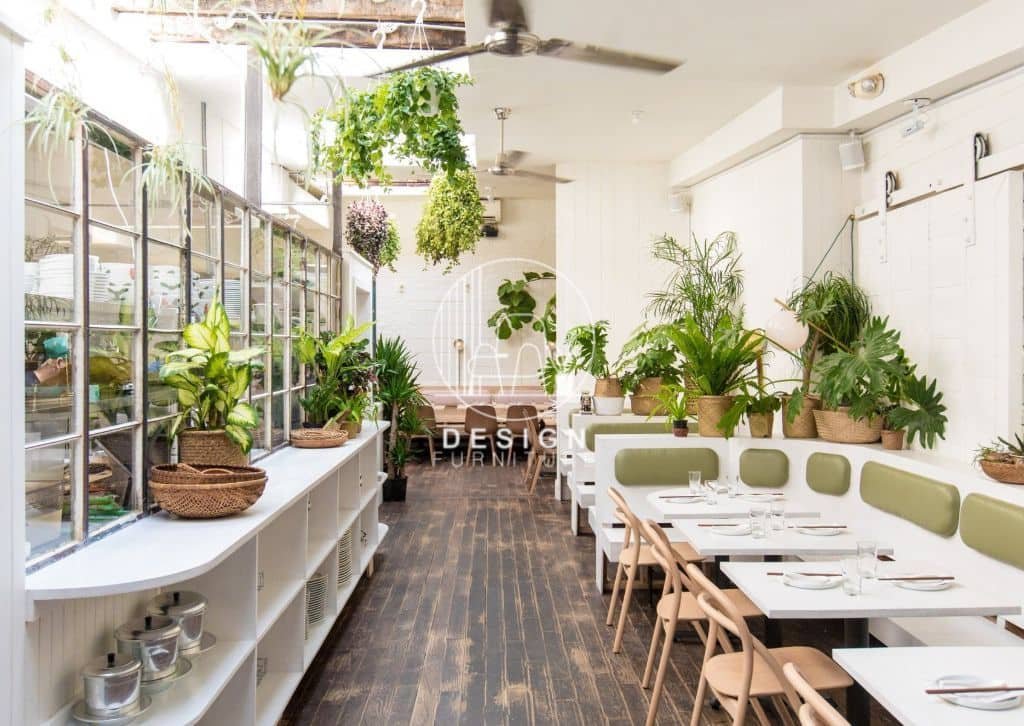 If you are looking for cheap decoration ideas for your restaurant, then it is best to glorify your place by introducing indoor plants. Indoor plants in hotels and restaurants are very trendy these days. If you search for the most favorite restaurants in your area, you will come to know that they have added indoor plants to their places to give a natural touch to the surroundings.
This is one of the most pocket-friendly options for you. If you buy the cheapest plant from the nursery and add it to the entrance area of your restaurant, it will definitely look beautiful. You can also buy hanging plants and get them hung at multiple prominent spots.
It will change the look of your restaurant altogether and will give rise to exquisite aesthetic pleasure. They also purify the air in your place and make the environment more pleasant and peaceful. This is one of my favourite small space, low-budget small restaurant designs.
2. Make Use Of Chalkboards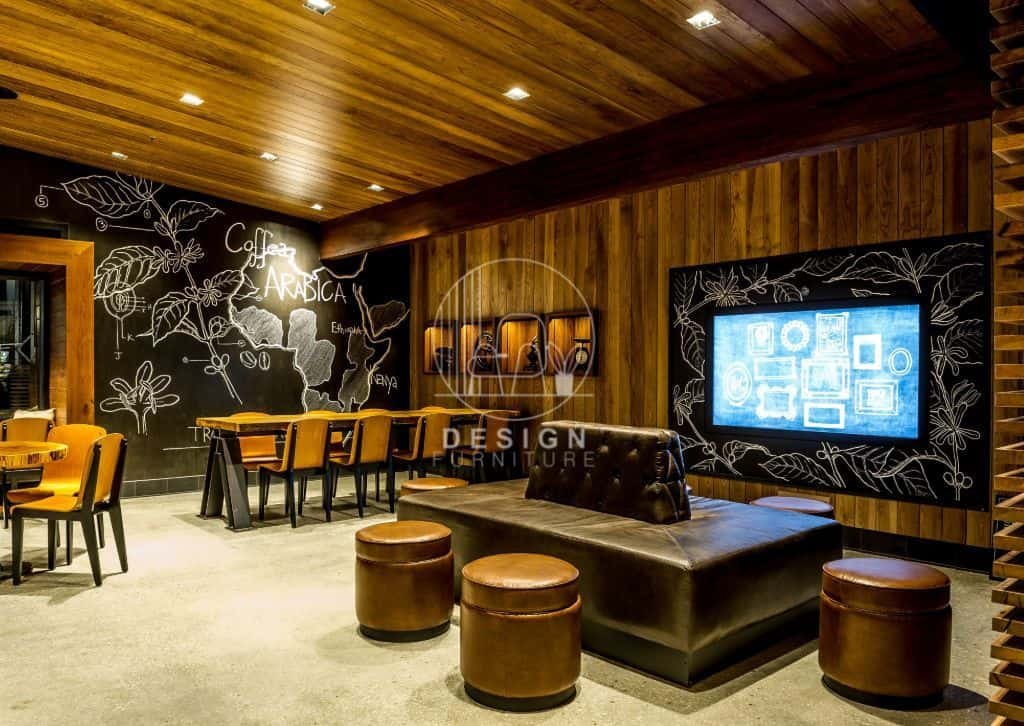 Chalkboard ideas are not new, but they are still one of the best ideas to decorate your restaurants on a low budget. If you love art, then you can simply decorate the chalkboards with calligraphy and add the deals of the day on them. It not only looks inspiring but also is a great unique approach to restaurant interior styling on a budget.
Adding an attractive phrase for your restaurant on the chalkboard can help you attract more customers. You can easily get chalkboards from any stationery store in unique designs and sizes, according to the space of your restaurant. This not only adds uniqueness to your place but also seems very impressive. It makes your place more artistic.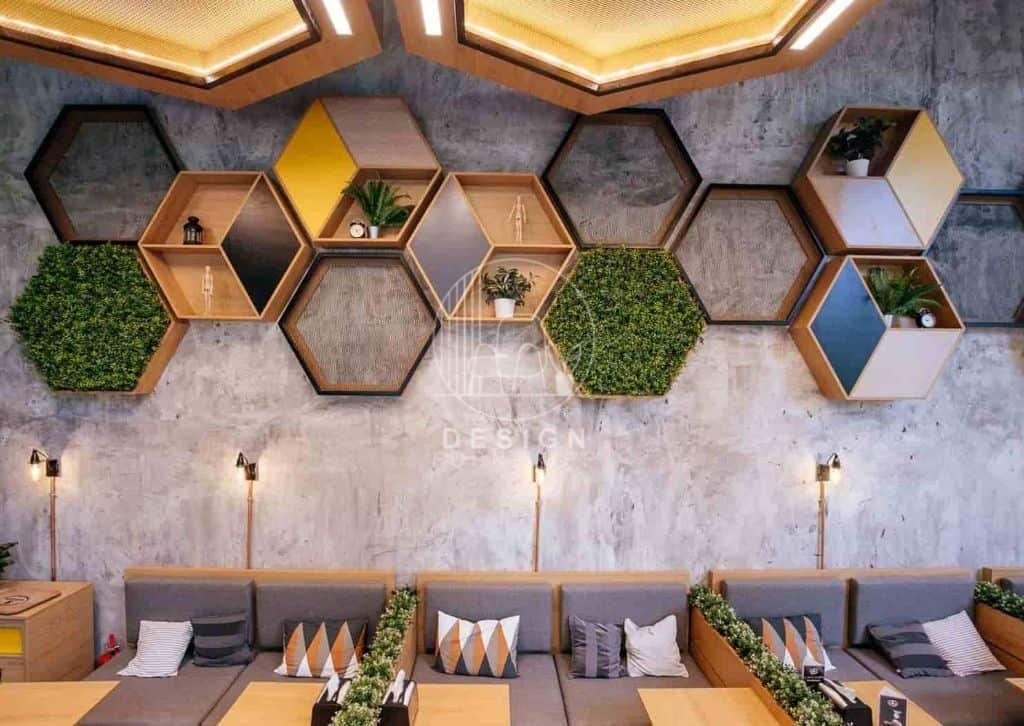 Statement walls and featured walls are trending these days, and you will be pleased to know that you do not need to spend much on them, as well. An amazing thing about these walls is that you can even paint them on your own. A statement wall can have abstract designs that look unique and grab the attention of people. You can add a perplexing statement on the wall along with the abstract painting.
Also, you can get the job done with the help of a couple of cool wallpapers. This is one of the best low-budget unique restaurant themes that can help you glorify your place in no time. You just need to invest a few dollars in this idea, and it will change the appearance of the restaurant completely.
4. Ceiling Art by Local Painters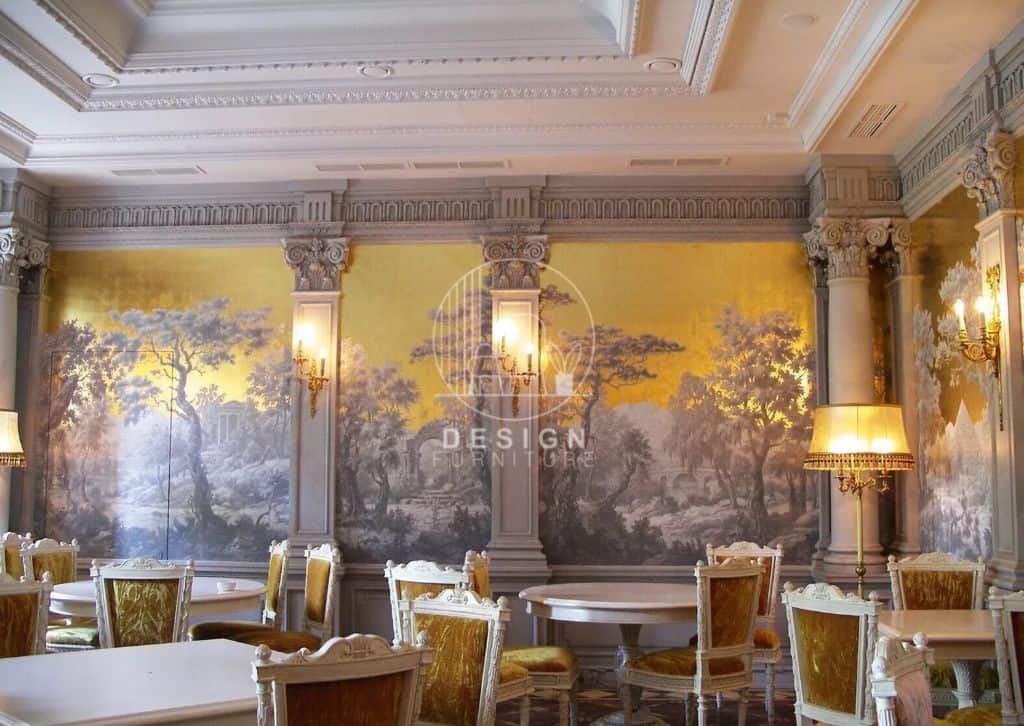 Decorating the ceiling is one of the most interesting interior ideas for the restaurant's owners. If you own a hotel, then you'll have an idea about it for sure.  For the ceiling of your restaurant, we have different ideas. You can use the peel and stick tiles on the ceiling to give it an amazing look.
You can also call the local painter and ask him to paint your ceiling differently. You can even add various designs and patterns on the ceiling, such as the floral ones. Local painters charge little for such drawings, so you can easily hire him for this purpose.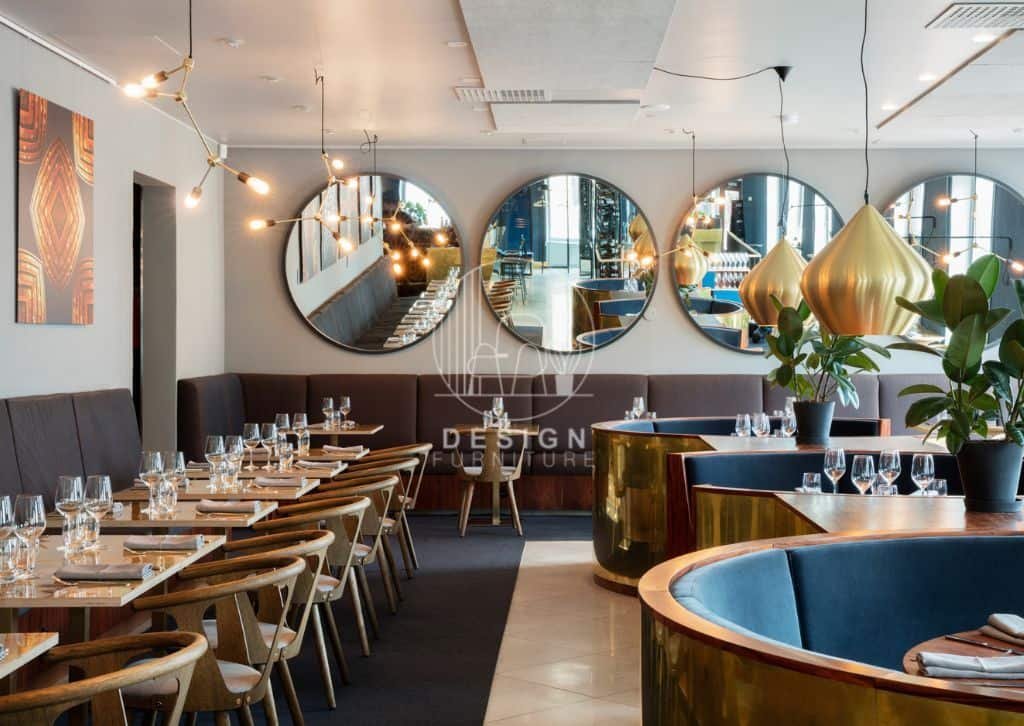 Adding mirrors to your restaurant is another incredibly effective idea that you can go for. You can have the addition within various styles and pattern and can also make use of mirrors of different sizes and shapes, in order to add diversity to your place.
You can also design a featured wall by using mirrors in distinct patterns. It depends on your aesthetics how you are going to use a mirror in your restaurant, but you can use this minimal budget idea to make your place more presentable.
6. Try To Install Some Unusual Shelving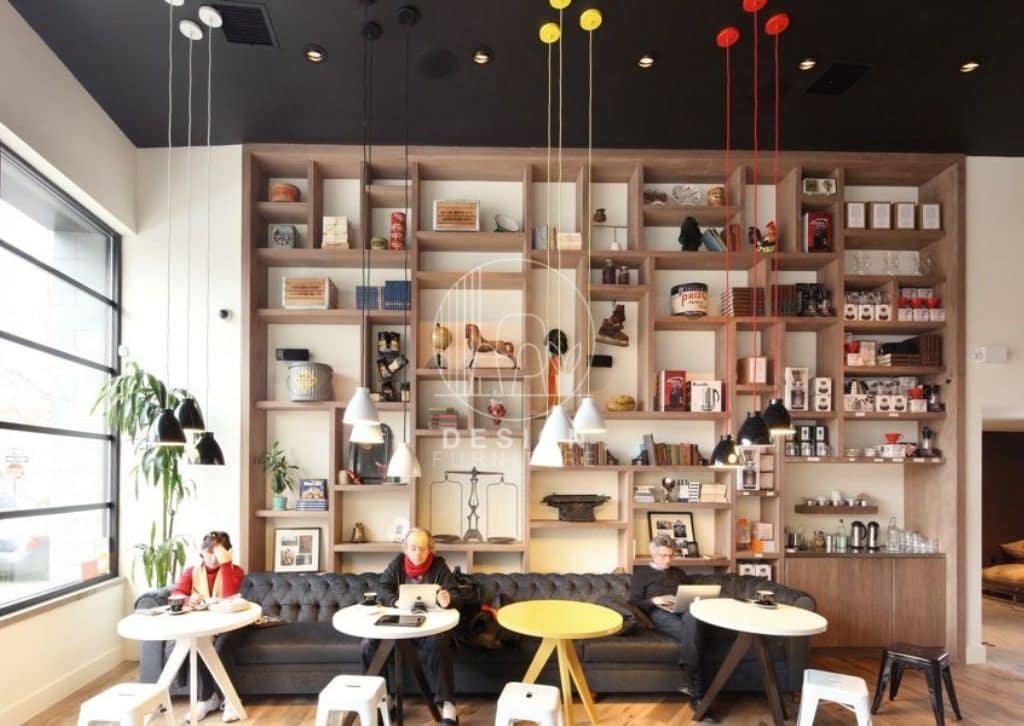 Unique shelving can be the best idea for your restaurant. Install different colour shelves that contrast with the walls and ceiling of your restaurant. After installing the shelves, you can decorate them. You can even give your place a more impressive look by adding a couple of books or other similar stuff. Another amazing idea is to invest in some peculiar personalized storage, which will instantly uplift the look of your place.
If you have not added some plants at the entrance of your hotel, then you can place some mini flower plants on the shelves to give a refreshing look at the restaurant on a minimum budget. This is considered the best restaurant interior design ideas for a low budget.
7. Mindful Fairy Lightning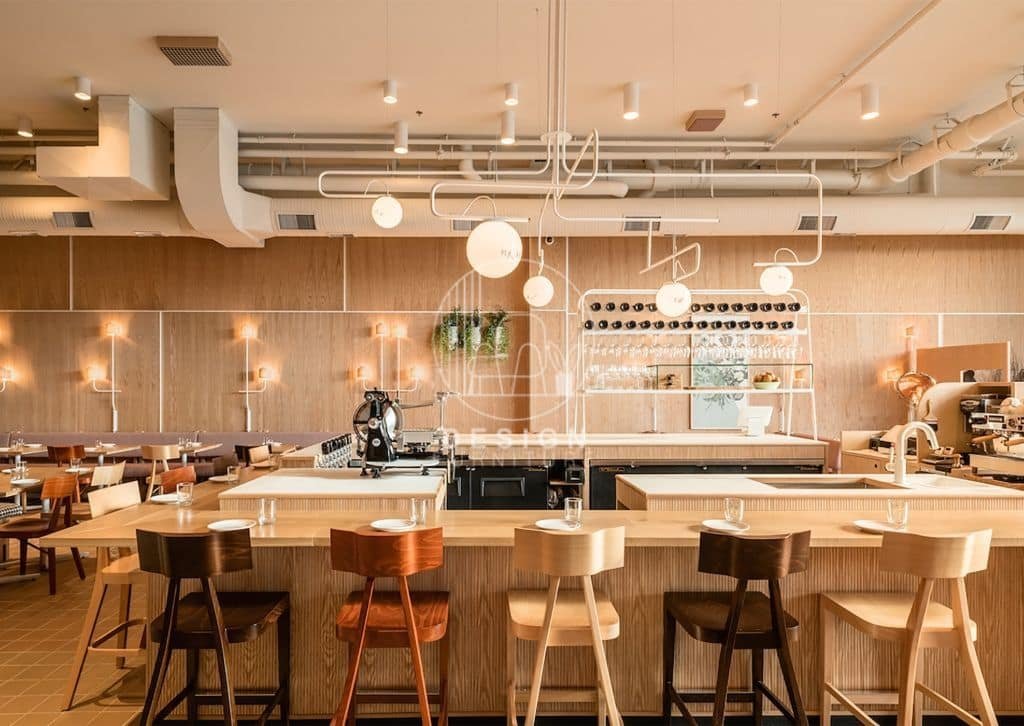 Lights are used to brighten up your place, so add fairy lights to your restaurant, and they will bring about instant beautification. Also, you can have the placement of these small fairy lights on your restaurant's ceiling along with the hanging plants or next to some other decorative stuff.
This is one of the most suitable and budget-friendly ideas for your restaurant that you can implement without burdening your budget.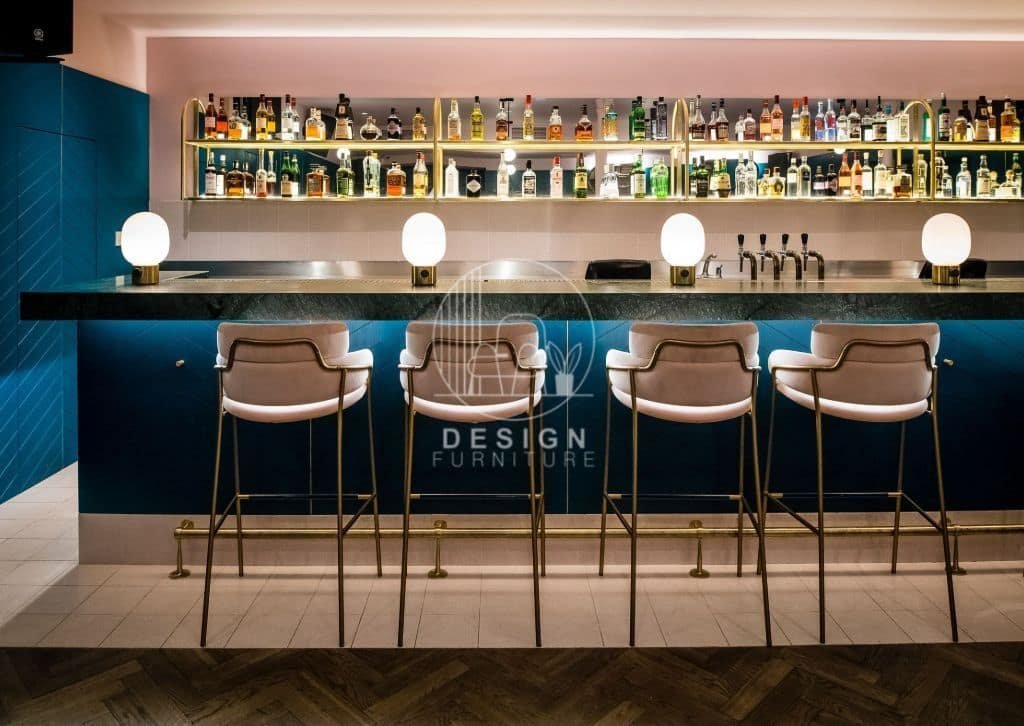 The bar is one of the most impressive representatives of your restaurant, so it must look presentable and attractive. It should be properly decorated and look appealing to the eyes of the customers. You can add biscuit jars to the bar and some hanging plants and lights to beautify the countertop.
You can also add a couple of adorable shelves over the countertop and display some amazing food items on them, and this goes the same for the cutlery, as well. Focusing on the bar decor is one of the best restaurant interior design ideas on a low budget, that makes a lot of difference instantly.
9. Choose A Good And Bright Flooring Design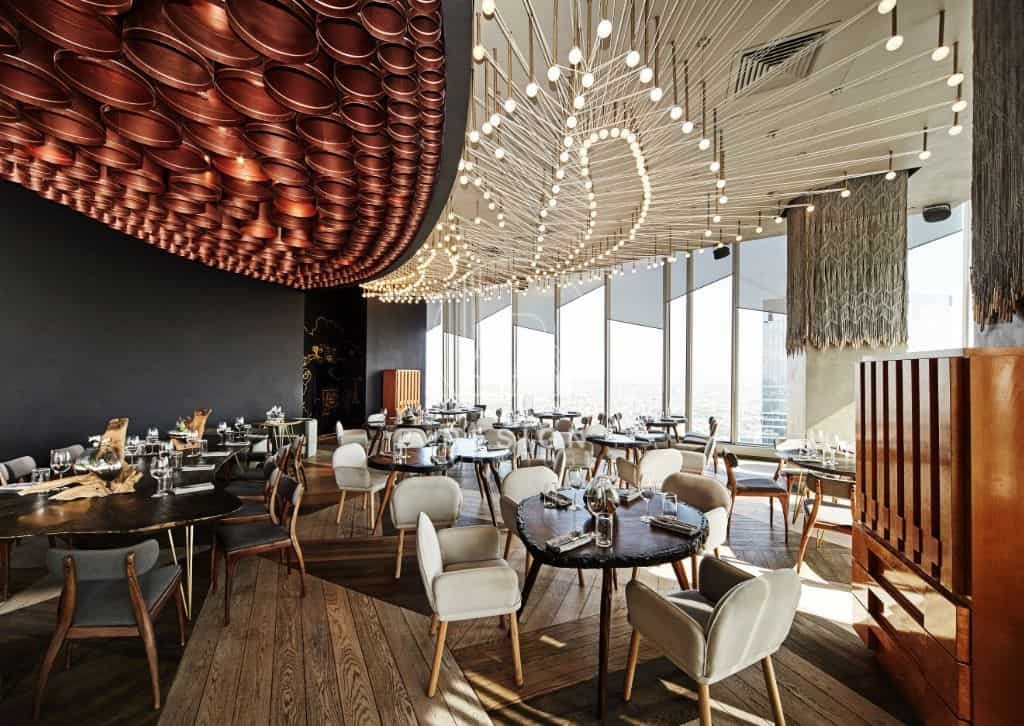 The flooring of your restaurant must be attractive and bright because it serves as the foundation for the entire decor. So, select a bright coloured and most importantly quality floor treatment within a beautiful design. Boring design and the dim colours of flooring can diminish the beauty of your interiors.
To make the flooring choice completely affordable, you can invest in those floorings that offer a huge styling versatility by giving off the looks of high-end floors. Vinyl and parquet floors are also a great recommendation in this regard.
10. Use Old Furniture With Some Changes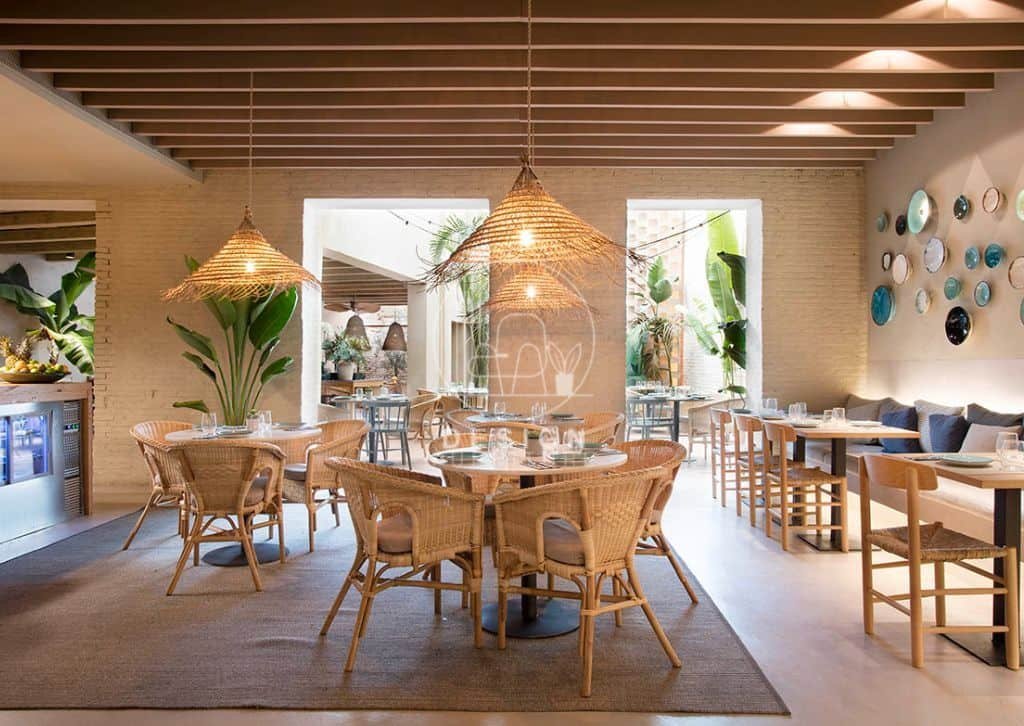 If your restaurant needs furniture but your budget is too low that you can't buy new furniture, then it is one of the best cheap restaurant design ideas to buy used or old furniture for your restaurant.
Make sure the condition of the furniture is good, and that it is comfortable for your customers. You can also get upholstery services for the old furniture from Design furniture to revive the old furniture and make it more cozy, as well.
Conclusion
Now you have many ideas to decorate your restaurant on a limited budget. You can apply any of the most appealing ideas to you and get the best results. You can also sync your own unique ideas with these budget-friendly ways to make your place more enchanting and beautiful in the eyes of your customers. We hope our ideas will help you with decorating your restaurant. Best of luck with your business!
Frequently Asked Questions (FAQs)
An enticing entrance matters the most when it comes to adding some game-changing décor to your commercial space. You need to focus primarily on the entrance space and try making it inviting, as much as possible, such as magnifying the theme of your restaurant or playing with bold and eye-catching patterns, signs, phrases or lighting.
The first and foremost idea in this regard is to play with colors and to create maximum visual depth, for which, you can either make use of bold colors or brighter and vibrant ones. Lighter colors or wallpapers make the area appear bright and roomy, whereas darker colors offer the illusion of depth which works as a perfect illusion of an extensive space.
There are multiple flooring choices you can settle for, such as solid floorings or those featuring decorative surface layers. Besides, if you don't want to invest in very costly or high-end floorings, you can simply get the job done with a couple of bright and engaging carpets and rugs and can place them at focal points of your restaurant. 
The right kind of furniture choice for any and every commercial space requires a great deal of careful conduct. Investing in smaller yet adequately fitting furniture pieces is a way better idea than spending on huge, bulky furniture items that don't appear super inviting. Besides, if you want a really exceptional furnishing and décor approach, then you should best go for custom made furniture creation.